UPDATE: all talks are now published on our Guest Lecture playlist on YouTube.
This weekend we took a break from everything that has to do with Christmas preparations hullabaloo and invited some of our alumni to come and inspire our current students and spread their knowledge.
Martin Greip showed a very impressive graph of "All the Feels"™ of being an indie developer and the daily struggle of running a studio. And by "accident" he also revealed Eat Create Sleep's next game, Project Synvilla.

Albertina Sparrhult held a very personal introduction (with cows, bathroom queues and everything), to what Diversi is all about and why we all benefit from more diversity within our games.

Nobody knows how to herd cats and destroy all the fun more than Ylva Sundström, who shared her biggest secrets on how to become an exceptional game producer.

After he conquered Europe, the son of Gotland return to talk about his conquests. Andreas Svensson has been working at several game studios around Italy and Germany. Now he's back at Blue Byte, one of the first companies he worked at.

Making a game is easy. Making a game that people understand is hard. Kalle Henningsson, QA Manager at Playdead, showed of some examples of the different iterations of Limbo and their upcoming title, Inside.

Daniel Polgar & Lee Kåberg hade the audience clapping and cheering while they talked about the process of starting up their company, Bridgeside Interactive. They spilled the beans on everything from how to form the company culture, what positions you need to fill and where the money is. Not only that, but they also showed of their first game, Clapper. Which is based on a game they produced during, the objectively best course on Campus Gotland, "Theme Park".

"Who made that wonderful torch", was the only thing everyone could think of when Horizon: Zero Dawn was revealed at this years E3. Prop modeler extraordinaire, Kim Aava, talked about what goes into a portfolio, the difference between working at an indie studio compared to a AAA-studio. But most importantly, she bravely showed some of her early work to show that everybody is a beginner at some point. An encouragement to us all!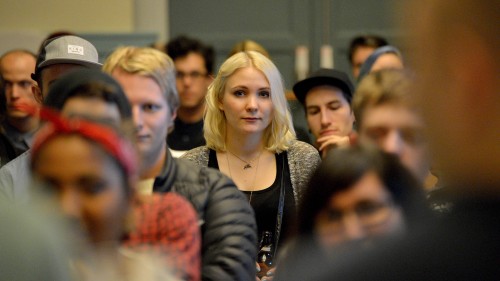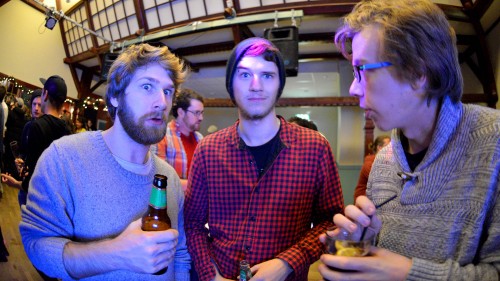 We ended it all at the local student union pub, with a Q&A-panel consisting of some of our alumnis, mingle and some of the games produced at the education this year. It was a blast! Big, big thanks to all alumni, students and staff!
PS. we will publish all talks we're allowed to share, on our youtube-channel. Subscribe to our RSS-feed for a notification when they're up!
The lectures goes up on YouTube as soon as we render them.
Thanks to Kajfa, Teddy, Daniel and Jerker for taking the time and helping us out with the event!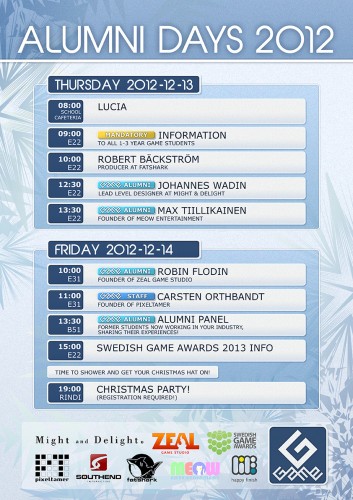 After a hiatus in 2011, the Alumni Days are back in full glory.
At the end of the autumn semester, just before christmas break, we invite former students currently working in the industry and try to learn from them. We're doing two full days of guest lectures and a discussion panel – hanging or with our people from FatShark, Might & Delight, Happy Finish, PixelTamer, Meow Entertainment, Zeal Game Studio and more.
As always, we will end with a nice Christmas Party to wind down and celebrate the end of our semester. There's currently 145 people registered for the party – that's all game developers on the island; our students, staff, all the local game studios and our invited industry guests.
Here's some links to previous Alumni Days:
Alumni Day 2008
Alumni Days 2009
Alumni Days 2010
See you out there!


Crytek is a German video game company founded in 1999. Crytek's main headquarters are in Frankfurt, Germany, with five other studios in Kiev, Budapest, Nottingham, Sofia and Seoul.[1] The company is best known for developing the game Far Cry and the CryEngine that the game uses, and later Crysis and CryEngine 2. Their most recent major product is Crysis 2 and its supporting CryEngine 3. Their 629-member development team is composed of game professionals from over 36 nations.

MindArk is a Swedish software company. It created Entropia Universe (formerly known as Project Entropia), a popular MMORPG-style online virtual universe. In partnership with American companies Nextpert and Neverdie Studios, it will launch the next generation 3D virtual world, Next Island in 2010. In partnership with Los Angeles-based SEE Virtual Worlds, LLC, Entropia will serve as the platform for the MMORPG based on the life of Michael Jackson, titled "Planet Michael." "Planet Michael" is slated to launch in late 2011.


Might and Delight is a small group of people that met each other under the roof of former game developer GRIN. You might know them for Bionic Commando Rearmed.
Peter Stråhle
Johannes Wadin