The lectures goes up on YouTube as soon as we render them.
Thanks to Kajfa, Teddy, Daniel and Jerker for taking the time and helping us out with the event!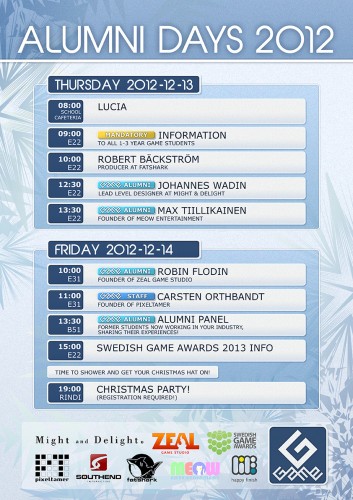 After a hiatus in 2011, the Alumni Days are back in full glory.
At the end of the autumn semester, just before christmas break, we invite former students currently working in the industry and try to learn from them. We're doing two full days of guest lectures and a discussion panel – hanging or with our people from FatShark, Might & Delight, Happy Finish, PixelTamer, Meow Entertainment, Zeal Game Studio and more.
As always, we will end with a nice Christmas Party to wind down and celebrate the end of our semester. There's currently 145 people registered for the party – that's all game developers on the island; our students, staff, all the local game studios and our invited industry guests.
Here's some links to previous Alumni Days:
Alumni Day 2008
Alumni Days 2009
Alumni Days 2010
See you out there!


Crytek is a German video game company founded in 1999. Crytek's main headquarters are in Frankfurt, Germany, with five other studios in Kiev, Budapest, Nottingham, Sofia and Seoul.[1] The company is best known for developing the game Far Cry and the CryEngine that the game uses, and later Crysis and CryEngine 2. Their most recent major product is Crysis 2 and its supporting CryEngine 3. Their 629-member development team is composed of game professionals from over 36 nations.

MindArk is a Swedish software company. It created Entropia Universe (formerly known as Project Entropia), a popular MMORPG-style online virtual universe. In partnership with American companies Nextpert and Neverdie Studios, it will launch the next generation 3D virtual world, Next Island in 2010. In partnership with Los Angeles-based SEE Virtual Worlds, LLC, Entropia will serve as the platform for the MMORPG based on the life of Michael Jackson, titled "Planet Michael." "Planet Michael" is slated to launch in late 2011.


Might and Delight is a small group of people that met each other under the roof of former game developer GRIN. You might know them for Bionic Commando Rearmed.
Peter Stråhle
Johannes Wadin


SimBin Studios is a Swedish video game developer- and publisher founded in 2003 that develops racing simulators for Windows and the current-generation consoles. The company has its headquarters in Vara and the main development studio in Gothenburg.