Note: all lectures are now available on our YouTube-channel, and you can grab some pics right here on the blog.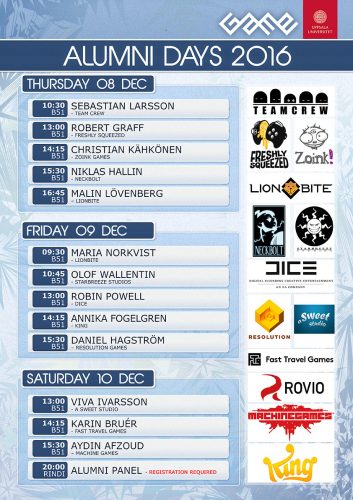 The weekend 8-10th of December sees old students returning to the education for our annual Alumni Days. All of them started where our students are now, and are now firmly part of the games industry either as members of a AAA studio, or as a lone indie developer. By bringing alumni back we kick start our students industry networks, and show them how our education can help them get a start in the industry after they leave.
This year's speaker line-up cover the full range of industry positions, but don't worry if you can't be here in person – most of the presentations are recorded and will appear on our YouTube channel.
Are you an ex-GAME student? Join the Uppsala University Alumn Network.
And, of course, join our Facebook group for students past and present.
Here's a schedule for your copy-paste convenience. Please note that the schedule is tentative. Talks might be brought forward or delayed. ALL UPDATES REGARDING TIME CHANGES WILL BE DONE ON THE FACEBOOK EVENT. So please sign up if you want updates. And not just regarding time, but whether a session is full or other important updates.
08 December, Thursday, B51
10.30 Sebastian Larsson – Game Designer, Team Crew. Sebastian is giving a postmortem for Frog Climbers.
13.00 Robert Graff – Game Designer, Freshly Squeezed. Robert is giving a postmortem for Defunct.
14.15 Christian Kähkönen – 3D/Tech Artist, Zoink Games. Christian will be talking about how he went from never had worked on a game to be a Tech Artist. And what a Tech Artist does at Zoink and what you should think about before seeking out an internship.
15.30 Niklas Hallin – Solo Developer, Neckbolt. Niklas will present his timeline. From student, to studio founder, onto freelancing artist and arrive as a well-renowned solo developer and his time at Stugan. He'll also give a sneak peek of his next project after he's done with the elephant game.
16.45 Malin Lövenberg – Game Designer, Lionbite. Malin will give some tips about how to get your first job. And then go on to talk about everything you can learn as level designer by writing comics. As well as challenge tropes.
09 December, Friday, B51
09.30 Maria Norkvist – 3D Artist, Lionbite. Maria will talk about how she is building the world of Rain of Reflection. She will also talk about and demonstrating how to build props with modularity in mind for optimization. So environment artists don't want to miss this.
10.45 Olof Wallentin – Gameplay Programmer, Starbreeze Studios. Olof's presentation is a two-parter. First he'll be covering his time in Kyoto, the new indie scene that is growing in Japan and how the corporate culture can suffocate creativity. The other half is dedicated to Starbreeze ambition and vision for games as a service and the future of VR, primarily StarVR.
13.00 Robin Powell – QA Art Analyst, DICE. Robin will be talking about how he balanced his work as an Art Analyst on Mirror's Edge Catalyst and Battlefield 1 and at the same time studying for a master in Human-Computer Interaction. How can you combine work and studies and how do they overlap.
14.15 Annika Fogelgren – Producer, King. Annika will talk about how to create the best environment for your team to deliver a game in a 10 points format. She'll also talk about how she views the current state of the game industry.
15.30 Daniel Hagström – Developer, Resolution Games. Daniel will give the latest updates on what Resolution Games has learned from developing games for VR, as well as talking about soft values. The importance of a good work environment, dealing with imposter syndrome and that perks shouldn't replace pay or sleep.
10 December, Saturday, B51
13.00 Viva Ivarsson – Game Designer, A Sweet Studio. Viva will be talking about how to design games for soft launch as well as presenting 7 lessons you can learn from Jack Skellington (The Nightmare before Christmas) about game design.
14.15 Karin Bruér – Art Director, Fast Travel Games. Karin will be talking about going from artist to Art Director as well as going from mobile to VR. She also give some inside tips about how to recruit artists and what your portfolio should contain. As well as 5 lessons from 5 years in the industry.
15.30 Aydin Afzoud – Game Designer, MachineGames. Aydin will talk about his work on Wolfenstein and DOOM as well as things you should know as a designer.
20.00 Alumnipanel & Party (at Rindi) Come hang out, play some games and make new friends.
In order to attend the Alumni Panel and the party you need to fill out this form before 17.00. And while you're at it, send in a question for the panel!
If the second years seemed a bit stressed of late, this is why. Their first characters ever – pretty awesome way to end their first 3D course. Well done, folks!!
– Nataska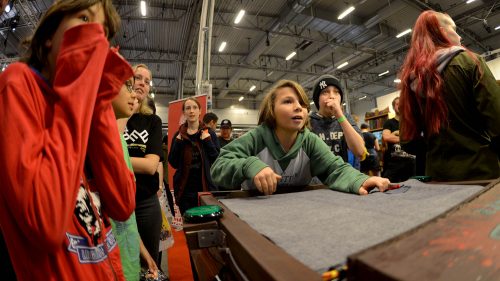 As is our custom we sent a dozen of our students and their games to Gamex / ComicCon this year too. This year we showed off primarily 1st and 2nd year games and drew decent crowds with multiplayer games like Frog Climbers, the only true zombie-survival game Zombie Crawler, the relaxation and sleep helper Slumber and the unlikely party game Cryptogram; an escape the room horror game controlled entirely by a book shelf. 🙂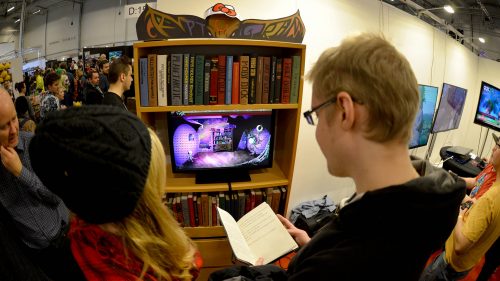 Gamex has changed a lot in the transition to ComicCon though. They still call it a show floor, but the only thing on show is merchandise. There are almost no game developers or publishers here anymore, so visitors pay good money for tickets only to get into a glorified market with hawkers pushing landfill-destined "collectible" plastics, plush toys, "loot crates" and other "nerd culture" ephemera. I'm not against commerce and people buying shit, but I am against charging people for the privilege. With the show floor at its current state, an entrance fee seems shameful.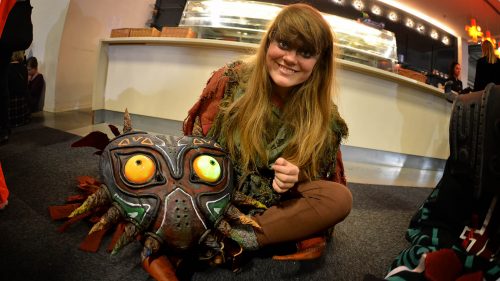 What saved the weekend, I think, were the many ambitious cosplayers, the 2-3 companies that brought room-scale VR for people to try, our booth neighbors Little Nightmares and the many educations who, like us, were showing off experimental and exciting playable stuff.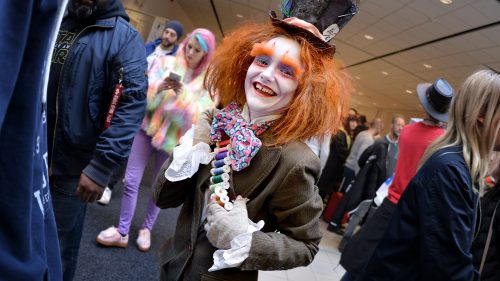 A substantial part of the visitors seemed to be from small-child families, so the average age in these pictures trend towards the lower end. But it's kind of cool to see how well received the games are by nearly anyone who tries them. To the extent that they often come back later with family or friends to show them the game too.
Our students did a great job, as always. They work their butts off during exhibitions like this. Long hours, lots of interactions, all while maintaining their constructions and keeping the games running under what can only be described as a three-day non-stop stress test. They worked hard, and they earned some very good publicity for their efforts! Listen to these interviews:
Susanne Möller, P3 Spel, played Zombie Crawler and Cryptogram at 1:32:45.
The Nördigt podcast talked Zombie Crawler (and Ballistic Balloon Battle) at 16:45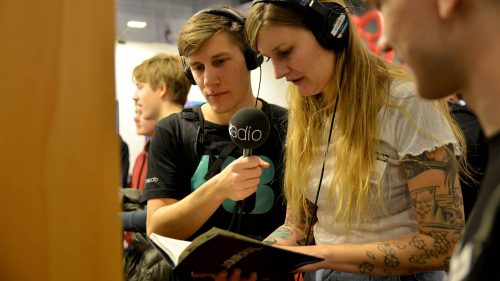 The semester (with all new pimple-face youths) just started, so it's time for another edition of My First Jam! 8 hours from start to finish, in a game development race towards the coveted awards; Best Interpretation, Best Execution och Most Fun.
To welcome the new students we awards bonus points to teams with mixed student cohorts (1st, 2nd and 3rd year students) and everyone must work with the same tech – this year we went with Game Maker – which is incredibly noob-friendly, just like us. 🙂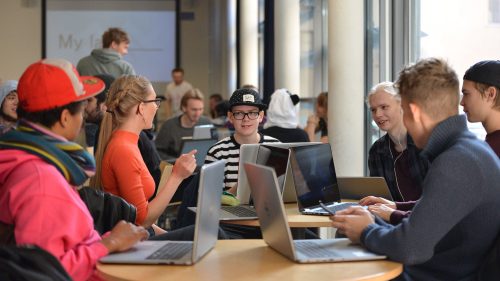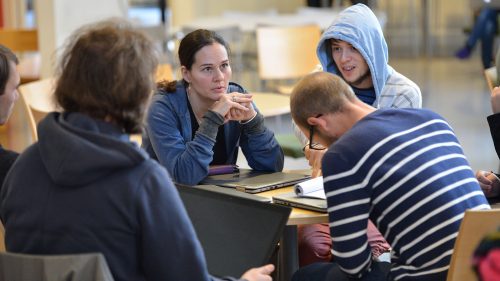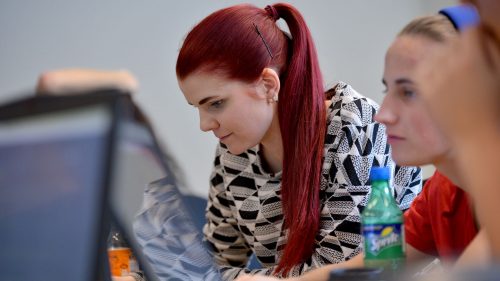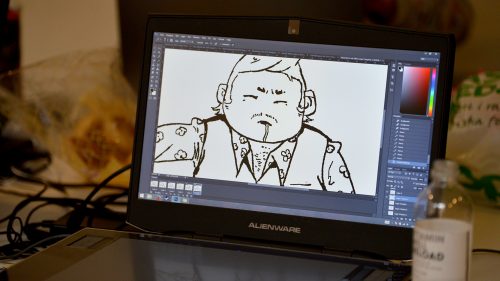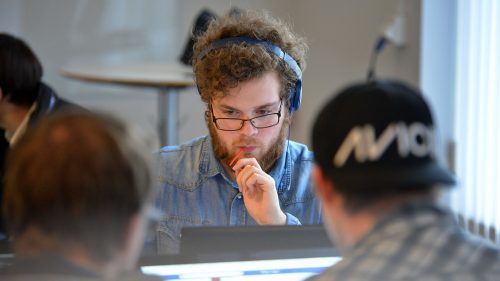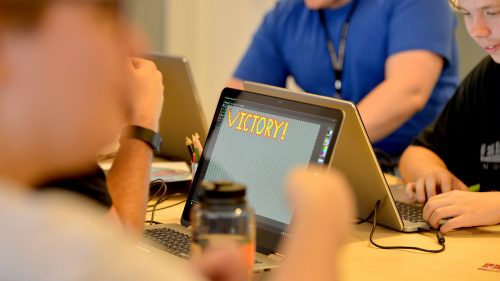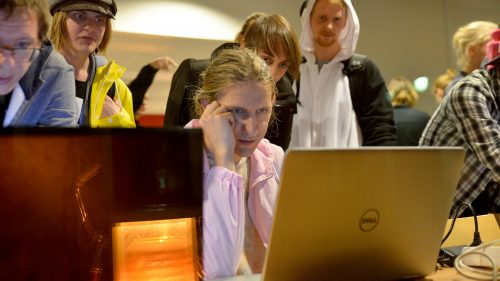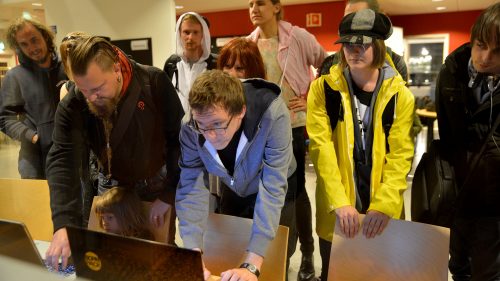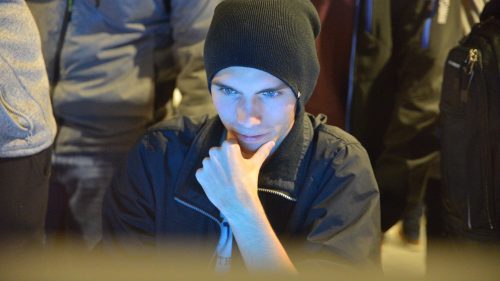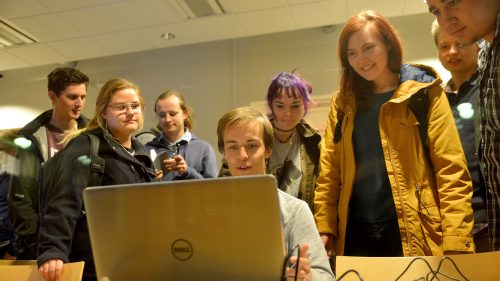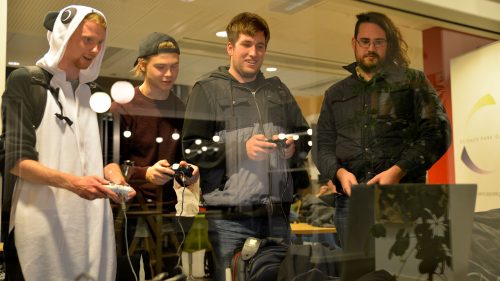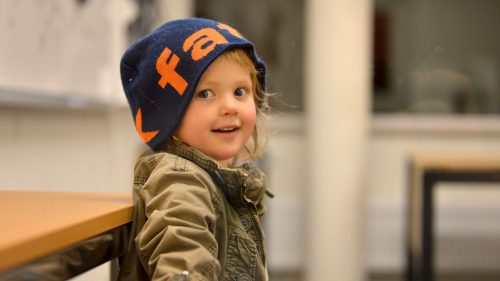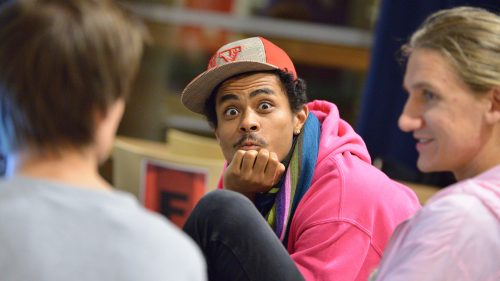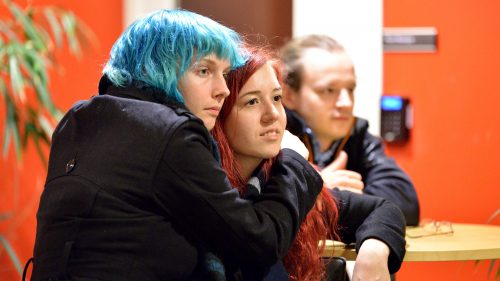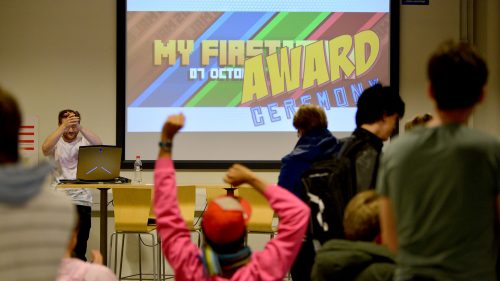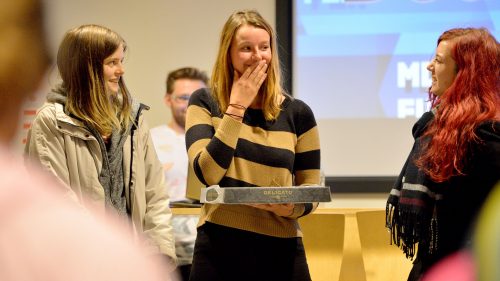 Congratulations to the Cryptogram and Sam and Nicole teams on their success at the Swedish Game Awards! Way to go, folks!

Sam and Nicole was awarded Best Diversity Effort and given a cash prize of 7 000 SEK as well as two conference passes to Game Developers Conference in San Francisco. Cryptogram was awarded Best Execution in Design, Best Technical Execution and Best Execution in Narrative and given a total cash prize of 21 000 SEK as well as a visit to Might and Delight.
Check the official SGA website for the rest of the winners!
Here are some photos from awards, courtesy of the event photographer Sebastian Bularca.
Another year, another conference. We're good at this!

Our conference opened with our head of state, Hans Svensson, recognizing our education's adolescence. He said, with gentle mirth and pain in his heart, the he realized "that every day I have to work with a teenager." And thus he set proceedings off with a sentiment that holds for our education, our industry and our conference: Without the rebellious teenager, our futures would stagnate.
But, judging by the work of our students, the future is safe. The future is weird.
Every year our first year students make games with innovative input devices – no buttons and keyboards for them. Every year they do us proud, but this year, the games reached new heights – a game where you are a zombie, pulling yourself across the floor to get to your target; a game where the input device was a wooden rocking horse; a game where the primary action is hugging; and one where the entire input method was a room with a bookshelf.
The second years are given the opportunity to make the game of their dreams, and the freedom to break boundaries. And did they deliver! A game to help insomnia sufferers. A game expressing the experience of a teenage lesbian couple. Charming Platform Puzzle-games with tons of character and a plethora of interesting mechanics. A real time puzzle game where the player is a rogue AI. Even the third years, who are weighed down with the academic weight of a thesis, managed to put games into the show – Naar and Tamarrion returned, looking, and playing, better than their first outing last year. And Omni, a strategic real time board game, took to the floor, in time for the start of its Kickstarter campaign.
All these games were played, and considered, by our amazing speakers: Jerry Bellich, Richard Lemarchand, Patrik Hanson and David Wolinsky. These fine figures gave 5 amazing presentations ranging from circuses, input devices, employment, understanding the personal reasons we make games, and the subject of sex, sexuality and intimacy.
As always, these phenomenal presentations will be released to our YouTube channel so, even if you weren't there you can enjoy them too. The Speakers were joined by an equally competent jury, some even made it to the stage for a panel discussion lead by the Swedish Games Industry's Per Strömbäck.
We also said hello to our local college Gutegymnasiet. We have been working with them over the past year, sending our Subject Responsible Adam Mayes to teach in their newly created game program. They responded by sending their students, with games, to participate on the show floor! We look forward to having them back at the conference next year, and their students to our programs when they're ready.
To see all the photos from the event, including the award ceremony and party, please check out the Gotland Game Conference gallery on facebook!