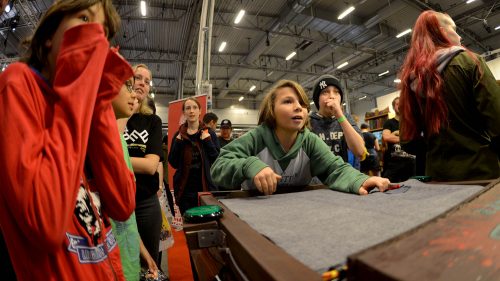 As is our custom we sent a dozen of our students and their games to Gamex / ComicCon this year too. This year we showed off primarily 1st and 2nd year games and drew decent crowds with multiplayer games like Frog Climbers, the only true zombie-survival game Zombie Crawler, the relaxation and sleep helper Slumber and the unlikely party game Cryptogram; an escape the room horror game controlled entirely by a book shelf. 🙂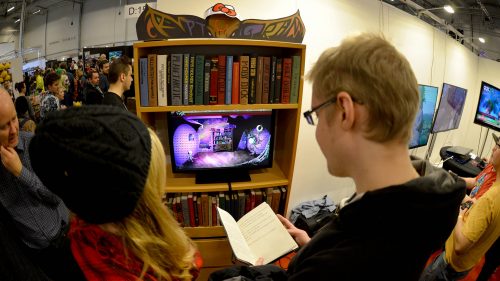 Gamex has changed a lot in the transition to ComicCon though. They still call it a show floor, but the only thing on show is merchandise. There are almost no game developers or publishers here anymore, so visitors pay good money for tickets only to get into a glorified market with hawkers pushing landfill-destined "collectible" plastics, plush toys, "loot crates" and other "nerd culture" ephemera. I'm not against commerce and people buying shit, but I am against charging people for the privilege. With the show floor at its current state, an entrance fee seems shameful.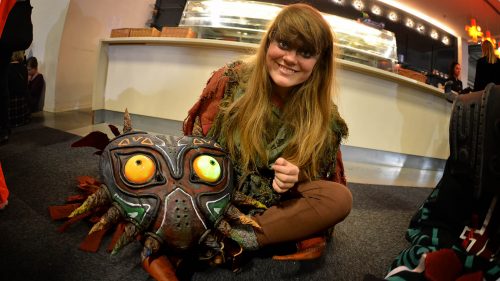 What saved the weekend, I think, were the many ambitious cosplayers, the 2-3 companies that brought room-scale VR for people to try, our booth neighbors Little Nightmares and the many educations who, like us, were showing off experimental and exciting playable stuff.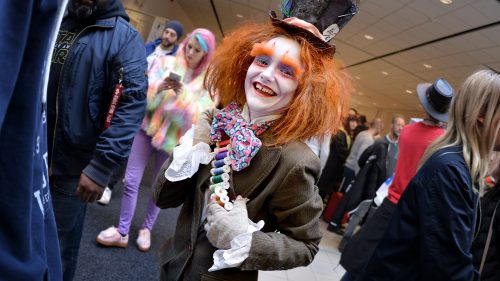 A substantial part of the visitors seemed to be from small-child families, so the average age in these pictures trend towards the lower end. But it's kind of cool to see how well received the games are by nearly anyone who tries them. To the extent that they often come back later with family or friends to show them the game too.
Our students did a great job, as always. They work their butts off during exhibitions like this. Long hours, lots of interactions, all while maintaining their constructions and keeping the games running under what can only be described as a three-day non-stop stress test. They worked hard, and they earned some very good publicity for their efforts! Listen to these interviews:
Susanne Möller, P3 Spel, played Zombie Crawler and Cryptogram at 1:32:45.
The Nördigt podcast talked Zombie Crawler (and Ballistic Balloon Battle) at 16:45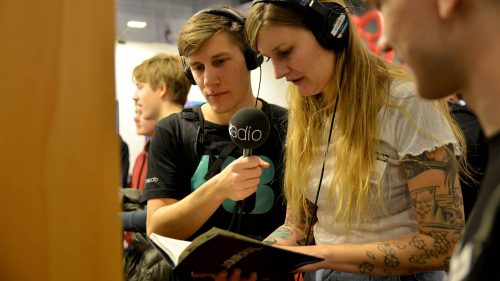 The semester (with all new pimple-face youths) just started, so it's time for another edition of My First Jam! 8 hours from start to finish, in a game development race towards the coveted awards; Best Interpretation, Best Execution och Most Fun.
To welcome the new students we awards bonus points to teams with mixed student cohorts (1st, 2nd and 3rd year students) and everyone must work with the same tech – this year we went with Game Maker – which is incredibly noob-friendly, just like us. 🙂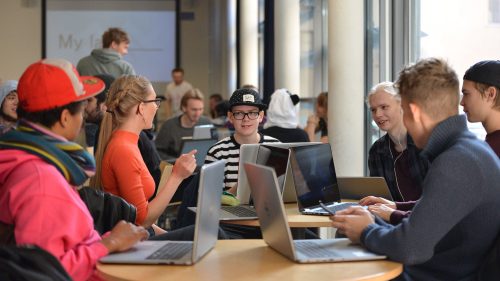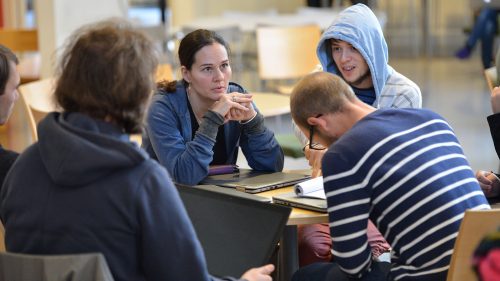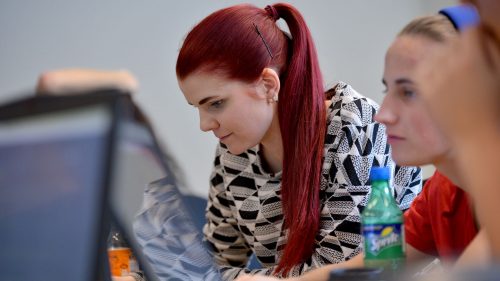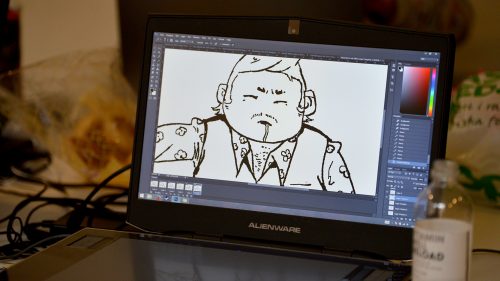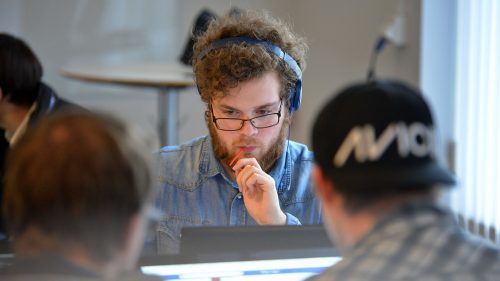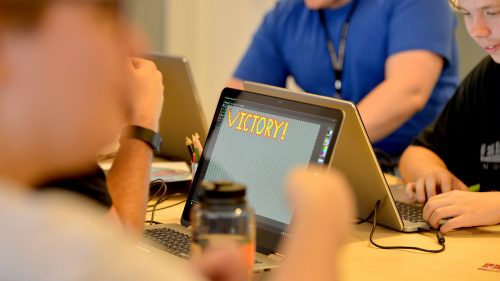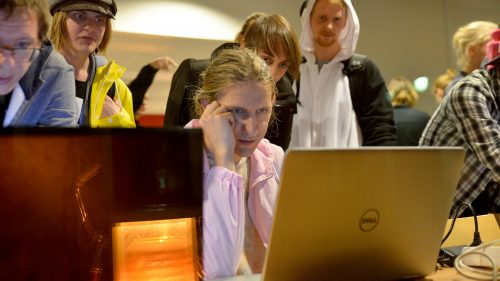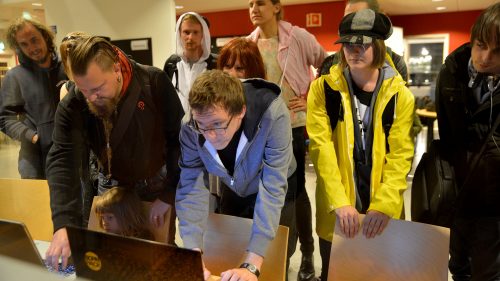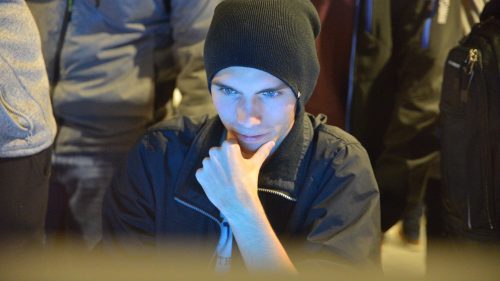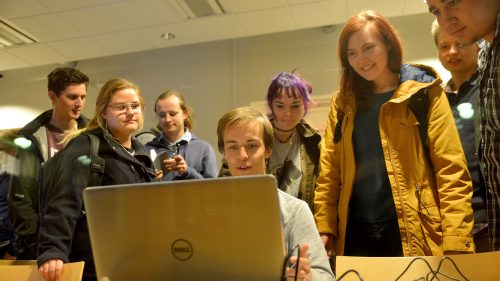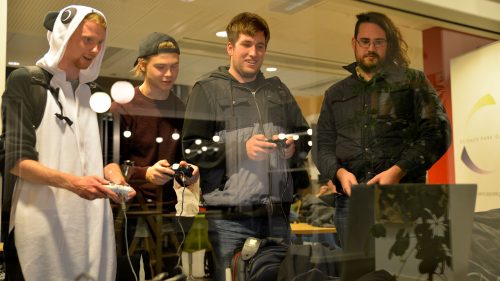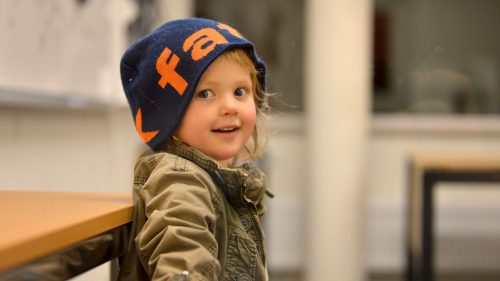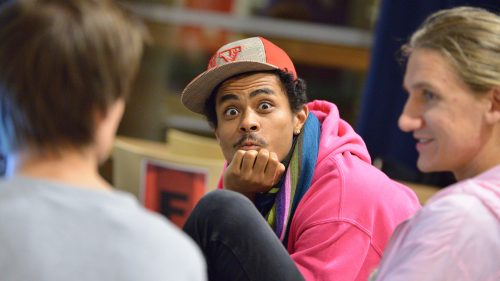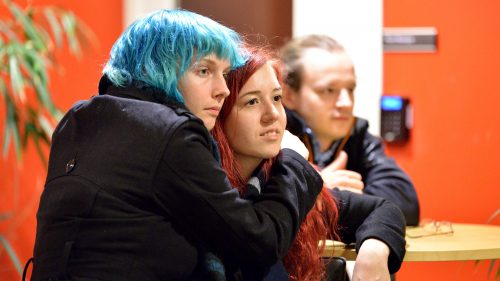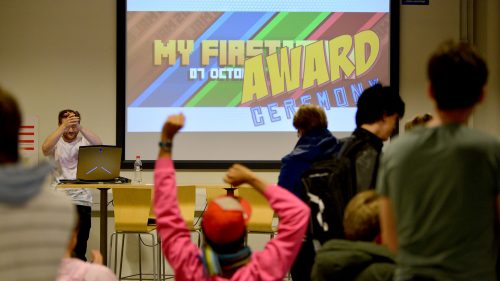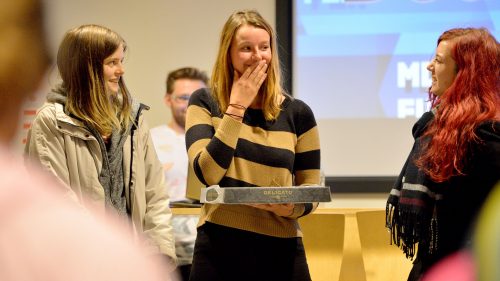 Congratulations to the Cryptogram and Sam and Nicole teams on their success at the Swedish Game Awards! Way to go, folks!

Sam and Nicole was awarded Best Diversity Effort and given a cash prize of 7 000 SEK as well as two conference passes to Game Developers Conference in San Francisco. Cryptogram was awarded Best Execution in Design, Best Technical Execution and Best Execution in Narrative and given a total cash prize of 21 000 SEK as well as a visit to Might and Delight.
Check the official SGA website for the rest of the winners!
Here are some photos from awards, courtesy of the event photographer Sebastian Bularca.
Another year, another conference. We're good at this!

Our conference opened with our head of state, Hans Svensson, recognizing our education's adolescence. He said, with gentle mirth and pain in his heart, the he realized "that every day I have to work with a teenager." And thus he set proceedings off with a sentiment that holds for our education, our industry and our conference: Without the rebellious teenager, our futures would stagnate.
But, judging by the work of our students, the future is safe. The future is weird.
Every year our first year students make games with innovative input devices – no buttons and keyboards for them. Every year they do us proud, but this year, the games reached new heights – a game where you are a zombie, pulling yourself across the floor to get to your target; a game where the input device was a wooden rocking horse; a game where the primary action is hugging; and one where the entire input method was a room with a bookshelf.
The second years are given the opportunity to make the game of their dreams, and the freedom to break boundaries. And did they deliver! A game to help insomnia sufferers. A game expressing the experience of a teenage lesbian couple. Charming Platform Puzzle-games with tons of character and a plethora of interesting mechanics. A real time puzzle game where the player is a rogue AI. Even the third years, who are weighed down with the academic weight of a thesis, managed to put games into the show – Naar and Tamarrion returned, looking, and playing, better than their first outing last year. And Omni, a strategic real time board game, took to the floor, in time for the start of its Kickstarter campaign.
All these games were played, and considered, by our amazing speakers: Jerry Bellich, Richard Lemarchand, Patrik Hanson and David Wolinsky. These fine figures gave 5 amazing presentations ranging from circuses, input devices, employment, understanding the personal reasons we make games, and the subject of sex, sexuality and intimacy.
As always, these phenomenal presentations will be released to our YouTube channel so, even if you weren't there you can enjoy them too. The Speakers were joined by an equally competent jury, some even made it to the stage for a panel discussion lead by the Swedish Games Industry's Per Strömbäck.
We also said hello to our local college Gutegymnasiet. We have been working with them over the past year, sending our Subject Responsible Adam Mayes to teach in their newly created game program. They responded by sending their students, with games, to participate on the show floor! We look forward to having them back at the conference next year, and their students to our programs when they're ready.
To see all the photos from the event, including the award ceremony and party, please check out the Gotland Game Conference gallery on facebook!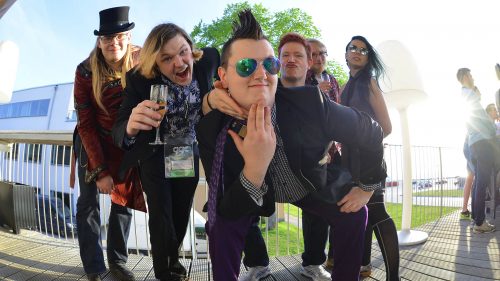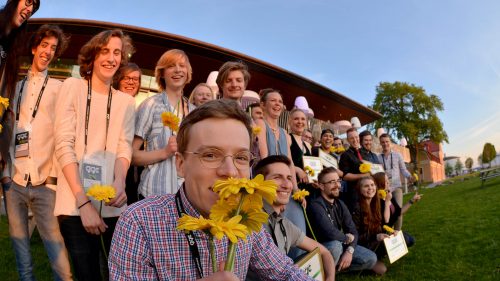 Last week, we … (last week already. Where does the time go?)
Last week we travelled to Washington, D.C. for an Unconference with the Higher Education in Video Games Association.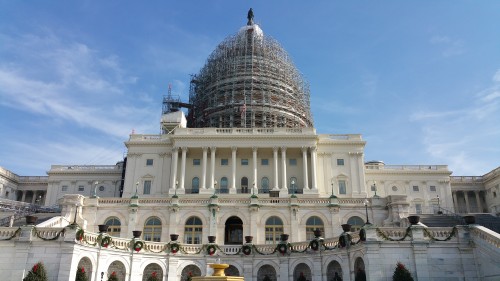 The gathering was titled "Games + Higher Education + National Impact." HEVGA described it this this:
"This two day meet-up will assemble leading thinkers and creators of interactive media to address national priorities areas including educational tools for teachers and students, citizen science platforms for crowdsourcing discovery, and increasing diversity in STEM (and tech industries generally). By the end of this jointly hosted meet-up, participants will be up to speed on current funding priorities of federal agencies investing in interactive media for impact; will have expanded their professional network of potential partners across both campuses and agencies; and will gain actionable knowledge about best practices and common pitfalls in the federal grant proposal and review process."
And it really was like that. Game educators sat in the same room as funding bodies, government agencies and private companies and talked about challenges and opportunities for games for impact.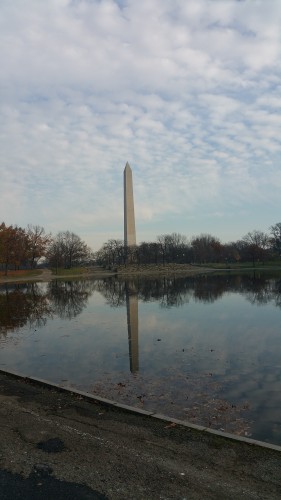 One of the highlights was listening to the Executive Director of the National Consortium for the Study of Terrorism and Responses to Terrorism talk about personality types that are easily radicalised and how, even through we use that term solely for certain kinds of terror, that type is similar across all ideologies, including our own gamergaters.
That presentation then went on to discuss how games can be used to combat radicalism and create healthy support networks for vulnerable individuals.
On that subject, we met our old friend, Heidi McDonald, who spoke about her new job at iThrive. They have a vision that "mobile and online gaming and app technologies can be used effectively  as tools that build positive emotions in adolescents, improve quality of life and prevent the development of mental health disorders."
They have an open competition coming up, and a Game Jam Diversifier. Go over to their site and read all about that. We've agreed that she should come and talk to our students in the New Year, so we'll organise some coverage of that event.
All in all, it was another inspirational event. The Live Tweeting from the Gotland Game account was a little sporadic, given the nature of more conversation than conference, and less battery than we would like on the computer, but do look back and see what happened.
UPDATE: all talks are now published on our Guest Lecture playlist on YouTube.
This weekend we took a break from everything that has to do with Christmas preparations hullabaloo and invited some of our alumni to come and inspire our current students and spread their knowledge.
Martin Greip showed a very impressive graph of "All the Feels"™ of being an indie developer and the daily struggle of running a studio. And by "accident" he also revealed Eat Create Sleep's next game, Project Synvilla.

Albertina Sparrhult held a very personal introduction (with cows, bathroom queues and everything), to what Diversi is all about and why we all benefit from more diversity within our games.

Nobody knows how to herd cats and destroy all the fun more than Ylva Sundström, who shared her biggest secrets on how to become an exceptional game producer.

After he conquered Europe, the son of Gotland return to talk about his conquests. Andreas Svensson has been working at several game studios around Italy and Germany. Now he's back at Blue Byte, one of the first companies he worked at.

Making a game is easy. Making a game that people understand is hard. Kalle Henningsson, QA Manager at Playdead, showed of some examples of the different iterations of Limbo and their upcoming title, Inside.

Daniel Polgar & Lee Kåberg hade the audience clapping and cheering while they talked about the process of starting up their company, Bridgeside Interactive. They spilled the beans on everything from how to form the company culture, what positions you need to fill and where the money is. Not only that, but they also showed of their first game, Clapper. Which is based on a game they produced during, the objectively best course on Campus Gotland, "Theme Park".

"Who made that wonderful torch", was the only thing everyone could think of when Horizon: Zero Dawn was revealed at this years E3. Prop modeler extraordinaire, Kim Aava, talked about what goes into a portfolio, the difference between working at an indie studio compared to a AAA-studio. But most importantly, she bravely showed some of her early work to show that everybody is a beginner at some point. An encouragement to us all!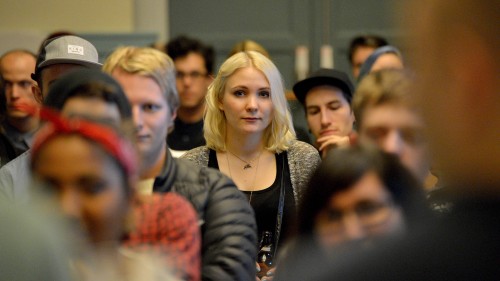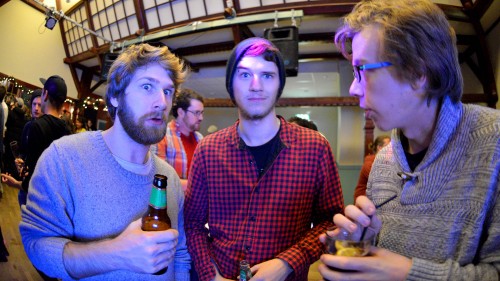 We ended it all at the local student union pub, with a Q&A-panel consisting of some of our alumnis, mingle and some of the games produced at the education this year. It was a blast! Big, big thanks to all alumni, students and staff!
PS. we will publish all talks we're allowed to share, on our youtube-channel. Subscribe to our RSS-feed for a notification when they're up!