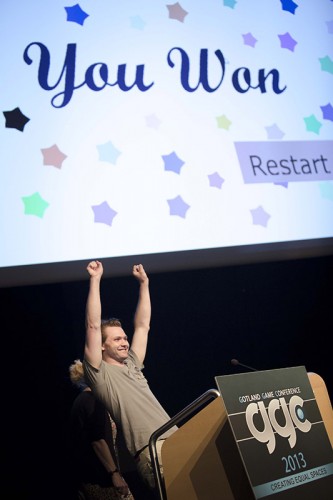 We're particularly proud of this year's GGC.
Not only did we cover the very important issue of gender inequality in the industry, with a view on solutions, we also delivered such high quality student games, we're sure to clean up at the Swedish Game Awards.
To try and summarise the presentations would require a post that is very tl;dr. So why not move over to our YouTube Channel and watch them all. You should do them in order, because the level of information was scaffolded, each talk building on what had come before.
We want to thank everyone for pulling this together – the speakers especially.
But, we all know what you're here for. The pictures. So here they are.
Why not look at them while watching the presentations?
The Games Exhibition
Conference Presentations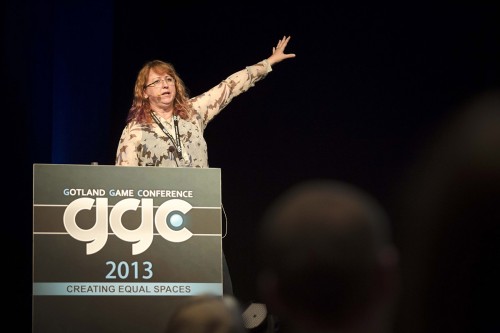 Awards Ceremony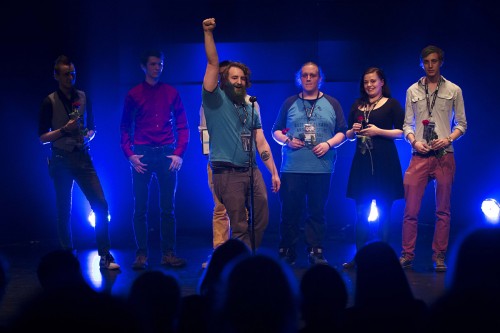 Party!!!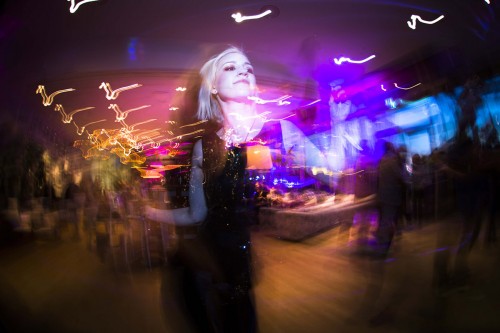 All photos courtesy of Mats Ek, used with permission.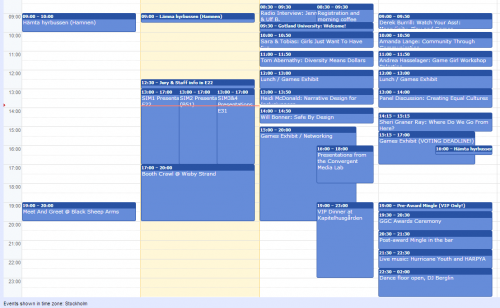 Lectures are posted throughout the days on our Youtube-channel, and we are live tweeting as GotlandGAME. Join the conversation using #GGConf13!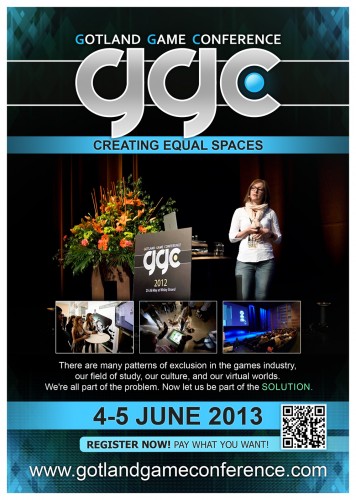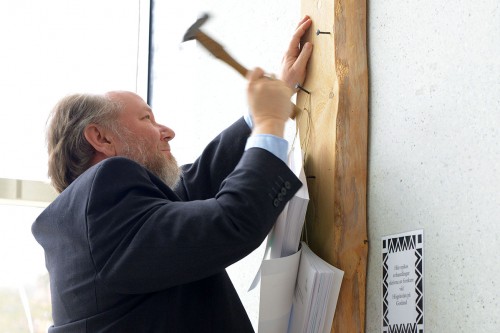 In February, after nearly 18 years of thinking and writing about interactive storytelling (as well as a good many other topics), I received a Ph.D. in that subject from the University of Teesside in the UK. My thesis is called Resolutions to Some Problems in Interactive Storytelling, and it's a retrospective and analysis of the papers and lectures I've given over the years. In this month's column, I'm going to summarize a few of my conclusions.
– Ernest Adam, published on Gamasutra.
So YES! Ernest finally got to nail his doctoral thesis on campus this month!
"Spikning" (lit. nailing) is an academic ritual in connection with the submission of a dissertation. Before the dissertation thesis is published it must be made available to anyone who wants to read it and come up with criticism for the disputation. The Swedish tradition is to have the respondent ceremonially nail a copy of the dissertation to a wall, for public display.
Ernest is the second GAME staffer to drive a nail into that board in Almedalen, and the entire thesis is available for download at the bottom of this post. For a quick overview of some of the juicy bits, click through to his Gamasutra writeup.
Good job man!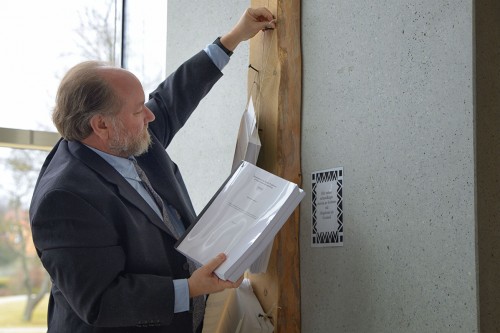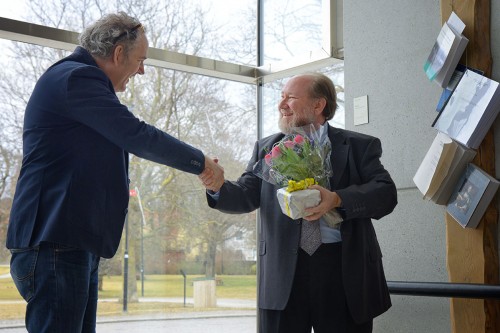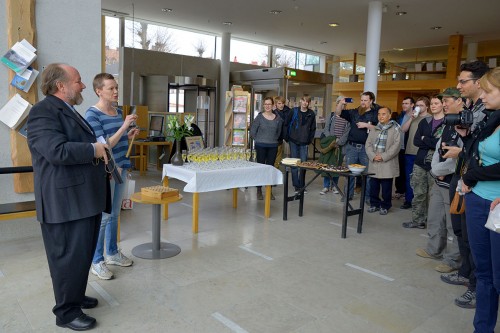 Resolutions to Some Problems in Interactive Storytelling, Volume 1 [PDF]
Resolutions to Some Problems in Interactive Storytelling, Volume 2 [PDF]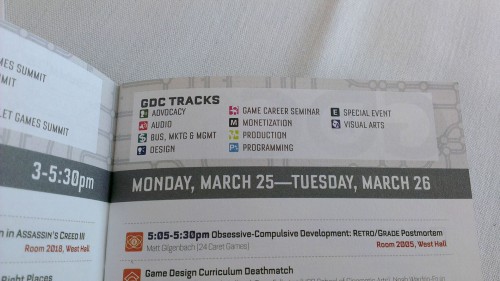 Adam Mayes is such a shameful fanboy. His enthusiasm for USA, San Francisco and the "real" GDC has been diabetes inducing – long ago triggering the predictable counter-reaction in yours-trolly.
I am willing to admit now though that the man was right about GDC. I can't remember leaving a session of GDC Europe feeling inspired. Or enthusiastic. Or validated. Or whipped.
Informed – absolutely, but never… improved.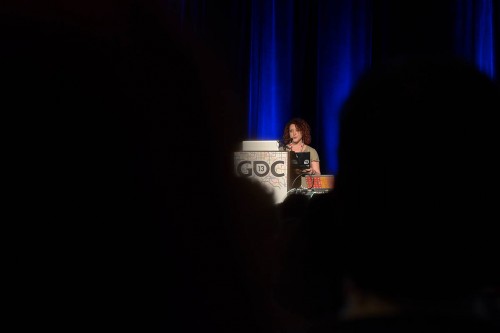 We've been here two days and the conference has yet to start proper. The first two days are "summits" – I'm primarily following the Education and the Monetization summits with a dip in the AI track every now and then. The AI people have, by far, the most fun in their sessions.
Only two days, and I've already met and spoke with Brenda and John Romero, Leigh Alexander, Tracy Fullerton, Eric Zimmerman, Ian Schreiber, Jeff Orkin – you know. The people that writes The Books. The people that we Follow.
A lot of talk of inclusion, gender and death to the boy club all around the conference. The topic crops up in almost every session. There is an undeniable air of synchronicity with our own conference theme. People respond extremely well when I bring the GGC up, so I'm doing my best and grabbing big name-speakers here.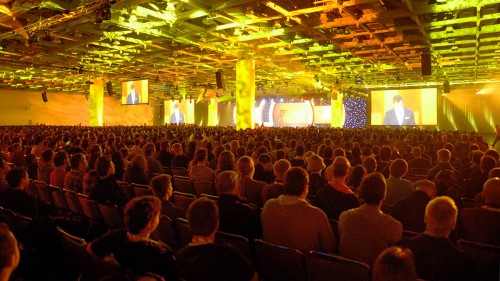 Adam and I are on the plane back from Stockholm – cutting through a massive snowstorm after a long day off the island. We've been speaking at Fryshuset Gymnasium and GUC Uppsala.
Three months ago when Fryshuset invited us to talk about ethical games we were brimming with ideas! We would talk about abuse in gaming spaces, exclusion in the industry and culture, bullshit copy protection schemes, bullying, harassment – all of the things!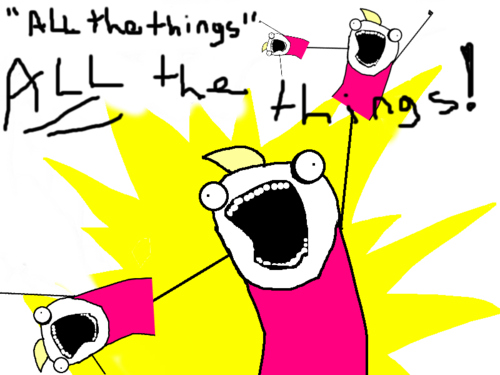 We spent many late evenings gathering materials, thinking and discussing. It was all good and productive until we looked up what ethics means – and promptly had to throw out everything we'd done up to that point.
We had fallen into the classical trap of assuming that ethics are equivalent to "decent behavior". Rectifying that schoolboy error, we then proceeded to spend the nights arguing, bitching and moaning (with great intellectual vigor!) until Securitas arrived and gave us ten minutes to leave the building before calling the police.
This went on until 17 hours before we were due to present.
Our problem? The topic was simply too big. How do we talk about ethics, when there are so many different schools of thought? And how do we, as an artistic/entertainment medium, balance free speech/expression and explore difficult topics, while presenting an ethical framework for these works?
And how do we stop apologizing for our industry, while also recognizing that all entertainment media has gone through this process?
A brain melt of epic proportions – leaving us on stage in Stockholm, in front of young impressionable minds – and in big, big trouble.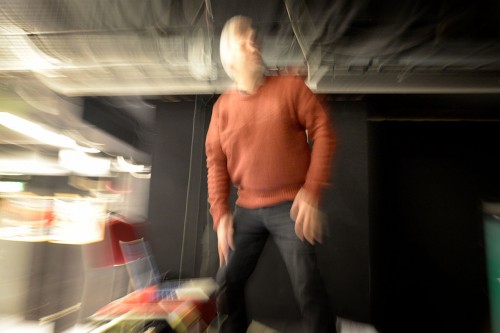 The result was a presentation on personal responsibility in the work we produce, and a respect for the audience we produce for. A demand for each developer to work out what their ethics and morals are, and how to express them through their work. And an argument for game design as the tool to express with intent in this rich medium of ours.
Then off to GUC.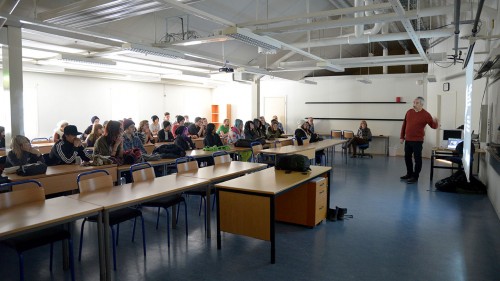 We were going to present a standard description of our education but on arriving, we realized that all our "standard descriptions" are aimed at either external organisations evaluating us, or students about to apply to us (and thus, in dire need of a beating).
So, with 15 minutes before showtime and with the threatening temptation of pie, we cannibalized and Frankensteined 3 presentations into a single, coherent, presentation on the value of our education, the value of studying games, and a quick tour of the ethics of our medium.
All in all, an impressive days work put together with spit and string!
And – even better – right now as we type this on the way home, penniless, on a plane without access to the most basic of credit card technology and bereft of coffee, we were offered money by complete strangers for our caffeine fix, before being given it for free by the professionally kind staff of GotlandsFlyg.
…. we should write and demand the company shower her with our praise.
Thanks to both Fryshuset and GUC for having us. It was great to see you all again and thanks for giving us the chance to flex our minds.
… and we'll get this guy next year.
Sundsvall was awesome, again.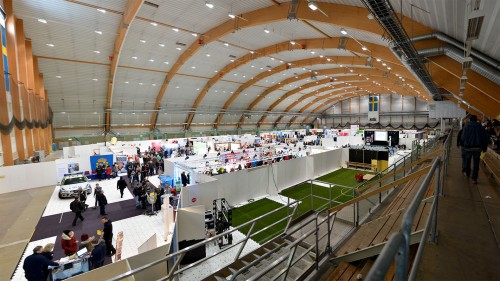 Sundsvall 24 – an organisation that works to connect young talent with entrepreneurs and new businesses – invited us back to their city, to speak at Utbildning & Rekrytering.
Thus we had the distinct pleasure of meeting all the third year high school students of Sundsvall and the neighboring cities, at a fair where higher educations, employers and talent seekers try to attract the fresh young minds before they get their graduation drunk on.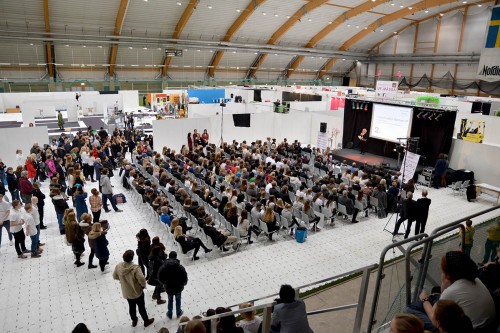 We spoke about what it takes to do well at a game education. And by proxy, what a good game education is. But really, our entire presentation can be summed up in single bullet point;
Do not apply to a game education thinking you'll get out of school. (we will beat you)
With a touch of;
We don't want you. We want your sister.
We were at an education fair and talked about why you shouldn't apply to higher education, and provided some options, a couple of strategies to prepare yourself and some ways to test if you truly are ready.
Speaking to a room full of young, male, self-identifying gamers and bored readers, we can only hope we won't be seeing any of them in our classrooms come autumn.
The other part of the exibition was Ung Företagsamhet – a national version of the American Junior Achievement. Through the projects students get an opportunity to create a product, design a business plan, start a business, run it for 6 months and then dismantle it. We got to see the final products presented by the students themselves on the show floor. We saw import/export businesses, gambling, social services (providing company for old people), beauty, development, health and honest to god inventors.
One group (the only one that had salespeople walking the floor and thus approached us rather than the opposite) had made an all-natural ecological lip balm. They found a place to buy the empty lip balm sticks and invented their own recipes and five flavors (incl. ginger bread!). Most impressive thing? Apart from the excellent approach to exhibits and selling – they have a fully functional website – allowing me to place an order online and pick the product up at once on site.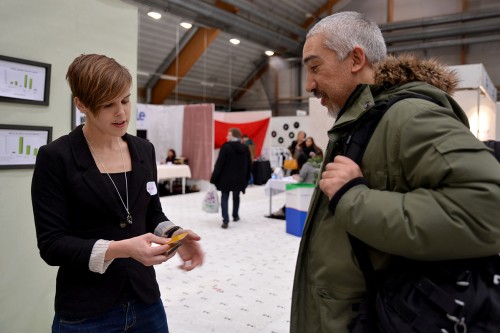 This girl has made a reflex to attach to your bus card – guaranteeing you always have visibility when you need it; when walking to, from or waiting for the bus. She had loads of statistics on the problem (lack of visibility in traffic, poor reflex discipline and it's effects) and for her proposed solution. Her product is smart, cheap, flexible and re-attachable – kind of like screen protectors.
We suggested she might want to sell these to businesses as a branding product. Print it with logos, websites or QR codes. Shit – the buss company itself could provide these with their cards.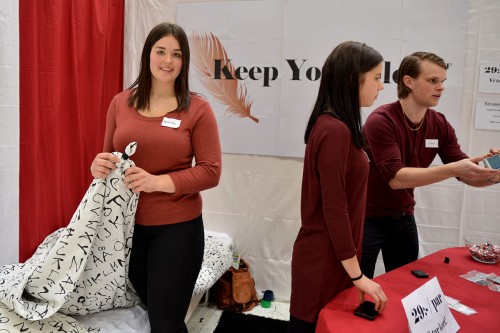 These people had invented a solution to blankets falling to the bottom of their sheets when sleeping. And they had a collaboration with a local bank to accept card payments and thus sold their invention on the floor. Re-branding velcro and making money off of it – impressive.

Another group made ecological wheat heat bags, entirely produced with local resources and from re-used materials. They had a very strong, well thought out, well executed and consistent profile; all about environment and community.
Every bag is delivered with a small folder detailing the origin of the (re-used) textiles, and info about the farm (just outside of town) where the wheat was grown. Everything is hand made – even the small paper bags you get to carry the stuff home in.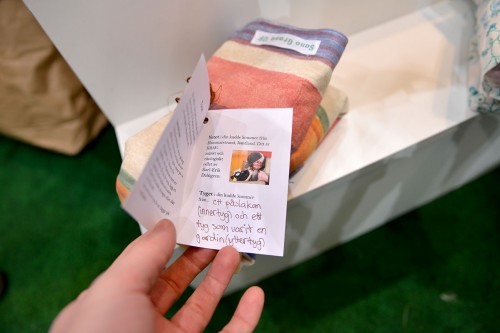 The market for heat bags is well tended to, and they were aware of this – though sales had been impressive they did not intend to continue with this product. But there is always a space for a solid product with unique selling points. Especially when the opportunity costs is as low as for these projects.
The creativity behind useful inventions is always impressive, but what we really appreciated was talking to the properly ambitious groups like the ones We've shown you. The ones that had set up web sites to reach their markets. That had payment processors and invoicing systems. That had a well defined message and communicated it clearly. The ones that had done market research and provided excellent data for their solution.
The Ung Företagsamhet-floor was such a highlight, we're currently looking for ways GAME can be involved with this project for next year. Stay tuned.