A weekend well spent: I've written a plugin that eats CSV (= data directly from the sign-up page) and shits subscriptions- and author registration.
Ergo: from now on Babel registrations are largely automated. I still need to initiate the process manually (so: notify me when new students have signed up) but apart from the copy-paste from google docs everything else is handled by the plugin and – importantly – it handles them in bulk. 1 student or a 100 takes the same time – about 3 seconds. 🙂
This plugin also manages updates to existing feeds and authors. So if a student want to change any of their settings (feed, domain, email etc) – they just fill in the registration again.
After churning through all registrations it provides me with an email lists and personalized output for all failed registrations, including detailed reasons for the failure.
Todays registration of the 2014 students brings us to 196 tracked sources, up from 128. A lot of students filled in the registration wrong (most commonly; not providing a feed URL, but their site URL instead). I'm glad I didn't have to go through that by hand. 🙂
Updated Babel a bit today. I've added a Course-listing with names, so we don't have to keep translating form course codes. Cleaned out duplicate posts, done some minor aestethic enhancements and such.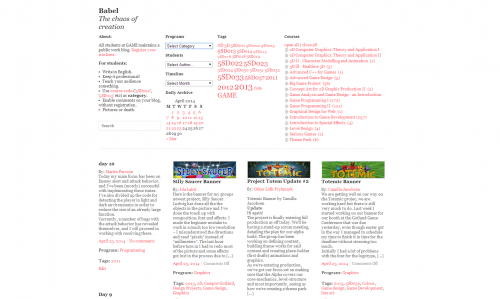 The site is now tracking 128 students, plus our department and conference websites.
Without further ado – here's Babel – the site that will help us keep track of our students writing- and work, in and outside the classroom.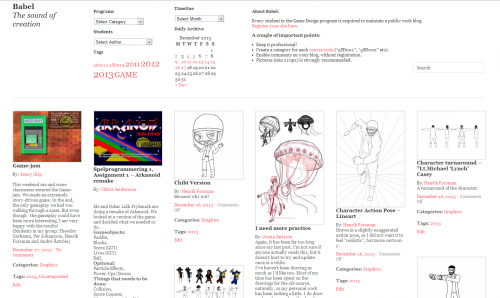 I've added all students who've registered themselves so far and the system is fully operational. If you're missing someone, remind them to register their blog here.
The site automatically updates every feed once a day.
For students:
There is only one thing students must do: properly setting the category for their posts.
1. for each course you will write for, set up a category with the course code
– using the format on our official course listing: "5SD001", "5SD002" etc.
2. make sure each post is put in the approproate category.
It is also highly recommended to add at least one picture to the post (min. 210px width), for aesthetic reasons if nothing else.
Future functionality:
– additive filtering. As it is, any filter you apply will remove the previous filter – you either browse by category (= program), starting year (= tags), author or datetime. I will find a way to allow multi-part filters, so you can browse stuff like: "all graphic students, who started in 2011", or "all programming posts in september".
From a recent planning session;
10. We will have automatically tracked work logs and require their use in every course.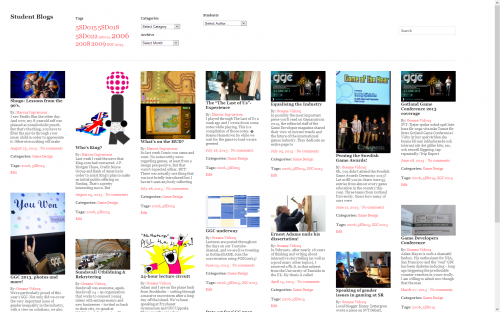 This site automatically gathers content from student blogs (through RSS) and allows us to quickly drill down:
all posts from artists or coders
all posts from a certain course
all posts from a certain batch of student (year)
all posts from a certain student
all posts within a certain year or month
All posts links to the student site and thus; all discussion take place at the original authors blog.
I haven't fixed the hosting yet – my people at the IT department are still on vacation, so we can't negotiate URLs-under-Uppsala at the moment. But students can begin signing up over at the GAME-site.
I've updated all my plugins now.
Changelogs:
WP-dTree Changes in v4.3 (2012-01-01)
Added: support and widget for custom taxonomies. (Thanks: Einat Dagan!)
Added: configurable open/close links for each tree
Added: configurable open/close separator for each tree
Fixed: various PHP errors and warnings.
Fixed: feed links being wrong
Fixed: initialization routines
Fixed: excluding categories from the archive tree
Fixed: excluding posts from category tree
Fixed: open/close link separator behavior
Fixed: link children are sorted correctly
Fixed: Open to selection supports pagination
Fixed: Open to selection supports categories again
jQuery Lightbox 1.3.4 (2011-12-29)
Maybe fix for mixed HTTP/HTTPS sites
Support for query params in image links
Fixed button messup in Firefox
Fixed depth fight with the default twentyeleven theme header
Fixed admin bar covering the lightbox
Added info on how to disable lightbox for specific links (bogus rel-attribute)
Added translations: Romanian, French and Hebrew
Updated: Russian language icons (thanks; Ilya Gorenburg), Japanese translation
Flash Gallery Changes in 1.4.1 (2011-12-28)
Sanitize URLs (cleaner, shorter links)
Keep multiple instances on same page from fighting over the URL
Rewrote scaling routine to fix edge cases
Cleaned up some PHP error notifications
Stopped forcing the Google CDN for SWFObject
Custom Upload Dir 3.3.1 (2011-12-27)
Fixed poor sanitization of post slugs (%post_name%)
Added %post_parent%
Fixed settings not always initializing
WordPress 3.3 kom förra veckan. Den nya drag-&-drop uppladdaren bröt mitt Custom Upload Dir, så jag drog tummen ur röven och avslutade uppdateringarna jag haft i trunk de sista månaderna. Det blev en sweet updatering.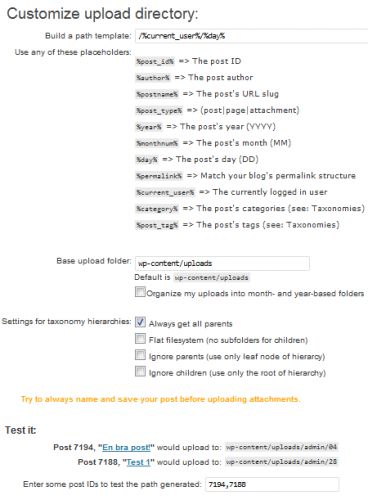 Anledningen till att jag i urtiden (2007!) skapade Custom Upload Dir (CUD) var att WordPress då fick stöd för filupladdning och per default lade allt direkt i /wp-content. Vi har en setting för att sortera vidare under /år/månad (dagens datum), men jag ville kunna spegla mina sajtstrukturer i filsystemet.
Ta den här sajten som ett exempel. Den består av flera avdelningar; blog, student-project, guest-lecturers, alumni etc. Avdelningarna är kategorier och CUD är confat att spegla strukturen. Alla foton som tillhör "blog"-kategorin ligger i /blog/post-title. Det blir häftigt när hierarkin är djupare: "student-projects/3d-games/project-title" är förbannat praktiskt! (lätt att hitta filer som behövs när någon ber om dem!)
Från och med CUD 3.3 har jag byggt in stöd för godtyckliga taxanomier (utöver de inbyggda; categories och tags), godtyckliga post-typer, user data (current_user kan vara intressant ifall din sajt tar community contributions?), samt alla de placeholders du kan använda för att bygga dina permalink-strukturer. Du kan med andra ord ta din permalink template och klistra in i CUD, och få samma sökväg till filerna som .htaccess genererar för ditt blog-content.
Du kan dessutom göra det med mer kontroll; du kan bestämma exakt hur CUD hanterar hierarkiska taxanomier vid olika situationer. Säg att en post endast tillhör lövnoden i en djup hierarki – vill du ändå ha hela hierarkin representerad? Hur vill du hantera flera kategorier i samma nivå?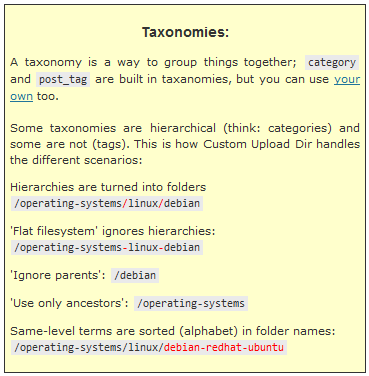 Det finns till och med en tag för %permalink%. Du kan alltså använda *exakt* den permalink som WordPress genererar för ditt content som en del av sökvägen! Ni kanske har en gemensam fotoblogg och vill prefixa sökvägar med fotografernas namn: /%post_author%/%permalink%
… så tänker jag.
Får se om jag orkar uppdatera mina andra plugins snart också.