An open-world, roguelike with exploration, crazy weapon upgrades and a whole lot of love.
Baby, I'm Robot! shows the consequences of a robot falling in love with a human. Spoiler: that robot gets banished to an island filled with dangerous, defective robots. That robot then has to fight those scary robots in order to find its way back civilization, to be reunited with its love.
Baby, I'm Robot! Is a pixel art, roguelike action game where you explore procedurally generated islands, upgrade your weapons and (hopefully) defeat a lot of strange robots.
Baby, I'm Robot! Is made for the PC with Unity and Aseprite.
Anders Jonsson – Producer, programmer,
Marwan Al Salman – Programmer,
Marcus Altin Prytz – Artist
F.R.A.U.S is a highly intelligent virus created solely to infiltrate rogue operations and companies to take
them down from the inside. You play as the AI virus F.R.A.U.S.
In the vertical slice you have been sent to infiltrate an underground research facility performing unethical and immoral research on human subjects.
It is your goal to rescue the prisoners and take them to safety all whilst maintaining your cover within the computer mainframe. If you get discovered you will lose access to the facilities computer mainframe and be unable to rescue the prisoners.
Tools used: Unity, Blender, SourceTree, Microsoft Visual Studios
Adam Salonen – Producer & Environment Artist
Morgan Nilsson – Lead Art & Character/Animator Artist
Andreas Lundmark – Technical Artist & Programmer
Ara Mohammad – Lead Designer & Level Designer
David Eliasson – Scrummaster & Programmer
Folke Stovring Nielsen – Lead Code & AI Programmer
Synapse is a 2d Puzzle game that teaches the player about the brains functions, form and different illnesses that affect the brain.
Puzzle through different brains and see if you can lead the nerve to the right brain part. Explore the brain and find out what things do and how they correlate to each other!
Synapse is built through traditional 2d Animation using SAI and Photoshop and with Unity
Emelie Rodin – Producer & 2d Artist
Adrienne Gunnarsson – Lead Designer & Art Director
Olle Staffas – Lead Prog.
Emil Lindgren – Research & Animator
Alexander Nordfors – Animator
Kristofer Karlsson – Animator
Marcus Franzén – Animator
The Runes of Kalevala is a cooperative RPG/adventure game that uses gameplay to drive the narrative. You take on the roles of legendary heroes as you immerse yourself into the Finnish national epos Kalevala, experiencing the epic tale as if you had been there yourself.
The Runes of Kalevala features local co-op to allow players to go on quests and experience an adventure together. Unlike traditional co-operative RPG-type games however, which rely heavily on the players enjoying the same type of activities, The Runes of Kalevala will allow you to play together while playing differently.
Imagine if in The Lord of the Rings when Gandalf left the fellowship for errands of his own that his adventure and the fellowship's would play out simultaneously and the effects of one party's actions affected the other.
The game is made in Unity 5.3.
Thom Hujanen – Producer
Filip Frandsen – Lead Art
Anders Hagström – Lead Design, Lead Sound
Anton Classon – Lead Code
Sebastian Ringvold – Lead Tech
Erik Ögren – Lead Animator
Tara Sundström – Character Artist
Sam and Nicole is an educational dating sim/visual novel about two girls in love. The game is intended to be supportive for young adults who are trying to figure out their sexuality, and educational for other people who do not know how hard it can be to be in a samesex relationship. The game is made in the visual novel engine Ren'Py.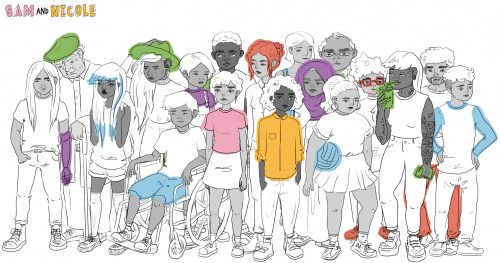 Sigrid Svederoth – Lead designer
Tova Svensson – Producer
Lisa Ramel – Lead artist
Emma Mörk – Artist
Rasmus Lindgren – Lead programmer
Sam and Nicole was awarded Best Diversity Effort at the Swedish Game Awards and given a cash prize of 7.000 SEK as well as two conference passes to Game Developers Conference in San Francisco.
You are Hope, last soldier of the flame. Find your way through depression and carry on the torch through the darkest of nights. Fight anxiety, depression and suicide to find the light in this 2D platformer.
Unity and Photoshop has been used to create this project.
Emelie Rodin – Producer, Technical Artist and Designer
Olle Staffas – Programmer
Addrienne Gunnarsson – Character Designer, Artist and Designer
Emil Lindqvist – Monster and Environment Artist
Marcus Franzén – Environment Artist
Alexander Nordfors – Sound Designer & Artist
Kristofer Karlsson – Environment Artist & Level Designer