Planeteria is a ground breaking RTS created by second year students for the Gotland Game Awards 2008. Start your trading network, get the resources, exploit your way to domination. Begin your career at the mighty Space Trading Corporation "Planetaria". Your responsibility will begin with establishing trading routes between a few planets and solar systems. But will soon grow and involve the whole galaxy.
Planeteria was awarded "Best Game" at Gotland Game Awards 2008 and has since been touring the globe; GCDC (Leipzig), Flippat (malmö). They're also participating in Swedish Game Awards 2009.
Creators:
Producer: Johan Kristins
CoProducer: Andreas André
CoProducer: Magnus Ekroth
Lead Programmer: Gunnar Carnbro
Lead Designer: Peter Sjödin
Lead Artist: Logan Duong
Art: Rickard Jonasson
Website: http://www.swaggeringmonkey.com/

GAME was proudly represented at Flippat 08, by Vertigo, Blomma and Planeteria.
We are the Department of Game Design at
Uppsala University
, campus Gotland, offering
educations
in game design, programming and graphics.
Founded in 2001 and with staff and
former students
credited in games from Blizzard, Crytek, Lionhead, Ubisoft, DICE, Starbreeze, Avalanche, Grin (and many more)
our network
and reputation is far reaching – allowing us to invite
guest lecturers
from the global industry several times a year.
The annual
Gotland Game Conference
– where students present
their productions
to an expert jury of game developers – is our most noteworthy collaboration with the established industry.
http://www.metro.se/se/article/2008/09/07/17/2633-57/index.xml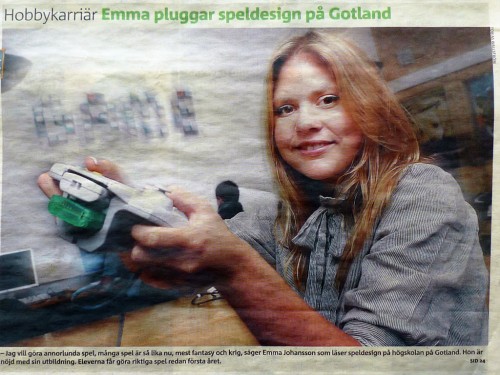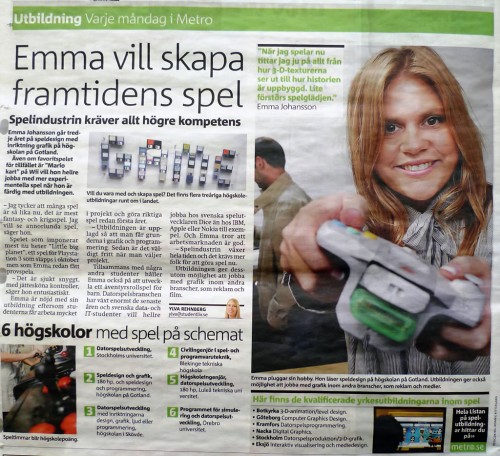 GCDC is a huge conference by developers for developers, held in Leipzig.
As winners and notable entries of GGA, Fairytale, GameRider, In Other Words, Physitive, Planetaria and Vertigo were sent to represent GAME this year.


Krysanthemum is a game focusing on atmosphere and a relaxing experience rather than challenging gameplay. The player controls a creature that plants flowers which spreads calmness and tranquility to its surroundings.
Creators:
Björn Berggren
Andreas Malmberg
Website: http://www.krysanthemum.se/