Vertigo is an adrenaline pumping platform racing game for up to 4 players. The game is about getting yourself from start to finish as fast as possible, and the trick is to chain powerups. Powerups make you go faster and faster, and you want to grab a new powerup before the effect of the previous one fades.
Vertigo was awarded "Pwnage Award – Best at Show All Categories" at Gotland Game Awards 2008. And the team went on to create their own company called Run Jump Duck Entertainment.
Creators:
Producer: Max Tiilikainen
Lead Programmer: Daniel Martis
Graphics, Animation:Povel Gulin
Programmer: Olof Ahlberg
Website: http://www.vertigogame.com/

Supremacy – Wars of Harkheim – is a strategic yet fast-paced card game, developed by first year students for the Gotland Game Awards 2008.
Creators:
Producer: Kristoffer Landin
Lead Art: Robin Flodin
Art: Sonny Hamberg
Designer: Rasmus Davidsson
Designer: Fredrik Nilsson
Deep Ocean is a Myst-like adventure game, featuring a very atmospheric 2D style and a thrilling narrative.
The story centres around a deep sea diver, stranded on the bottom of the Pacific Ocean. You must guide him safely back to the surface, using the onboard comlink. Following along through the divers camera, you'll both be making a disturbing exploration of the seabed…
Deep Ocean was awarded "Best Arcade Game" at Gotland Game Awards 2008.
Creators:
Producer (2D art): Pernilla Sparrhult
Lead 3D, Level design/Script: Peter Flink
Lead Programming: Carl Horned
Lead 2D: Lotta Tjernström
Animator (Script): Daniel Andersson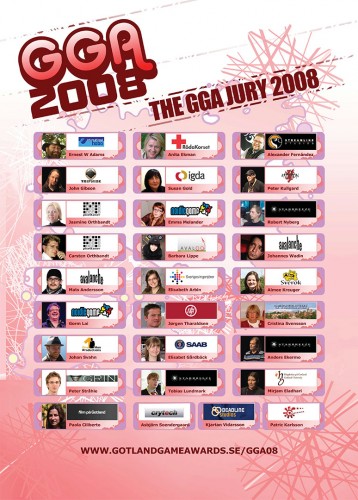 Just a few days to Gotland Game Awards, and the crunch is on!
All photos are Ulf Benjaminsson, Creative Commons Attribution 3.0