Oh, you didn't attend the Swedish Game Awards Ceremony 2013?
Let us fill you in: there were 95 entries from almost every game education in the country this year. Three teams from Gotland University.
Guess how many of ours were awarded?
All of them!
Read that again with me. All. One hundred percent success rate. One, zero, zero percent.
Our slightly disturbed game design maestro, Marcus Ingvarsson, were so kind as to record the proceedings. Here's his compilation of the important bits – when our student projects King of the Thrill, Little Warlock and Fly or Die received their awards in Stockholm last night.

And as if that's not enough, we had GAME Alumni and two time Game of The Year-winner Teddy Sjöström on stage to hand out the GotY-award.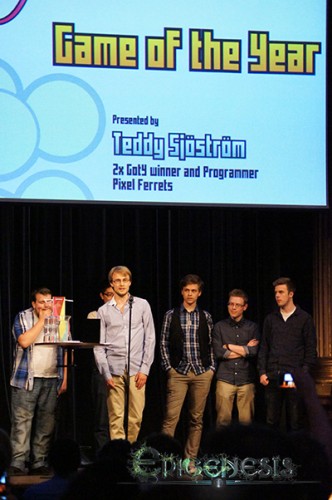 All in all, this year saw a great competition and a great event. Hot on the heels of the Gotland Game Conference I couldn't imagine a better start of the summer. 🙂
In the quiet words of Virgin Mary: FUCKYEAH!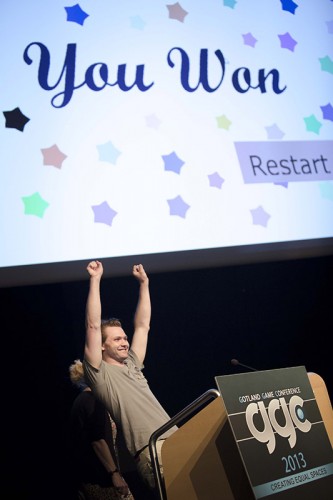 We're particularly proud of this year's GGC.
Not only did we cover the very important issue of gender inequality in the industry, with a view on solutions, we also delivered such high quality student games, we're sure to clean up at the Swedish Game Awards.
To try and summarise the presentations would require a post that is very tl;dr. So why not move over to our YouTube Channel and watch them all. You should do them in order, because the level of information was scaffolded, each talk building on what had come before.
We want to thank everyone for pulling this together – the speakers especially.
But, we all know what you're here for. The pictures. So here they are.
Why not look at them while watching the presentations?
The Games Exhibition
Conference Presentations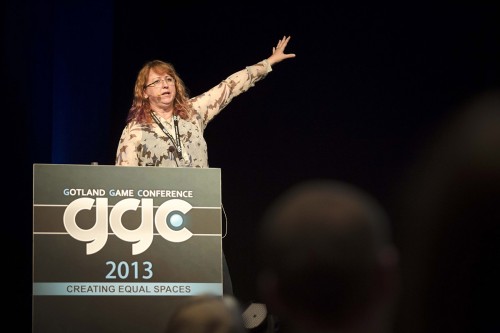 Awards Ceremony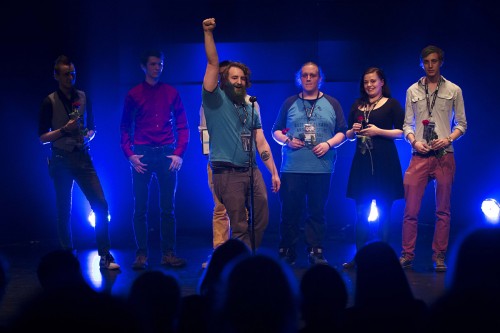 Party!!!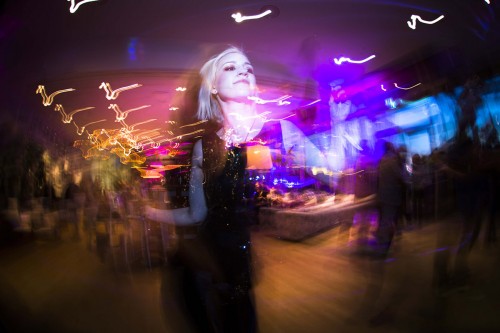 All photos courtesy of Mats Ek, used with permission.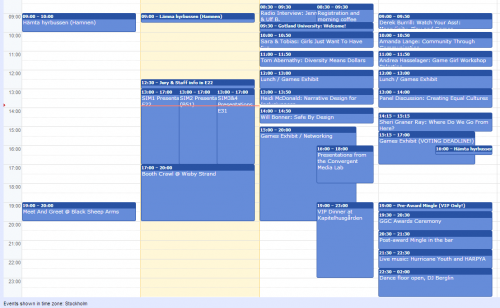 Lectures are posted throughout the days on our Youtube-channel, and we are live tweeting as GotlandGAME. Join the conversation using #GGConf13!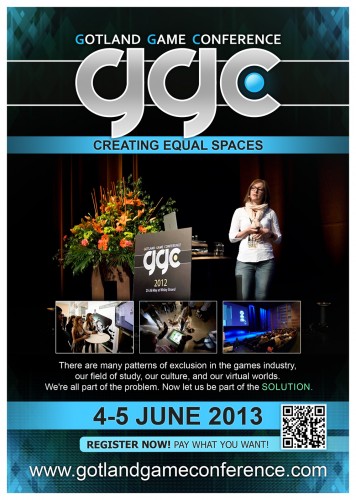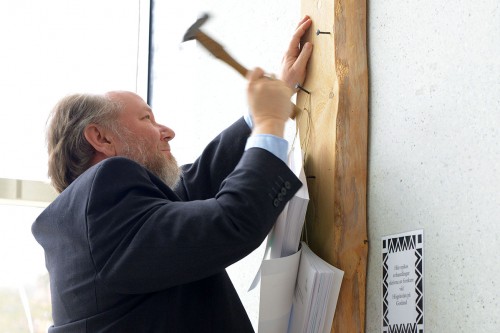 In February, after nearly 18 years of thinking and writing about interactive storytelling (as well as a good many other topics), I received a Ph.D. in that subject from the University of Teesside in the UK. My thesis is called Resolutions to Some Problems in Interactive Storytelling, and it's a retrospective and analysis of the papers and lectures I've given over the years. In this month's column, I'm going to summarize a few of my conclusions.
— Ernest Adam, published on Gamasutra.
So YES! Ernest finally got to nail his doctoral thesis on campus this month!
"Spikning" (lit. nailing) is an academic ritual in connection with the submission of a dissertation. Before the dissertation thesis is published it must be made available to anyone who wants to read it and come up with criticism for the disputation. The Swedish tradition is to have the respondent ceremonially nail a copy of the dissertation to a wall, for public display.
Ernest is the second GAME staffer to drive a nail into that board in Almedalen, and the entire thesis is available for download at the bottom of this post. For a quick overview of some of the juicy bits, click through to his Gamasutra writeup.
Good job man!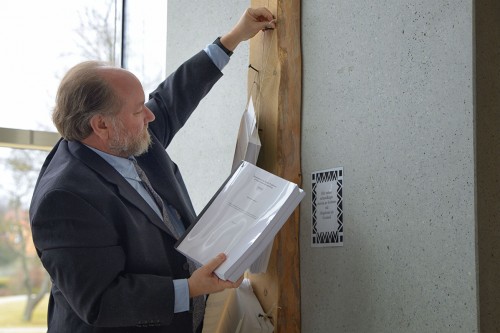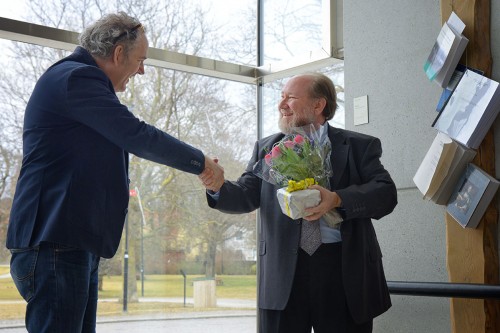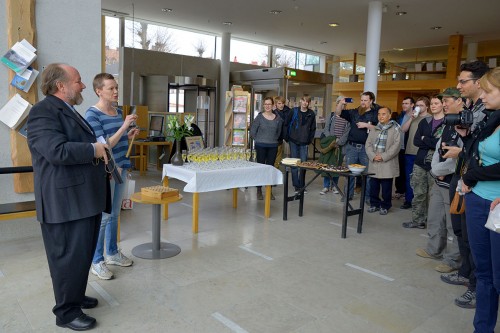 Resolutions to Some Problems in Interactive Storytelling, Volume 1 [PDF]
Resolutions to Some Problems in Interactive Storytelling, Volume 2 [PDF]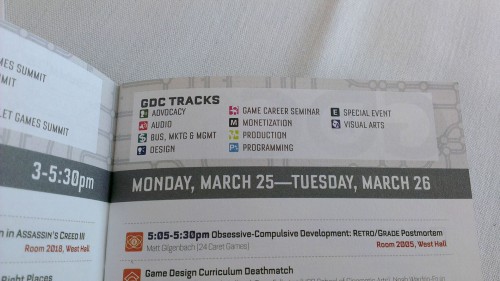 Adam Mayes is such a shameful fanboy. His enthusiasm for USA, San Francisco and the "real" GDC has been diabetes inducing – long ago triggering the predictable counter-reaction in yours-trolly.
I am willing to admit now though that the man was right about GDC. I can't remember leaving a session of GDC Europe feeling inspired. Or enthusiastic. Or validated. Or whipped.
Informed – absolutely, but never… improved.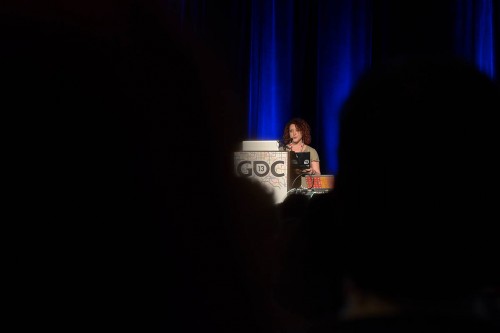 We've been here two days and the conference has yet to start proper. The first two days are "summits" – I'm primarily following the Education and the Monetization summits with a dip in the AI track every now and then. The AI people have, by far, the most fun in their sessions.
Only two days, and I've already met and spoke with Brenda and John Romero, Leigh Alexander, Tracy Fullerton, Eric Zimmerman, Ian Schreiber, Jeff Orkin – you know. The people that writes The Books. The people that we Follow.
A lot of talk of inclusion, gender and death to the boy club all around the conference. The topic crops up in almost every session. There is an undeniable air of synchronicity with our own conference theme. People respond extremely well when I bring the GGC up, so I'm doing my best and grabbing big name-speakers here.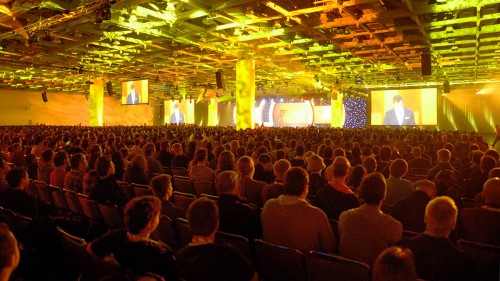 Adam and I are on the plane back from Stockholm – cutting through a massive snowstorm after a long day off the island. We've been speaking at Fryshuset Gymnasium and GUC Uppsala.
Three months ago when Fryshuset invited us to talk about ethical games we were brimming with ideas! We would talk about abuse in gaming spaces, exclusion in the industry and culture, bullshit copy protection schemes, bullying, harassment – all of the things!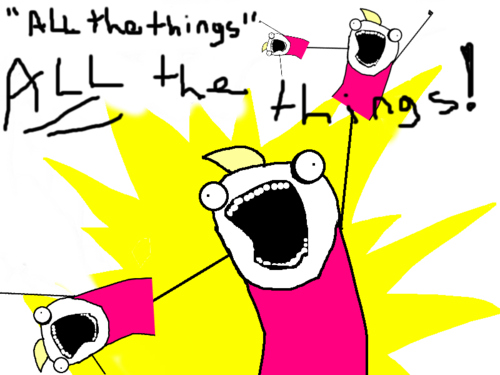 We spent many late evenings gathering materials, thinking and discussing. It was all good and productive until we looked up what ethics means – and promptly had to throw out everything we'd done up to that point.
We had fallen into the classical trap of assuming that ethics are equivalent to "decent behavior". Rectifying that schoolboy error, we then proceeded to spend the nights arguing, bitching and moaning (with great intellectual vigor!) until Securitas arrived and gave us ten minutes to leave the building before calling the police.
This went on until 17 hours before we were due to present.
Our problem? The topic was simply too big. How do we talk about ethics, when there are so many different schools of thought? And how do we, as an artistic/entertainment medium, balance free speech/expression and explore difficult topics, while presenting an ethical framework for these works?
And how do we stop apologizing for our industry, while also recognizing that all entertainment media has gone through this process?
A brain melt of epic proportions – leaving us on stage in Stockholm, in front of young impressionable minds – and in big, big trouble.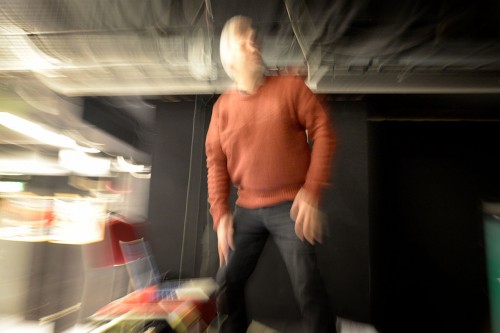 The result was a presentation on personal responsibility in the work we produce, and a respect for the audience we produce for. A demand for each developer to work out what their ethics and morals are, and how to express them through their work. And an argument for game design as the tool to express with intent in this rich medium of ours.
It seemed to go over well. 🙂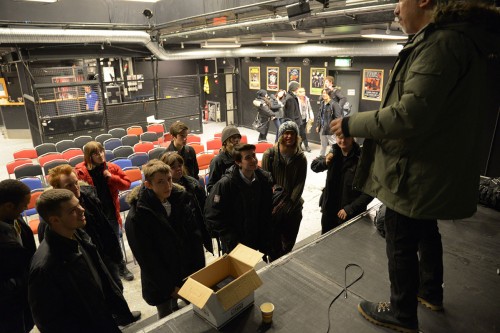 Then off to GUC.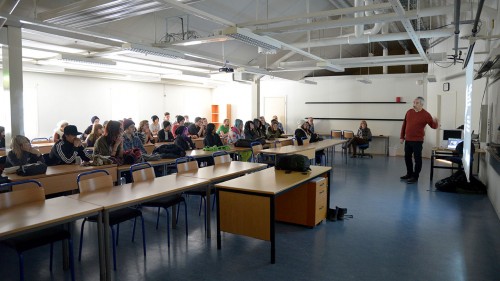 We were going to present a standard description of our education but on arriving, we realized that all our "standard descriptions" are aimed at either external organisations evaluating us, or students about to apply to us (and thus, in dire need of a beating).
So, with 15 minutes before showtime and with the threatening temptation of pie, we cannibalized and Frankensteined 3 presentations into a single, coherent, presentation on the value of our education, the value of studying games, and a quick tour of the ethics of our medium.
All in all, an impressive days work put together with spit and string!
And – even better – right now as we type this on the way home, penniless, on a plane without access to the most basic of credit card technology and bereft of coffee, we were offered money by complete strangers for our caffeine fix, before being given it for free by the professionally kind staff of GotlandsFlyg.
…. we should write and demand the company shower her with our praise.
Thanks to both Fryshuset and GUC for having us. It was great to see you all again and thanks for giving us the chance to flex our minds.
… and we'll get this guy next year. 😀