Clouds Below was reviewed by Kotaku ("It's Kinda Like The Wind Waker, But With Flying), and is available for download here.
Clouds Below is a 3rd person puzzle platformer where you have the ability to control the wind. You will have to use these powers in order to solve puzzles of different kinds and to traverse a beautiful world set in a chain of mountains that pierce the sky high above the clouds.
Take the leap and spread your wings, a journey begins.
Made with Unreal Engine 4, Maya, Zbrush, Substance Designer and Photoshop.
Adam Wrange – Producer,
David Peldan – Lead Programmer,
Oscar Mohlin – Lead Design,
Theodor Gerhamn – Lead Art,
Alex Untoro – Creative Director
With credit to Alexander Skeppstedt for making the music featured in the game.
Clouds Below won Best 2nd Year Project at the GGC 2015.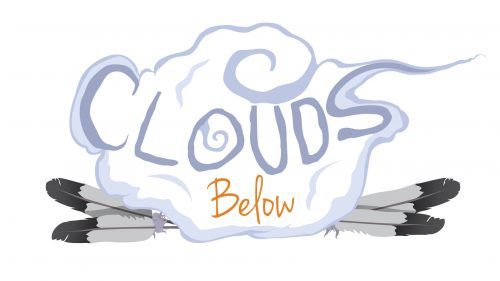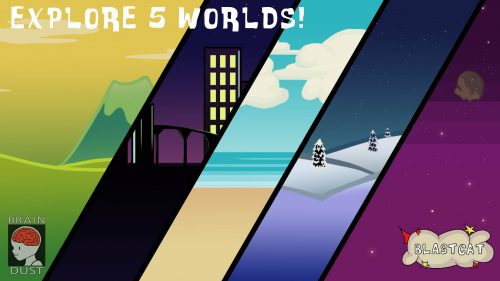 BlastCat is a casual 2d sidescrolling action puzzle game for mobile platforms!
Evil aliens have invaded earth! They've seen all the cat gifs and youtube clips and decided cats are obviously the most precious there is. So, naturally, they've kidnapped all the cats and kittens on earth! Except for the main character – you play as a rocket launcher wielding cat on a mission to rescue all the kittens and defeat the evil aliens!
The game is developed using the Unity 5.0 engine.
Mathias Andersson – Programming, Design, Animation
Viva Ivarsson – Design, Graphics
Spirit boom! is a 2D role-playing game for PC. Travel the world where man and spirit live together. Find the answers to who wants to destroy the harmony that exist between humanity and the world of spirits.
Made in Unity 5. Uses Photoshop to create animation and assets. Dialogue System from Unity asset store. Tiled map builder for creation of maps.
David Ferencz Pizarro – Producer / Game designer.
Martin Mattson – Lead Programmer
Viktor Kjellson – Lead Artist
Gustav Hässler – Lead Sound(SFX) designer
Esbjörn Holmerin Nord – Artist
Sebastian Bergström – Lead Dialogue writer
Robin Holmgren – part time dialogue writer
Tamarrion is a hard-core action-RPG, boss killing game where the player fights as a paladin with abilities granted by the gods themselves.
Tamarrion is all about that feeling of accomplishing the impossible. The player fights huge boss monsters, each boss with their own unique mechanics.
It is up to the player to tailor-suit their character in order to defeat the boss monsters, with a large combination of items and spells.
Tamarrion is played with an Xbox 360 controller on a PC.
Tools: Unity 5, 3DsMax 2015, ZBrush, Motionbuilder 2015, Adobe Photoshop
Camilla von Paykull – Producer, Lead Artist
Oskar Lidh Frykmark – Lead Designer
Anthon Fredriksson – Lead Programmer
Mikaela Moberg – Artist
Måns Löf – Artist
Sebastian Rosenblad – Programmer
Tomas Lindell – Programmer
Tamarrion won Best Presentation at the GGC 2015.
EDIT 2016-10: Frog Climbers have launched on Steam! Team Crew has put a lot of work into the game since last year, check out the launch trailer at the bottom of this post.
You and friends play as rock climbing frogs, intent on reaching the top of the highest mountain. There's only room for one frog at the top though, so it's a race to the summit using whatever means necessary in order to become the most glorious frog climber.
Frogs grab each other and literally use their opponents as laddersteps on their way to the top. Coupled with the ragdoll physics, this makes for a lot of hilarious chaotic scenarios. Frog Climbers has been designed to encourage this player interaction as much as possible. The final result is a chaotic party game that leaves all players shouting as they try to beat each other in very close matches.
Frog Climbers was developed in Unity.
All art was drawn in Photoshop
Core team;
Semih Parlayan – Lead programmer
André Bengtsson – Lead art
Charlie Eliasson – art
Sebastian Larsson – Game designer
Additional help;
Johan Öhman – Music
Emil Elthammar – programming
Frog Climbers won Best 1st Year Project and the Pwnage Award at the GGC 2015, as well as Best Execution in Design and Gamers Choice at the Swedish Game Awards 2015!
Launch trailer: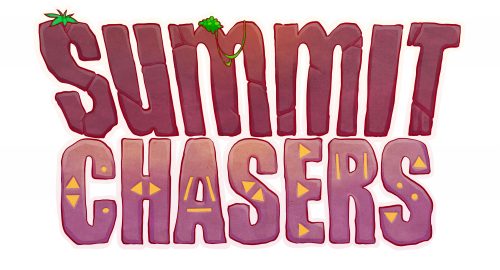 Summit Chasers is a competitive jumping platformer where two players compete in a chase towards the top of a mountain.
Brawl your opponent, collect rune stones, and smash through the environment all while avoiding the perils of the mountainside.
Jump, grab and explode your way to the summit while leaving your rival behind!
Tools used: Unity 5, Adobe Photoshop, Paint Tool Sai, Visual Studios.
Tony Högye – Producer
Marcus Litholm – Lead Design
Emma Fredriksson – Lead Art
Axel Versterlund – Lead Code
Love Åkerlund – Tech/Code
Jens Berg – Sound/Code