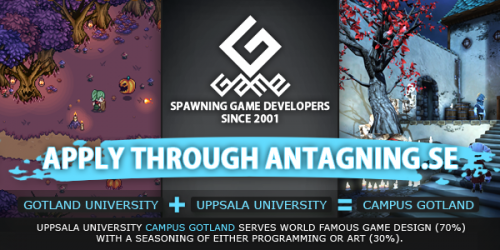 Random posts from the archives

Announcing Alumni Days 2012
After a hiatus in 2011, the Alumni Days are back in full glory. At the end of the autumn semester, just before christmas break, we invite former students currently...
[read more]

What happened to the GGA?
Gotland Game Awards has been re-fashioned as the Gotland Game Conference. What has changed? The short story is that the amazingly extravagant awards ceremony of...
[read more]

GAME at the Tokyo Game Show
As the only western university we've been invited to take part in Tokyo Game Show. "It is a great recognition of our courses and a valuable opportunity to forge...
[read more]

Two wins at the Swedish Ga...
Congratulations to the Cryptogram and Sam and Nicole teams on their success at the Swedish Game Awards! Way to go, folks! Sam and Nicole was awarded Best Diversity...
[read more]

Alumni Day 08

The Alumni Day is upon us! After unveiling our new website (this one!) and introducing the GAME-plan for 2009, our alumni at Starbreeze, Avalanche and Burning Man...
[read more]