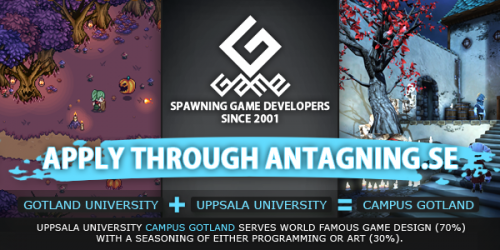 Random posts from the archives

Mirjam nails her dissertat...
"Spikning" (lit. nailing) is an academic ritual in connection with the submission of a dissertation. Three weeks before the dissertation thesis is published it must...
[read more]

24-hour lecture circuit
Adam and I are on the plane back from Stockholm - cutting through a massive snowstorm after a long day off the island. We've been speaking at Fryshuset Gymnasium...
[read more]

Closing in on Gotland Game...
The entire university is buzzing with energy. Everyone knows we're just a few days away from the GGC. These are the best weeks of any big project; when all ideas...
[read more]

Virtual Reality
We've invested in virtual reality gear for our Motion Capture studio. The kit consists of a pair of goggles worn by the actor, allowing a real time view of the simulated...
[read more]

GamesCom 2010

We're back again from the largest games trade fair in the world! One of the many ways in which we try to highlight our students and their projects from the Gotland...
[read more]