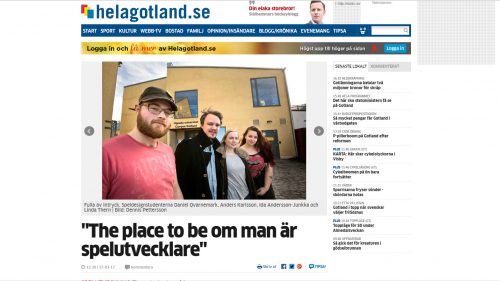 Local press caught up with our students as they returned from exhibiting at Alt.Ctrl:GDC: "The place to be om man är spelutvecklare"
I've never in my life had the experience of tilting a book off an old dusty bookshelf and unlocking a secret passageway, but I hope I do before I die. Movies have never sold us a more believable-but-still-magical fantasy than the passage behind the bookshelf, or the revolving bookshelf that turns under your feet and rotates you, speechless, into a hidden laboratory. But I have now gotten to play a game inspired by that fantasy, and it's one of the most creative things I've seen at this year's Game Developer's Conference.

GDC hosts a small selection of games with weird input methods every year under the banner of Alt.Ctrl.GDC, and the standout for me this year was bookshelf game Cryptogram.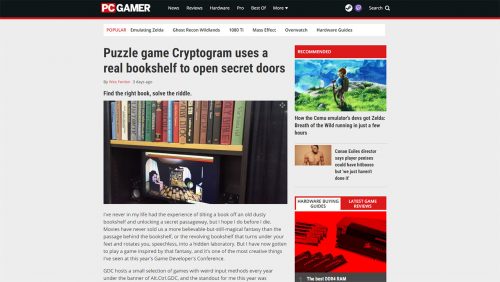 [PCGamer: Puzzle game Cryptogram uses a real bookshelf to open secret doors]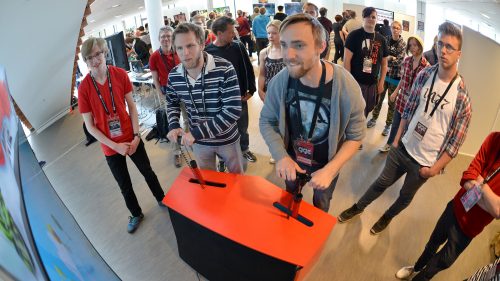 Every year, the best and brightest of the game industry gather in San Francisco for the Game Developers Conference (GDC). As part of the 5 day event the organizers also host alt.ctrl.GDC – an on-site showcase of unique games built around alternative control schemes and interactions. Or in their own words: "a chance to play some of the most inventive and innovative games around using unique, one-of-a-kind controllers."
This year, two of our student teams will be present! Among the only 20 finalists chosen, our first-year teams Cryptogram and Zombie Crawler both made the cut and thus will be travelling to the US this spring and exhibit their games alongside a long time friend of the department; developer, all round creative, and now teacher – Jerry Belich.
This is a fantastic opportunity for our students to present their games on an international stage, and we're incredibly proud and happy that they can represent the education in San Francisco.
You might have played these games at the Gotland Game Conference 2016 (What? You weren't there? Why not? You should be here for 2017.), or at Comicon in Stockholm, earlier this autumn.
If you missed those events, you can look at the gallery here and see what you missed out on. 🙂
Looking for details about the Alumni Days? Check this post. The YouTube playlist is available here.
As you know, we've recently made a substantial upgrade to our motion capture equipment. We've swapped out all the tech and swapped out the studio – we moved it from our previous spot at the Baltic Art Center, to the university's own F-building – ie: the GAME house, right next to the small boat harbor in Visby.
Anyway – a week ago Nataska sent out a call for students to come help exercise the system, and she put together this little video of her first impressions:
(Thank you: Eva, Lucas and Svante for putting on the suits and helping out!)
In addition to this recording setup we've also got two sets of TrackIR so our students can experiment with simpler head tracking in their games.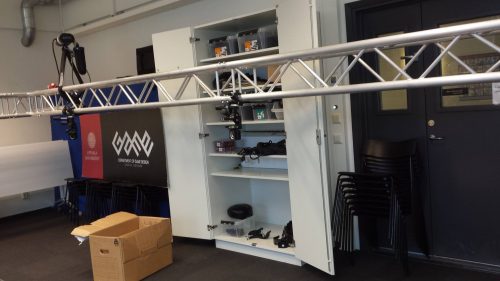 We have moved and upgraded our old motion capture equipment! The new hotness consists of 16 brand new OptiTrack Prime13 cameras, new software, the works! And now we need test subjects, hehe.
So Finn Engström and Nataska have been installing the new motion capture cameras this week and they're happy to report they did a successful test with an actor today and it has all been smooth sailing so far 🙂
Now we want to see just how good our new system is, and that means we need actors: we need 3 volunteers to help us Monday 21st with a bit of light acting for about 1-2h, 10am at F20. Any takers?