Tekniska Museet – The National Museum of Science and Technology – is tasked with saving, making visible and promoting access to our technological and industrial cultural expressions – a mission which reverberates strongly with us! And even more so now that they've just aquired the worlds largest computer games exhibition; Game ON 2.0.
The exhibition open on the 25th, and they're going to kickstart it with a big event in Stockholm; 2 000 people in attendance, with stage entertainment, bar, game related live music etc. They call the party Game Night and sent out a call for a few companies to participate as representatives of the Swedish game development scene. As the oldest specialized game design education in Scandinavia, we were chosen to be among them.
So join us at the party on the 25th, meet our students, try their games and find out why game development is destined to become Swedens primary cultural industry!
At the party you'll be able to test these games and talk to their creators:
Fly or Die



3… 2… 1… BOOOOOM!!!
Fly or Die is back in Stockholm! After being awarded with the Gamer's Choice at this years Swedish Game Awards, Fly or Die went half around the globe to Tokyo Game Show, and back again. It's time once more for you to put on the jetpack and challenge your friends in the most quirky version of "Hot Potato" you have ever played… or heard.

Fly or Die was awarded Gamer's Choice at the Swedish Game Awards, and developed by students in their first year.
Lunar Love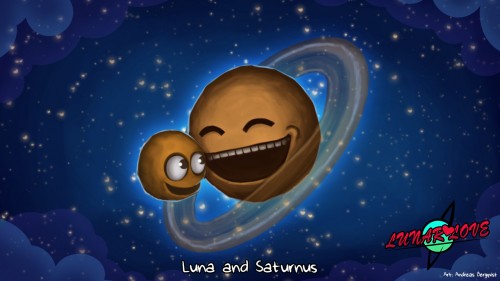 Lunar Love is a puzzle game based on the timeless love between a moon and her planet. The moon is lost in space – and it's up to the player to help her get back home. She does this by activating gravity fields around the planet's hearts in order to guide the moon to her goal. However, there are one or two obstacles in her way that needs to be dodged gracefully.

Lunar Love was awarded the Almedalen Award at the Gotland Game Conference 2013, and developed by students in their third year.

CoBots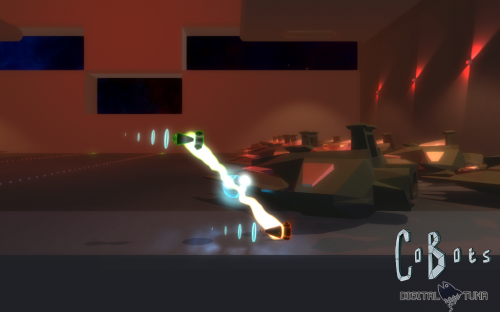 CoBots is a game about two robots linked together by a forcefield aboard a huge spaceship, tasked with restoring power to inactive sections. Played collaboratively, you advance through the game by solving puzzles with your partner,, all while avoiding "accidentally" hurting each other.

CoBots was awarded the Best First Year Project and Pwnage Award at Gotland Game Conference 2013, and developed by students in their first year.

Tribal Marathon


Tribal Marathon is a 2-4 player racing game in the vein of Temple Run. Gather valuable artifacts while trying to push the other players into obstacles or out of the track. All's fair in love and temple raiding.
Compete in unique levels generated by our dynamic environment system and see who manages amass the most points and making it out alive!

Tribal Marathon was awarded Student's Choice at the Gotland Game Conference 2013, and developed by students in their first year.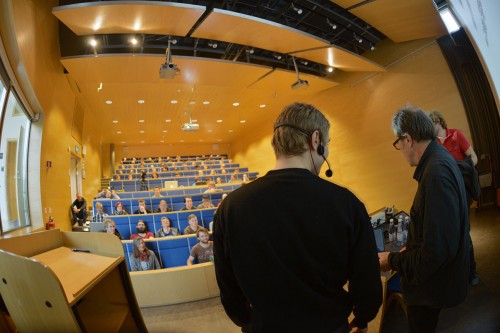 We moved the Alumni Days to much earlier in the semester, from its traditional spot close to christmas. There was two reasons for this:
First, we got a great opportunity to inform and inspire our third year students about their thesis work and internships that's coming up in the spring semester. By inviting GAME-alumni to share their experiences and tips we hope to provide lots of insight while there's still time for our students to act on it.
Second, it allows us to show off in front of the new first year students. Introducing them to people who's been where they are, and made something of themselves in this industry. Hopefully that was inspirational.

Also – we get a new Jam out of it. 🙂 "Everybody is a Noob Jam" saw seasoned industry veterans, six week old freshmen, experienced students and our own staff all sit down to hack games together. Everyone was forced to use a new tool to even the playing field, and the jam last a single working day – ensuring maximum participation.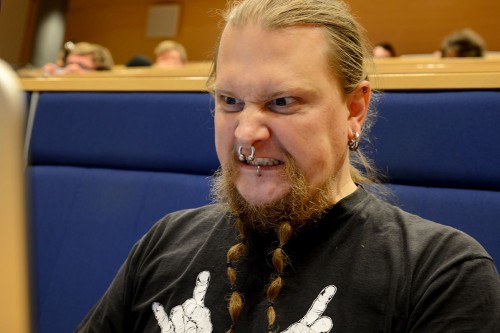 Despite having only six hours and being interrupted for lectures, all registered groups delivered playable games – some even including insane levels of polish and details: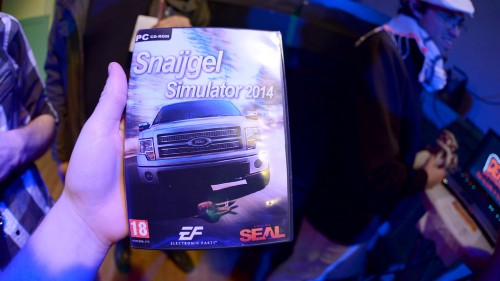 All games were available to play and vote on during the alumni party, which also acted as the awards ceremony: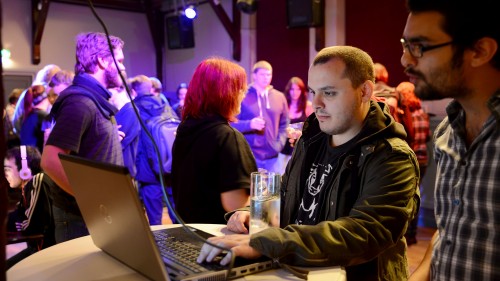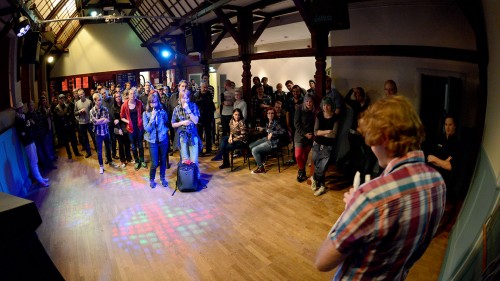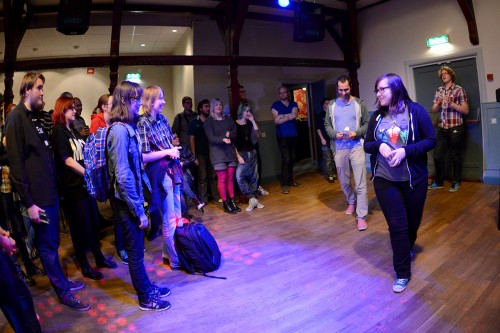 You can browse screencaps from the games here. Thanks to Kajfa, Teddy, Daniel and Jerker for taking the time and helping us out with the event!
The lectures goes up on YouTube as soon as we render them.
Thanks to Kajfa, Teddy, Daniel and Jerker for taking the time and helping us out with the event!
Our Håkan Mattsson and the lovely ladies at the Almedalen Library has now launched the Game Area; a space in dedicated to allow public access to our students' games.
The first selection of projects were announced at the Gotland Game Conference awards ceremony earlier this year;

[The relevant part starts at 15:11]
The Game Area opened during the Culture Night with Lunar Love – a game where you must reunite a moon with her planet by manipulating gravity fields, and Alienation – a first year game about using words to hurt people. We'll provide these cabinets with new games every 6 months or so.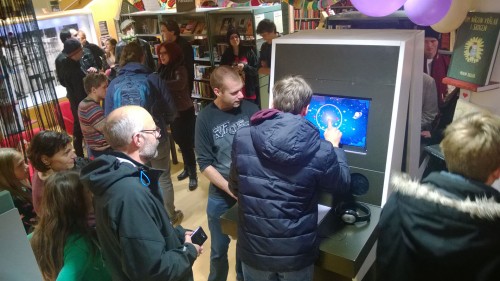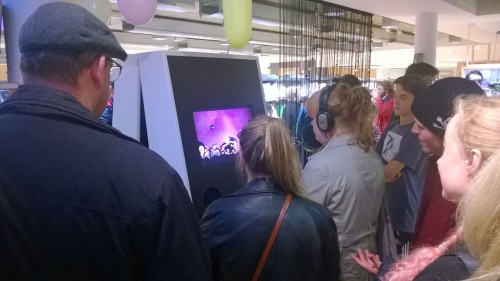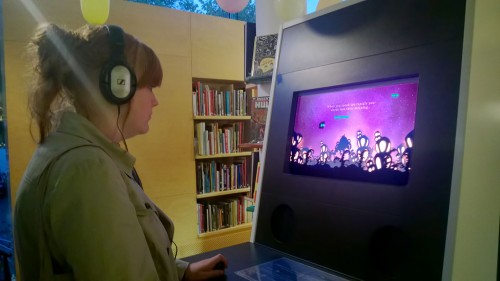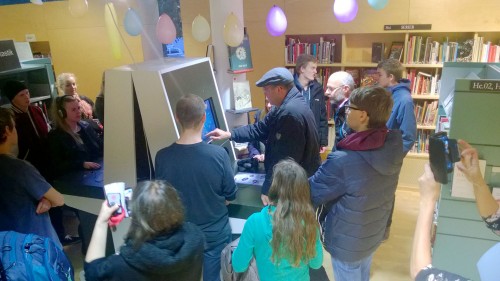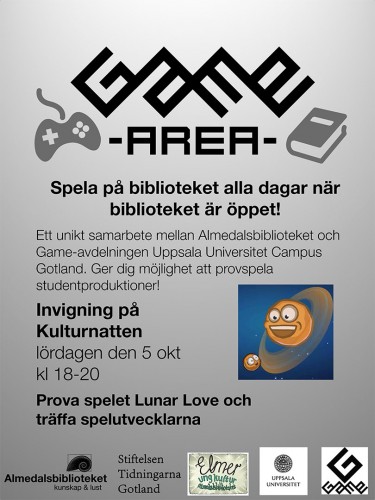 As the only western university we've been invited to take part in Tokyo Game Show.
"It is a great recognition of our courses and a valuable opportunity to forge new connections. In Japan they are interested in our focus on content as a complement to their strong technology development"
says Steven Bachelder, Professor at the Department of Game Design.
Tokyo Game Show is on from 19 to 22 September. A large number of exhibitors will be taking part, mainly from Japan and neighboring countries, and 250,000 visitors are expected. Sweden will have a section of its own, coordinated by the Swedish Institute. The Department of Game Design will be exhibiting research and education within converging media and game design. Among other things, three of our student projects will be on display; King of the Thrill, Little Warlock and Fly or Die.
"At the Swedish Game Awards earlier this year, games created by our students won three out of six categories. We are taking these games with us to Japan to show them at our stand in the Swedish display"
says Steven Bachelder.
One of the students who has created one of the award-winning games will be coming along to Tokyo Game Show to present the games. The group of students voted for who should go and Simon Wulf was elected, the creator of the game King of the Thrill. The students who remain at Campus Gotland will be able to communicate with the delegation via video link.
On Friday 20 September the Department and the Swedish Institute will together organize a seminar at the Swedish Embassy in Tokyo titled "Sweden and Japan – Collaboration in Game Education, Convergent Media and Industry" in Tokyo Game Show.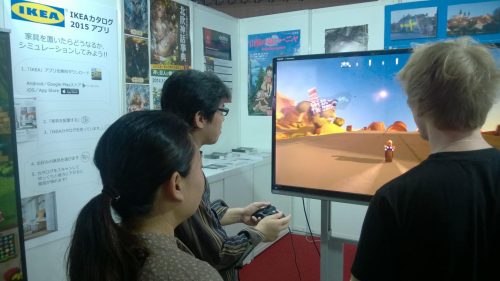 Looked a bit like this.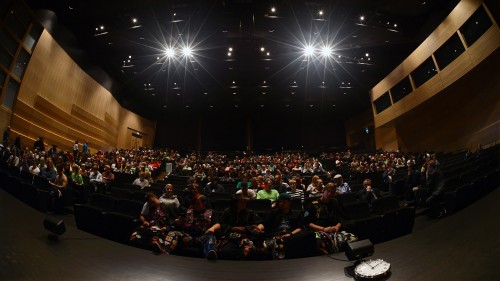 To paraphrase our venerable Prof. Ernest Adams; welcome to Gotland, welcome to GAME and welcome home.