The lectures goes up on YouTube as soon as we render them.
Thanks to Kajfa, Teddy, Daniel and Jerker for taking the time and helping us out with the event!
Our Håkan Mattsson and the lovely ladies at the Almedalen Library has now launched the Game Area; a space in dedicated to allow public access to our students' games.
The first selection of projects were announced at the Gotland Game Conference awards ceremony earlier this year;

[The relevant part starts at 15:11]
The Game Area opened during the Culture Night with Lunar Love – a game where you must reunite a moon with her planet by manipulating gravity fields, and Alienation – a first year game about using words to hurt people. We'll provide these cabinets with new games every 6 months or so.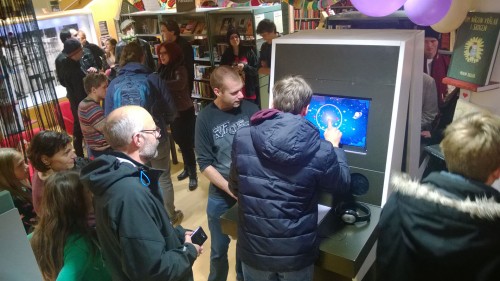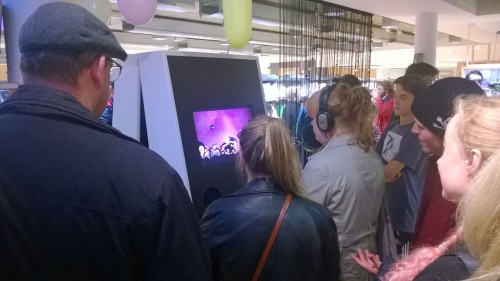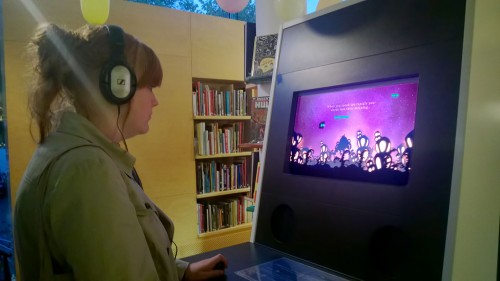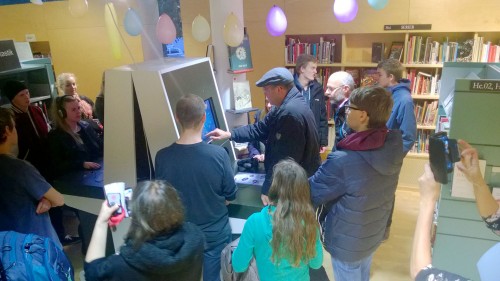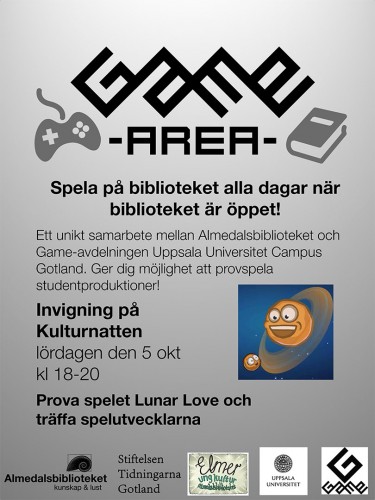 As the only western university we've been invited to take part in Tokyo Game Show.
"It is a great recognition of our courses and a valuable opportunity to forge new connections. In Japan they are interested in our focus on content as a complement to their strong technology development"
says Steven Bachelder, Professor at the Department of Game Design.
Tokyo Game Show is on from 19 to 22 September. A large number of exhibitors will be taking part, mainly from Japan and neighboring countries, and 250,000 visitors are expected. Sweden will have a section of its own, coordinated by the Swedish Institute. The Department of Game Design will be exhibiting research and education within converging media and game design. Among other things, three of our student projects will be on display; King of the Thrill, Little Warlock and Fly or Die.
"At the Swedish Game Awards earlier this year, games created by our students won three out of six categories. We are taking these games with us to Japan to show them at our stand in the Swedish display"
says Steven Bachelder.
One of the students who has created one of the award-winning games will be coming along to Tokyo Game Show to present the games. The group of students voted for who should go and Simon Wulf was elected, the creator of the game King of the Thrill. The students who remain at Campus Gotland will be able to communicate with the delegation via video link.
On Friday 20 September the Department and the Swedish Institute will together organize a seminar at the Swedish Embassy in Tokyo titled "Sweden and Japan – Collaboration in Game Education, Convergent Media and Industry" in Tokyo Game Show.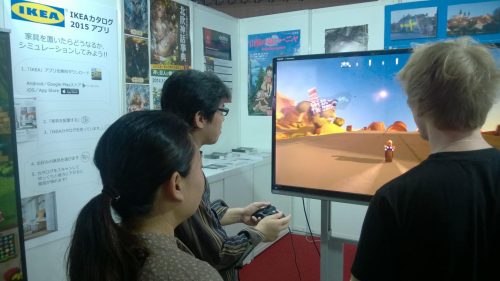 Looked a bit like this.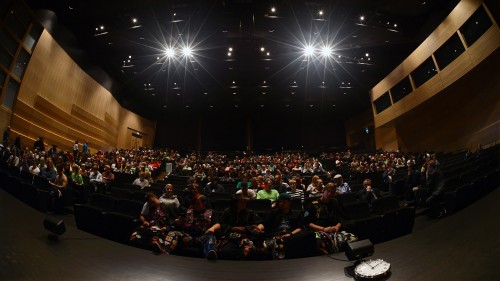 To paraphrase our venerable Prof. Ernest Adams; welcome to Gotland, welcome to GAME and welcome home.
What exactly is game design? What do you teach in your programs? What is it that you do?
Questions we get more often than we want. And now we have an answer in physical form.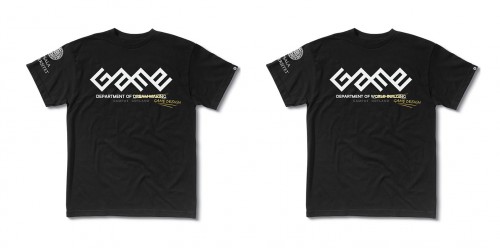 What is it that we do? We…
… build worlds
… tell stories
… engage audiences
… empower players
… provide escapism
… make dreams
These things and many many more, are all part of our programs and in the subject of Game Design.
Hope you like these. Add your own "game design is x" in the comments!
And check out our previous t-shirt design here. And as always; Game Design students can sign up to let us restock on t-shirts.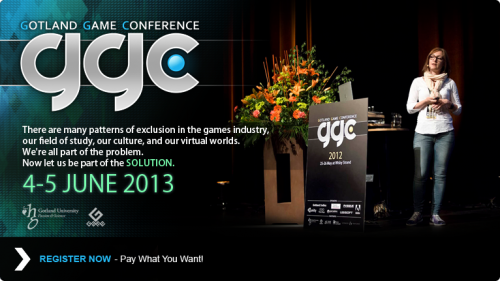 In possibly the most important piece you'll read on Gamasutra in 2013, the editorial staff of the Game Developer magazine shared their view of current trends and the future of the international games industry. They dedicate an entire page to "New Voices for Video Games".
What they say carries such an overwhelming synchronicity with what we do that we're simply going to let them speak for us. We've quoted the entire page here, adding links to the lectures we had at the Gotland Game Conference a month ago.


"
"
===
Gotland Game Conference 2013 was us, publicly, joining the conversation. Of saying out loud what we have been teaching. But it was just the opening. To just run a conference and rest on our laurels would be tantamount to doing nothing at all. Anyone can run their mouth off, but things have to change.
So our second line in the conversation is joining Genusföretagarna – allowing us to learn from people who have direct knowledge and understanding of gender inequality issues, and ways of combating them.
And our third is joining the Swedish Game Industry-group. This gives us a wider platform to share what we know, and to present this information to a wider audience – outside of academia.

So. We've just started talking. Why not have a conversation with us?