An open-world, roguelike with exploration, crazy weapon upgrades and a whole lot of love.
Baby, I'm Robot! shows the consequences of a robot falling in love with a human. Spoiler: that robot gets banished to an island filled with dangerous, defective robots. That robot then has to fight those scary robots in order to find its way back civilization, to be reunited with its love.
Baby, I'm Robot! Is a pixel art, roguelike action game where you explore procedurally generated islands, upgrade your weapons and (hopefully) defeat a lot of strange robots.
Baby, I'm Robot! Is made for the PC with Unity and Aseprite.
Anders Jonsson – Producer, programmer,
Marwan Al Salman – Programmer,
Marcus Altin Prytz – Artist
OMNI is a dice-less games that emphasizes skills rather than chance.
OMNI places you in Arbor, a twin planet in the solar system Jua, an arboreal planet,teeming with life. The lay of the land is fertile with Omni crystals decorating the crust. With riches like these, the humans of Arbor are in continual contest over the planet. The three biggest factions, the forest archers of Viralis, the Hildegarns steppe berserkers, and the Birok guardians of Tivla have been fighting over the rule for Arbor for 200 years. OMNI lets you re-enact past battles or build your own in easy to learn scenario-based combat. Fight for you faction in simultaneous combat with potentially any number of opponents and allies. Build as large map as you like and play any setup of teams in the all-out battle for Arbor.
Will you win for the glory of your faction-or be forgotten in the scrolls of time?
Try the print & play version at the OMNI development blog!
Designers:
Ludwig Lindståhl
Ladbon Monjezi
OMNI was the first board game to ever be nominated – and win – the Best Social Game award at GameConnection in Paris (2016)!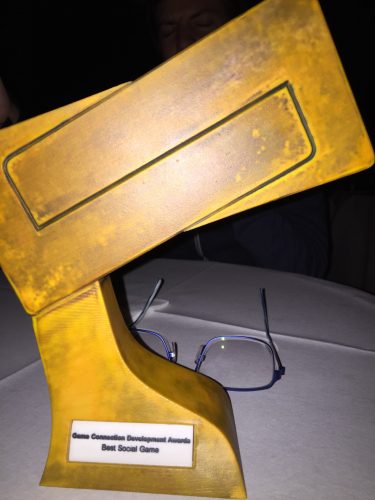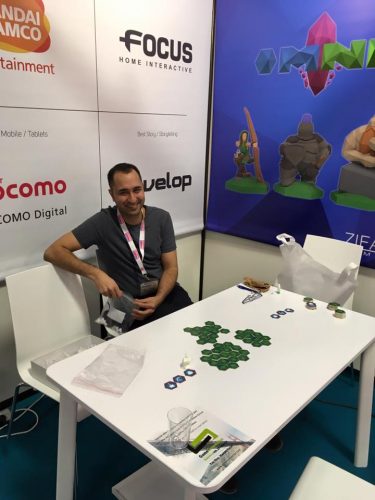 Single player, two avatars, 2.5D platformer.
Explore the world and solve puzzles using the different characters, Terra and Lumi.
The two avatars have unique abilities based on the four elements. Combine their abilities to make clouds to walk on!
This game is built with in Unity. Other programs used are 3ds Max, Photoshop CS, Zbrush and MotionBuilder.
Matilda Nagy – Producer
Tom von Sydow – Level designer
Lisa Wackenhuth Svanström – Lead art
Ellen Mellåker – Artist
Niklas Larsson – Animator
Axel Palmqvist Gillman – Lead code
Oskar Hernberg – Code
Anchored is a survival-based real-time strategy game. Manage a settlement on a floating island anchored above a dangerous jungle. During the day you must lead a group of settlers down into the jungle to gather food and resources. Build defenses and prepare your settlement for the night, because you are not alone in the skies.
The game is built in Unity 5 and modeled in Blender.
Marcus Litholm – Lead Game Designer
André Bengtsson – Lead Artist
Nisse Lindblom – 3D Artist
Semih Parlayan- Lead Programmer
Johan Holmér – Producer & Programmer
Johan Öhman – Sound & Programmer
Anchor was awarded Best 2nd Year Project, the Cha-ching award (most commercially viable) and the Pwnage Award at the Gotland Game Conference 2016.
In a world of great wonders, a ranger is tricked by a scheming wizard to unleash a great danger. In order to undo her mistakes…
Tale is a third-person adventure game, on Multiple platforms, set in a fantastical land known as Abulin. With gameplay centered on exploration and navigation, Tale aims to tell the story of a young ranger as she unravels the plot of a devious magician. The game is developed in Unity. Assets are created in, Zbrush,3Dsmax,Speedtree,Motionbuilder,Logic pro, Visualstudio, sourcetree, Photoshop,Substance painter, 3Dcoat,Mixamo adobe, Bitmap2Material, Blender, Substance Designer.
Emil Christenson – Producer
David Crosson – Game design
Erik Starander – Environment artist
Gabriel Ajuwa – Programmer
Kim Gripenberg – Programmer
Lucas Chang – Lead Artist
Samuel Ehnberg – Lead Sound
Smackquarium is a 2D, platformer local multiplayer game. With its transparent screen Smackquarium allow the players to see each other while playing. The game also allows the players to pour real water into the aquarium (the game-setting), making the environment/ players be affected by the resulting virtual water steam.
In smackquarium two players fight against each other located in an aquarium. They are both playing a turtle equipped with an oversized hammer. Their goal is to be the fastest one to collect the growing flowers and return them to their homes. As the players successfully return the flowers, their houses begin to grow, making the environment change. With this, the players also compete to win their love of their life – the yellow turtle. The yellow turtle loves big houses!
With its easy-to-learn controls and an engaging monitor as well as inputs Smackquarium offers a pleasant experience for all players, new as well as experienced.
With the opportunity to see through the transparent screens, the competition between the players becomes enhanced.
Lukas Graff – Producer
Måns Möller – Lead artist
Nils Folker – Tech
Martin Carlsson – Sound/ programmer
Fabian Lindin – Game designer