Single player, two avatars, 2.5D platformer.
Explore the world and solve puzzles using the different characters, Terra and Lumi.
The two avatars have unique abilities based on the four elements. Combine their abilities to make clouds to walk on!
This game is built with in Unity. Other programs used are 3ds Max, Photoshop CS, Zbrush and MotionBuilder.
Matilda Nagy – Producer
Tom von Sydow – Level designer
Lisa Wackenhuth Svanström – Lead art
Ellen Mellåker – Artist
Niklas Larsson – Animator
Axel Palmqvist Gillman – Lead code
Oskar Hernberg – Code
Anchored is a survival-based real-time strategy game. Manage a settlement on a floating island anchored above a dangerous jungle. During the day you must lead a group of settlers down into the jungle to gather food and resources. Build defenses and prepare your settlement for the night, because you are not alone in the skies.
The game is built in Unity 5 and modeled in Blender.
Marcus Litholm – Lead Game Designer
André Bengtsson – Lead Artist
Nisse Lindblom – 3D Artist
Semih Parlayan- Lead Programmer
Johan Holmér – Producer & Programmer
Johan Öhman – Sound & Programmer
Anchor was awarded Best 2nd Year Project, the Cha-ching award (most commercially viable) and the Pwnage Award at the Gotland Game Conference 2016.
In a world of great wonders, a ranger is tricked by a scheming wizard to unleash a great danger. In order to undo her mistakes…
Tale is a third-person adventure game, on Multiple platforms, set in a fantastical land known as Abulin. With gameplay centered on exploration and navigation, Tale aims to tell the story of a young ranger as she unravels the plot of a devious magician. The game is developed in Unity. Assets are created in, Zbrush,3Dsmax,Speedtree,Motionbuilder,Logic pro, Visualstudio, sourcetree, Photoshop,Substance painter, 3Dcoat,Mixamo adobe, Bitmap2Material, Blender, Substance Designer.
Emil Christenson – Producer
David Crosson – Game design
Erik Starander – Environment artist
Gabriel Ajuwa – Programmer
Kim Gripenberg – Programmer
Lucas Chang – Lead Artist
Samuel Ehnberg – Lead Sound
Project Neiva is a side scrolling platforming game featuring a dose of classical 2D gameplay using 3D graphics. The game strives towards fluent gameplay with timed movement, avoiding traps, and outmaneuvering enemies. At the games core lies the character Neivas ability to manipulate her soul, using it to teleport around the game levels!
The game is designed primarily for PC, but offers support for game-pads.
Made with Unity 5.
Tony Högye – Producer / 3D art
Love Åkerlund – Lead Design
Jens Berg – Lead Sound / Code
Emma Fredriksson – Lead Art/3D art
Axel Vesterlund – Code
Charlie Eliasson – Animator
Johannes Westberg – Lead Code
Neiva won Student Choice at the Gotland Game Conference 2016.
Would you say "girl gamer" or "gamer"? Does the sex matter in a virtual place? We think not! This is intended to be something more than just a game for fun! Kei will take you through a journey a lot of girls will recognize when they decide to be a part of the gaming society. Hit the hackers, garrote the geek of evil and set things right. Kei was born in this city and now finds herself to be no longer welcome. You play your way through the overtaken 3D city "Game Town" and fight the enemies sent out to destroy you with your Xbox controller. Kei is a 3D action RPG that is created in Unity. The 3D models were created in 3DsMax and textures were painted in SAI and Photoshop.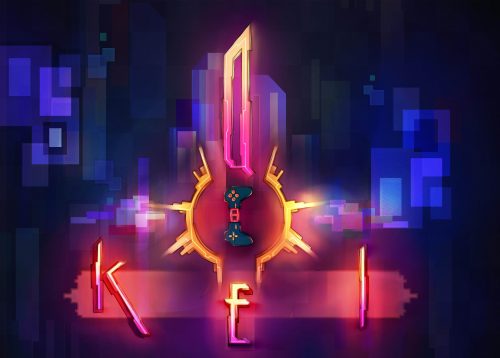 Nayomi Arvell – Producer
Eva Sokolova – 3D art, textures
Kim Teroni Borg – 3D modeller
Håkan Pettersson – Environmental 3D artist, level designer
William Persson – Music, level designer
Isak Ekedal – Programmer
Rokas Paulaskas – Programmer
Adventures in Space and Slime is an open world, 3d platformer that engages players through exploration and creative puzzle solving.
You play as a trio of slimes who have suffered a teleporter accident and have been stranded in a perilous alien world.
Using combinations of each of the three characters' special abilities and attributes, you must find and collect the scattered remains of your teleporter in your quest to return home!
The player overcomes challenges in the game world by swapping out which of the three characters they currently control, and recalling the others to the character currently being controlled, in order to make use of each of the slimes' special abilities.
The game is created in Unity 5.4.3, coded in MSVS13, with assets created in Maya and 3DSMax.
Producer & Programmer: Dee Majek
Lead Designer: Pontus Hassis
Lead Programmer: Simon Lundgren
Lead Artist: Joakim W. Andersson
Programmer: Stefan Ekdahl
Artist: Markus Holm