Travel through an open world by picking up boosts to accelerate forward. Speed through tunnels, make incredible jumps and explore a fantastic earth abandoned by men and colonised by robots! Find the ideal path through the levels to grant yourself the best score possible on each map. Join your friends in this adventure to explore the world together.
Defunct is a 3rd person adventure game for PC. Played best with an Xbox 360 controller. You travel through the world by picking up boosts and you goal is to get the highest score possible on each map.
Defunct has won several awards:
The game is made in Unity 4.
Robert Graff – Producer, Level Designer
Jonatan Keil – Lead Game Designer, Level Designer
David Forssell – Lead Programmer
Mikael Karlsson – Lead Graphical Artist, 3D Artist
Simon Öqvist – Animator
Petter Vernersson – Programmer
Anders Hedström – 3D Artist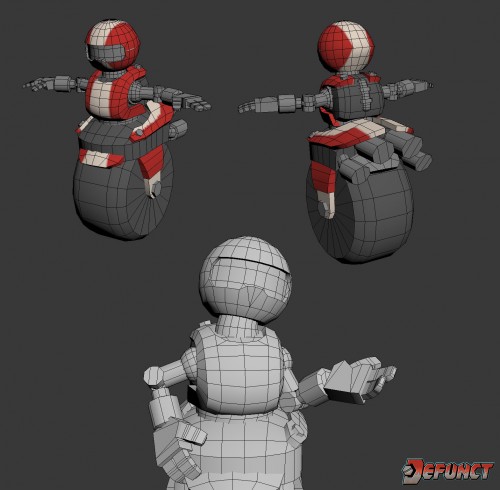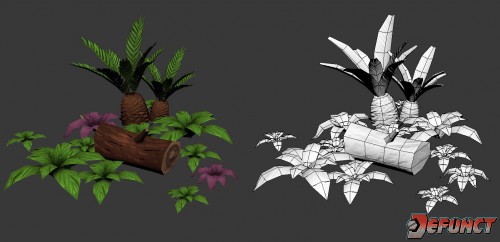 Teleport and change your gravity to walk on walls. Use your wits to veer across the puzzles, and find the optimal path. Simple mechanics. Complex situations.
Veer is a avatar based 2D "reach the goal" platformer entirely focused on puzzles. The player utilizes teleporters and gravity shifts to reach the goal. Simple mechanics. Complex situations.
The levels are short and mostly resolves around a single problem, and you get ranked based on how fast you solve it. The vast majority of levels have more than one solution, so to get a better rating you need to find the faster solution.
The game is built using Unity3D and 3Dstudio Max.
Veer was awarded Best Graduation Project at the Gotland Game Conference 2014.
Pontus Fredriksson – Lead design, Art.
Emund Sandelin – Programming, Design
Mechropolis is a first person action puzzle game set in the ruins of a lost civilization. The only remaining lifesigns are small rusty robots carrying out the orders of their long gone masters. Fuse the robots together and exploit their new abilities and properties to overcome the challenges of Mechropolis.
The game is developed using the Unity engine, along with a number of plugins to enhance productivity.
Mathias Andersson – Producer, Level Design, Programmer
Viva Ivarsson – Designer, Artist
Kenth Ljung – Programmer
Ylva Ljungqvist – Artist, Art Director
Petra Medin – Artist
Frida Svensson – Artist, Animator
Simon Wulf – Designer, Programmer
Scout your path, choose your equipment wisely, because one hit can kill…
Be prepared to get Sneaky in this mobile based stealth game.
Sneaky Ninja is a Mobile based stealth puzzler developed with Unity.
Your goal is to sneak into a compound, get what's needed, and sneak out.
Correct choice and usage of a variety of tools and planning every move is critical to success!
Johan Wittrock, Producer, Programmer
Kristoffer Johansson Artist – 3D and 2D
Anna Rönnback Artist 3D and 2D
Viktor Bergman Artist – 3D
Jonas Falkheden Programmer
Martin Persson Programmer
Imagine combining the tactical prowess of MOBA:s and the strategic depth of a RTS:s game, fighting together with your friends side by side; one as a commander and the others as a champions
against a team of equal composition, which side will prevail in the eternal conflict, you decide!
In E.R.A you play as a team in multiplayer versus another team, each team consists of several champions and one commander. The goal is to destroy the enemy commander.
The players who control champions use their skills to dominate the battlefield and capture key location for the commander to build structures on.
The commander controls builds structures that spawn minion waves and support the champions with different abilities (such as healing them for a price).
This game is for PC exclusively, you play using a keyboard and mouse and is developed using Unity.
Daniel Svensson, Producer | Game Creator | Game Designer
Inge Olaisen, Lead Programmer
Henrik Andersson, Programmer
Rasmus Björling, Programmer
Henrik Rosenborg, Lead Artist | 2D Artist | 3D Artist | Animator
Amanda Rathje, 2D Artist | 3D Artist | Animator
Christian Roupé, 2D Artist | 3D Artist | Animator | Technical Artist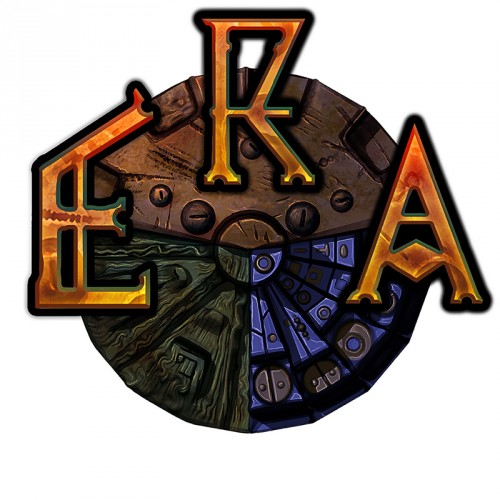 A first person, 3D puzzle game where the player arrange mirrors to channel light to a target, while aavoiding environmental hazards like traps, moving platforms and bottomless pits.
First person puzzle game where the player uses light and reflective mirrors to complete the puzzles.
Programs:
Unreal Engine 4, 3ds Max, Blender, Photoshop, Visual Studios, Motionbuilder, Xnormal, Zbrush, Crazybump. Audiocity, Adobe Audition, Adobe AfterEffects
Charlie Claesson – Producer/3D Artist
Joakim Mäklin – Lead Artist/Lead Designer
Joar Hedvall – Lead/Solo Programmer
Simon Säfström – Level Designer
Sebastian Lindblad – 3D Artist
Tobias Carlsson – 2D Artist