Ghoulies is an alternate reality, ghost hunting game for teens, ages 13-16.
The players use their smartphones to battle and collect different ghosts and supernatural beings, the so called Ghouls.
Ghoulies make use of various smartphone functions, such as the GPS, gyro and camera to put the player in the middle of an exciting game world, right between reality and fiction.
Ghoulies was awarded Best Second Year project at Gotland Game Conference 2013.
The game is developed for android, and will be playable on pads and smartphones. The tools we have used for coding the game is Eclipse and Java. For the graphics we have been using 3Ds Max, Adobe Photoshop, Adobe After Effects. For the sounds and music Reason and Goldwave.
Lee Kåberg – Producer/Artist
Daniel Polgar – Lead designer/Artist
Therése Pierrau – Lead Art
Tove Ahlgren – Artist
Johan Holm – Lead Sound/Artist
Max Barnell – Lead Code
Kevin Frender Berglund – Coder
Marcus Brännfors ( External ) – Music
Marcus Sjöblom ( External ) – Music/Sound
"Uncover the secret power of Ström in an ancient temple ruin, as a young girl on her rite of passage."
The player controls the avatar Lume, as well as the mechanic of Ström transfer, which is the ability to switch states between objects within range of the avatar, for example dragging Ström from a moving creature to a static one. The player has to solve puzzles and move through obstacles by thinking logically and observing the surroundings. The goal is to evolve the Ström mechanic in order to complete all the levels in a linear fashion.

It's a 3D fantasy puzzle adventure game for the computer, with an energy transfer system, targeted at people who enjoy unique aesthetics and a relaxed pacing.
Hannah Idén Gustafsson – Producer
Hanna Eriksson – Artist
Karl-Johan Thole – Artist
Andreas Mikko – Programmer
Linus Eriksson – Programmer
It is a puzzle game based on soap bubbles. Yomi is a character who has a bubble device, which they use to blow magical soap bubbles, which are used to help Yomi find their way through the world to help the different creatures that live there.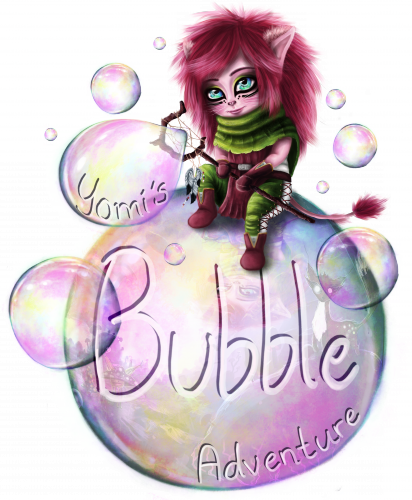 Jens "Tiny" Berglind – Producer, Programmer and Level Designer
Olof Wallentin – Lead Programmer
Anders Ekdahl – Programmer
Herman "Hedning" Rödström – Programmer
Pontus "Lillis" Fredriksson – Lead Designer, 3D Animator, 3D Artist, Level Designer and Audio Designer
Hannes "Huntas" Freiman – Lead Artist and Level Designer
Johanna Brate Sjögren – Artist
Alexandra Aasen – Artist
Daniel Råström – 3D Artist
Robin Powell – Lead Animator and 3D Artist
WarpSeed is a forced side-scrolling shoot 'em up with exploration elements. Take control of the WarpSeed and warp freely between levels at will. Travel through levels and consume enemy Core Units for new Weapons and Extensions to unlock the the Gates that halt your progression. Battle your way through the OnePower Empire's forces, defeat the commanding ForceKings, and warp to save the world.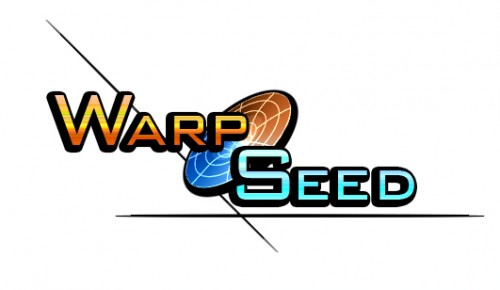 Jonas Lewis – Design and Art
Sayo Nariño – Programmer and Musician
Take control over a prehistoric monster, and destroy everything in your path with the help of your primal strenght and toughness. In Mastodon Metal Mayhem, your goal is to wreck as much havoc as you can within the time limit. To give you that extra destuctive power, pick up gatling guns, freeze rays and missiles. Get the highest scores, show who is the best at destruction. Refine your destruction in single player, or destroy the city with a friend in Multiplayer. Show them who's the best at Mayhem. Wreck havoc!
The Game will challenge the players coordination-ability, giving the player challenges as avoiding obstacles in the course, either as redirecting the course, or shooting them down, depending on the obstacle.
The player will be able to collect schematics during the game, which will enable the player to make special upgrades to the mammoth. By collecting these, the player will have the ability to unlock hidden areas in the levels, which the player wouldn't be able to access without said upgrades.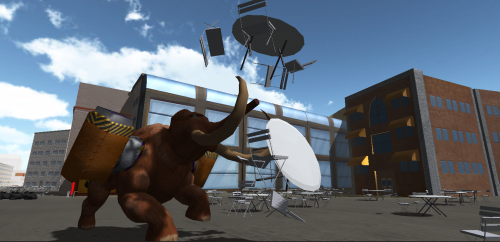 Rikard Dahlberg – Lead Game Designer / Artist
Gustaf Nerström – Lead Game Designer / Sound
Niclas Jorvid – Artist / Web
Christoffer Solgevik – Artist
Erik Rosenborg – Artist
Rickard Hagström -  Artist
Daniel Andersson – Producer / Programmer
Emund Sandelin – Lead Programmer
Elias Lundgren Kuosmonen – Programmer
Josefine Fahlström – Programmer
Is a first person 4-player co-op game. In which each player has been given a unique objective to complete within a time limit. Once this time limit is met, the players have lost. To make it extra difficult, each objective requires two people to successfully complete it so you need to go with someone that you trust. However, trust is hard to come by in Portentous because one randomly chosen player has been infected by a mysterious organism. This player is no longer acting with the best of his friends in mind, but has also been given an objective to either kill or secretly infect the other players, in effect turning them to his side. With this in mind, non-infected player will know that they cannot trust anyone, but they still have to trust someone in order to finish the objectives or kill the infected.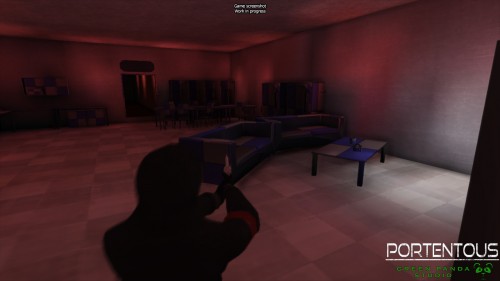 Elias Abjörner – Producer and artist.
Martin Persson -Programmer.
Andreas Vannfält – Lead Programmer.
Johan Swebilius – Programmer
Timmy Mårtensson – Lead Artist.
Fredrik Borgman – Lead Design, Artist
Peder Beijnhoff Bergström – Artist
Viktor Mattson – Artist
Olof Berg – Artist