Squirrel Squabble is a 2D FFA brawler with 2-4 players, with the Wii fit balance board.
The map will continue on even if you are in screen or not, be careful so you won't fall off and let the cat take you!
There are two ways to win the game; either you collect a certain amount of acorns or you be the last squirrel remaining.
Tools:
– Unity
– Photoshop
– Aseprite
– WiiWalker
– Microsoft Visual Studios 2015
Jasmina Softic – Producer
Karoliina Hiidenheimo – Game Designer
Jari Melgén – Lead Artist
Christoffer Forsberg – Lead Tech & Lead Programming
Simon Glans – Lead Sound
Tim Rojo – Programmer
Project Neiva is a side scrolling platforming game featuring a dose of classical 2D gameplay using 3D graphics. The game strives towards fluent gameplay with timed movement, avoiding traps, and outmaneuvering enemies. At the games core lies the character Neivas ability to manipulate her soul, using it to teleport around the game levels!
The game is designed primarily for PC, but offers support for game-pads.
Made with Unity 5.
Tony Högye – Producer / 3D art
Love Åkerlund – Lead Design
Jens Berg – Lead Sound / Code
Emma Fredriksson – Lead Art/3D art
Axel Vesterlund – Code
Charlie Eliasson – Animator
Johannes Westberg – Lead Code
Neiva won Student Choice at the Gotland Game Conference 2016.
Would you say "girl gamer" or "gamer"? Does the sex matter in a virtual place? We think not! This is intended to be something more than just a game for fun! Kei will take you through a journey a lot of girls will recognize when they decide to be a part of the gaming society. Hit the hackers, garrote the geek of evil and set things right. Kei was born in this city and now finds herself to be no longer welcome. You play your way through the overtaken 3D city "Game Town" and fight the enemies sent out to destroy you with your Xbox controller. Kei is a 3D action RPG that is created in Unity. The 3D models were created in 3DsMax and textures were painted in SAI and Photoshop.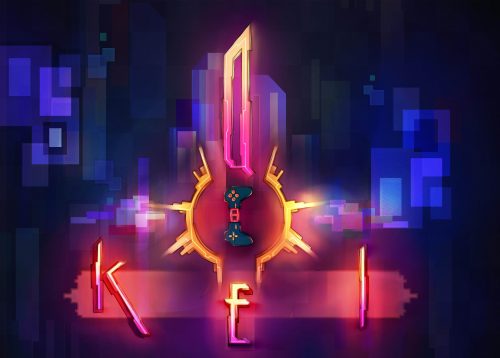 Nayomi Arvell – Producer
Eva Sokolova – 3D art, textures
Kim Teroni Borg – 3D modeller
Håkan Pettersson – Environmental 3D artist, level designer
William Persson – Music, level designer
Isak Ekedal – Programmer
Rokas Paulaskas – Programmer
Chicken This is a competitive game for 2 – 4 players where the players control animals escaping a slaughterhouse by evading a butcher and pushing your competitors into harm's way.
The player will flap, dash and move to escape the dangers of the slaughterhouse.
This game is about friendship and betrayal.
You and three other animals have been trapped in a slaughterhouse for almost all your lives. Now you have finally decided to escape. The Butcher noticed you getting out of your cage and now the race is on. It's survival of the fittest so jump on, push and attack the other animals to win. It can only be one survivor.
The player will have different abilities during the course of the game. The player will start as a animal making is way through the slaughterhouse, dodging different deadly traps, knocking your fellow animal ex friends into obstacle and trap to slow down the butcher.
When a player dies the player becomes a ghost with the ability to revange on your fellow friends who betrayed you with the ability to throwing axes at them.
Platform: PC
Developed in Unity
Stam Kruajan, Producer
Morgan Kringstad, Lead Game Designer
Svante Livén, Lead Art
Robin Berneby, Lead Code
Stefan Strandberg, Lead tech
Mech Rage is a city-destroying game for the active monster. The players punch towards the screen/Kinect to destroy buildings and enemies sent to stop their rampage, while walking along the city they're ruining via a StepMaster.
Unity-based, utilizing Photoshop, FL-Studio and Visual Studio.
Karl Malm – Producer
Arash Affra Bakhtiari – Lead Programmer
Joel Sarkar Nilsson – Lead Art
Gabriel Stoffel – Lead Sound
Max Snäll – Lead Tech
Marcus van Aller – Lead Designer
Sumoctopus is a top down 2D sumo wrestling game, with octopuses. The goal is to push the opponent out of the arena, using your tackle attack and ink blowing abilities! Battle your friend and prove your dominance on different dynamic arenas.
Your controls are two joysticks with buttons on top, that you use to heave yourself forward with. As well as a microphone that you will need to blow into to sploosh ink that will help you turn the tides of battle!
Softwares used: Unity, ELIAS Software, Photoshop, Illustrator.
Anton Nordling: Producer
Anton Olin: Lead Game Design
Philip Olsson: Lead programmer
Linus Bjernhagen: Programmer
Filip Zachrisson Hansen: Lead art
Jonatan Ersarp: Lead Tech