Anchored is a survival-based real-time strategy game. Manage a settlement on a floating island anchored above a dangerous jungle. During the day you must lead a group of settlers down into the jungle to gather food and resources. Build defenses and prepare your settlement for the night, because you are not alone in the skies.
The game is built in Unity 5 and modeled in Blender.
Marcus Litholm – Lead Game Designer
André Bengtsson – Lead Artist
Nisse Lindblom – 3D Artist
Semih Parlayan- Lead Programmer
Johan Holmér – Producer & Programmer
Johan Öhman – Sound & Programmer
Anchor was awarded Best 2nd Year Project, the Cha-ching award (most commercially viable) and the Pwnage Award at the Gotland Game Conference 2016.
In a world of great wonders, a ranger is tricked by a scheming wizard to unleash a great danger. In order to undo her mistakes…
Tale is a third-person adventure game, on Multiple platforms, set in a fantastical land known as Abulin. With gameplay centered on exploration and navigation, Tale aims to tell the story of a young ranger as she unravels the plot of a devious magician. The game is developed in Unity. Assets are created in, Zbrush,3Dsmax,Speedtree,Motionbuilder,Logic pro, Visualstudio, sourcetree, Photoshop,Substance painter, 3Dcoat,Mixamo adobe, Bitmap2Material, Blender, Substance Designer.
Emil Christenson – Producer
David Crosson – Game design
Erik Starander – Environment artist
Gabriel Ajuwa – Programmer
Kim Gripenberg – Programmer
Lucas Chang – Lead Artist
Samuel Ehnberg – Lead Sound
Smackquarium is a 2D, platformer local multiplayer game. With its transparent screen Smackquarium allow the players to see each other while playing. The game also allows the players to pour real water into the aquarium (the game-setting), making the environment/ players be affected by the resulting virtual water steam.
In smackquarium two players fight against each other located in an aquarium. They are both playing a turtle equipped with an oversized hammer. Their goal is to be the fastest one to collect the growing flowers and return them to their homes. As the players successfully return the flowers, their houses begin to grow, making the environment change. With this, the players also compete to win their love of their life – the yellow turtle. The yellow turtle loves big houses!
With its easy-to-learn controls and an engaging monitor as well as inputs Smackquarium offers a pleasant experience for all players, new as well as experienced.
With the opportunity to see through the transparent screens, the competition between the players becomes enhanced.
Lukas Graff – Producer
Måns Möller – Lead artist
Nils Folker – Tech
Martin Carlsson – Sound/ programmer
Fabian Lindin – Game designer
Squirrel Squabble is a 2D FFA brawler with 2-4 players, with the Wii fit balance board.
The map will continue on even if you are in screen or not, be careful so you won't fall off and let the cat take you!
There are two ways to win the game; either you collect a certain amount of acorns or you be the last squirrel remaining.
Tools:
– Unity
– Photoshop
– Aseprite
– WiiWalker
– Microsoft Visual Studios 2015
Jasmina Softic – Producer
Karoliina Hiidenheimo – Game Designer
Jari Melgén – Lead Artist
Christoffer Forsberg – Lead Tech & Lead Programming
Simon Glans – Lead Sound
Tim Rojo – Programmer
Project Neiva is a side scrolling platforming game featuring a dose of classical 2D gameplay using 3D graphics. The game strives towards fluent gameplay with timed movement, avoiding traps, and outmaneuvering enemies. At the games core lies the character Neivas ability to manipulate her soul, using it to teleport around the game levels!
The game is designed primarily for PC, but offers support for game-pads.
Made with Unity 5.
Tony Högye – Producer / 3D art
Love Åkerlund – Lead Design
Jens Berg – Lead Sound / Code
Emma Fredriksson – Lead Art/3D art
Axel Vesterlund – Code
Charlie Eliasson – Animator
Johannes Westberg – Lead Code
Neiva won Student Choice at the Gotland Game Conference 2016.
Would you say "girl gamer" or "gamer"? Does the sex matter in a virtual place? We think not! This is intended to be something more than just a game for fun! Kei will take you through a journey a lot of girls will recognize when they decide to be a part of the gaming society. Hit the hackers, garrote the geek of evil and set things right. Kei was born in this city and now finds herself to be no longer welcome. You play your way through the overtaken 3D city "Game Town" and fight the enemies sent out to destroy you with your Xbox controller. Kei is a 3D action RPG that is created in Unity. The 3D models were created in 3DsMax and textures were painted in SAI and Photoshop.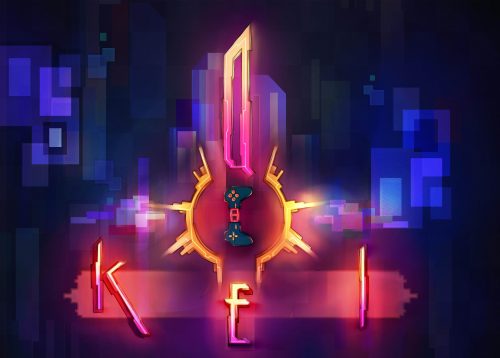 Nayomi Arvell – Producer
Eva Sokolova – 3D art, textures
Kim Teroni Borg – 3D modeller
Håkan Pettersson – Environmental 3D artist, level designer
William Persson – Music, level designer
Isak Ekedal – Programmer
Rokas Paulaskas – Programmer