UPDATE: all talks are now published on our Guest Lecture playlist on YouTube.
This weekend we took a break from everything that has to do with Christmas preparations hullabaloo and invited some of our alumni to come and inspire our current students and spread their knowledge.
Martin Greip showed a very impressive graph of "All the Feels"™ of being an indie developer and the daily struggle of running a studio. And by "accident" he also revealed Eat Create Sleep's next game, Project Synvilla.

Albertina Sparrhult held a very personal introduction (with cows, bathroom queues and everything), to what Diversi is all about and why we all benefit from more diversity within our games.

Nobody knows how to herd cats and destroy all the fun more than Ylva Sundström, who shared her biggest secrets on how to become an exceptional game producer.

After he conquered Europe, the son of Gotland return to talk about his conquests. Andreas Svensson has been working at several game studios around Italy and Germany. Now he's back at Blue Byte, one of the first companies he worked at.

Making a game is easy. Making a game that people understand is hard. Kalle Henningsson, QA Manager at Playdead, showed of some examples of the different iterations of Limbo and their upcoming title, Inside.

Daniel Polgar & Lee Kåberg hade the audience clapping and cheering while they talked about the process of starting up their company, Bridgeside Interactive. They spilled the beans on everything from how to form the company culture, what positions you need to fill and where the money is. Not only that, but they also showed of their first game, Clapper. Which is based on a game they produced during, the objectively best course on Campus Gotland, "Theme Park".

"Who made that wonderful torch", was the only thing everyone could think of when Horizon: Zero Dawn was revealed at this years E3. Prop modeler extraordinaire, Kim Aava, talked about what goes into a portfolio, the difference between working at an indie studio compared to a AAA-studio. But most importantly, she bravely showed some of her early work to show that everybody is a beginner at some point. An encouragement to us all!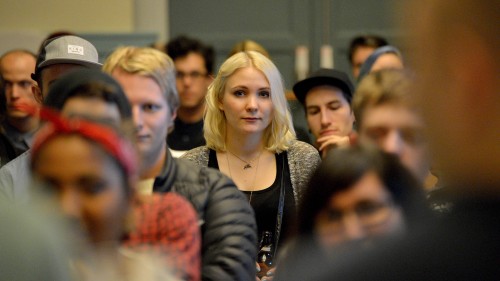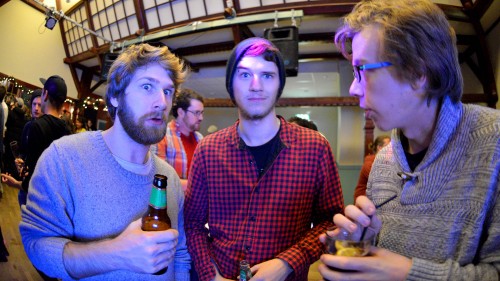 We ended it all at the local student union pub, with a Q&A-panel consisting of some of our alumnis, mingle and some of the games produced at the education this year. It was a blast! Big, big thanks to all alumni, students and staff!
PS. we will publish all talks we're allowed to share, on our youtube-channel. Subscribe to our RSS-feed for a notification when they're up!
First year project Frog Climbers took home Best Execution in Design and the Gamers Choice at the Swedish Game Awards last night! That's the third year in a row that Gamers Choice go to Gotland. 🙂
A (swedish) press release is available from the university here, and we'll add photos / video from the event when and if one of you mail them to me. 🙂
Until then; congrats and good work!
GodFire Forge is a game that takes place within the setting of Norse mythology. The mighty gods of Valhalla are fighting the never ending hordes of giants on the battlefields. To their aid they have you, the player, as a smith to forge their legendary weapons. As you smith their weaponry, you will have an overview of how the battle is waging. If you are slow in your smithing, the giants will over-run the Asagods and they will loose the battle. However if you are quick, the gods will gain favor in the battle and push the giants back to victory and glory.
The game is built using Unity, and the input is several big boxes were a dance-Mat is placed upon every button. A rubber mallet is served as the hammer. With the aid of your mallet, punch huge buttons to forge weapons to the Norse gods in this tug-of-war game. The screen is projected using a projector.
Lisa Wackenhuth Svanström – Producer
Evelina Foxberg – Lead Art
William Persson – Game Designer
Erik Lindgren – Lead Code
Johan Holmér – Lead Tech
Samuel Ehnberg – Lead Sound
Ballistic Balloon Battle is a 2D, two player, balloon fighting, versus game. Players use our unique input device to control the balloons on a variety of maps in a round based skirmish. The input is built using bicycle pumps and microphones, the more you pump, the higher your balloon will fly. The game is made in Unity 5, with graphics made in Photoshop.
Nisse Lindblom – Producer,
Kim Teroni Borg – Lead Art,
Johannes Westberg – Lead Tech,
Olle Staffas – Lead Code,
Oscar Davidsson – Lead Designer,
Emil Nyström – Lead Builder.
TwinShift is a racing game heavily inspired by F-Zero and VVVVVV. Race your way forward on two parallell tracks that you can shift between at will.
TwinShift can be played with up to four players and is set in a post-apocalyptic world riddled with vast heaps of scrap. The game is an adrenaline-packed, high-speed experience pushing the drivers to their absolute limits.
Made for PC using the Unity 5 Engine.
Jonas Lundgren – Producer, Lead Programmer
Laban Melander – Lead Designer, Programmer
Valdemar Ribbing – Lead Artist, Graphical Artist
Simon Brundin – Level Designer, Graphical Artist
Ludwig Lindstål – PR Responsible, Lead Sound, Graphical Artist
William Nordin- Programmer
Naar is a third person action-adventure game set in the mystical world of Al-Dunya (The world below). You are Mokthar a wizard in training, your mission is to dispatch evil djinns from the land. To do this you will have to discover how to make use of your magic in the best possible way to defeat your opponents.
To become a master wizard, you need to tactically defeat your opponents by combining different spells, Fusing them or using the "Harakat"-mode to start a bullet time event for calculated spell casting
The game is built in Unreal Engine 4. Modeled, animated and textured with the help of Maya,3Ds Max, Motionbuilder and Adobe Photoshop.
Ahmad Ali – Producer/Lead Designer
William Mayer – Lead Artist
Marcus Svensson – 3D Artist
Andreas Calmius – Level/Effect Designer
Oscar Eriksson – Lead Programmer
Ladbon Monjezizadeh – AI Programmer
Herman Båtelsson – Programmer