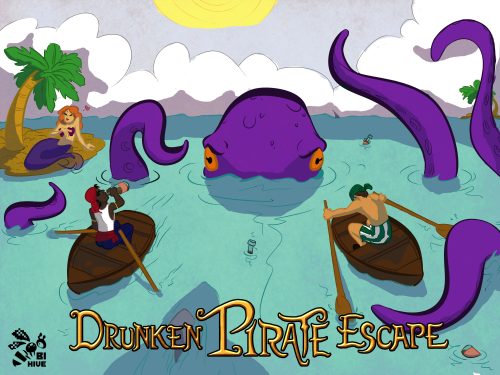 Row faster. Get drunker. Avoid shark…er. Gather rum. Beat your opponent. Be a pirate.
Drunken Pirate Escape is a two-player racing game designed for an arcade setting. Players engage in a race for their lives, rowing with the game's joystick-oar novel input device, avoiding enemies such as sharks, navigating obstacles such as sandbars and coral reefs, and drinking rum to fuel their efforts.
Key Features:
Row using the game's novel input device: the joystick-oars
Race against your friends, and try to hold the highscore record!
Experience the game's Drunk effects
Drunken Pirate Escape was made using MSVS 2014, Adobe Photoshop, SourceTree, Github, PaintTool SAI, and rum.
Pontus Hassis: Producer
Dee Majek: Lead Designer
Simon Lundgren: Lead Programmer
Adrienne Gunnarsson: Lead Art
Danielle Unéus: Artist
Anders Schultheiss: Lead Tech