Congratulations to the Cryptogram and Sam and Nicole teams on their success at the Swedish Game Awards! Way to go, folks!

Sam and Nicole was awarded Best Diversity Effort and given a cash prize of 7 000 SEK as well as two conference passes to Game Developers Conference in San Francisco. Cryptogram was awarded Best Execution in Design, Best Technical Execution and Best Execution in Narrative and given a total cash prize of 21 000 SEK as well as a visit to Might and Delight.
Check the official SGA website for the rest of the winners!
Here are some photos from awards, courtesy of the event photographer Sebastian Bularca.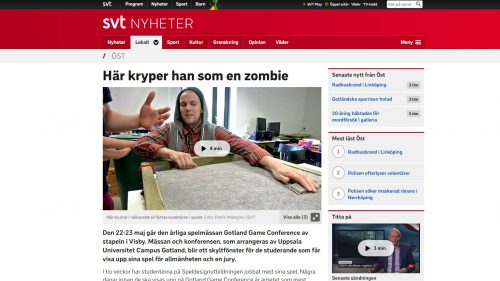 SVT Östnytt: Här kryper han som en zombie
Vilya, of Pixel Ferrets / Secrets of Grindea fame, wrote about her jury duty in this 2 part series:
Vilyaroo's Gotland Game Conference 2016, Part 1
Vilyaroo's Gotland Game Conference 2016, Part 2
Another year, another conference. We're good at this!

Our conference opened with our head of state, Hans Svensson, recognizing our education's adolescence. He said, with gentle mirth and pain in his heart, the he realized "that every day I have to work with a teenager." And thus he set proceedings off with a sentiment that holds for our education, our industry and our conference: Without the rebellious teenager, our futures would stagnate.
But, judging by the work of our students, the future is safe. The future is weird.
Every year our first year students make games with innovative input devices – no buttons and keyboards for them. Every year they do us proud, but this year, the games reached new heights – a game where you are a zombie, pulling yourself across the floor to get to your target; a game where the input device was a wooden rocking horse; a game where the primary action is hugging; and one where the entire input method was a room with a bookshelf.
The second years are given the opportunity to make the game of their dreams, and the freedom to break boundaries. And did they deliver! A game to help insomnia sufferers. A game expressing the experience of a teenage lesbian couple. Charming Platform Puzzle-games with tons of character and a plethora of interesting mechanics. A real time puzzle game where the player is a rogue AI. Even the third years, who are weighed down with the academic weight of a thesis, managed to put games into the show – Naar and Tamarrion returned, looking, and playing, better than their first outing last year. And Omni, a strategic real time board game, took to the floor, in time for the start of its Kickstarter campaign.
All these games were played, and considered, by our amazing speakers: Jerry Bellich, Richard Lemarchand, Patrik Hanson and David Wolinsky. These fine figures gave 5 amazing presentations ranging from circuses, input devices, employment, understanding the personal reasons we make games, and the subject of sex, sexuality and intimacy.
As always, these phenomenal presentations will be released to our YouTube channel so, even if you weren't there you can enjoy them too. The Speakers were joined by an equally competent jury, some even made it to the stage for a panel discussion lead by the Swedish Games Industry's Per Strömbäck.
We also said hello to our local college Gutegymnasiet. We have been working with them over the past year, sending our Subject Responsible Adam Mayes to teach in their newly created game program. They responded by sending their students, with games, to participate on the show floor! We look forward to having them back at the conference next year, and their students to our programs when they're ready.
To see all the photos from the event, including the award ceremony and party, please check out the Gotland Game Conference gallery on facebook!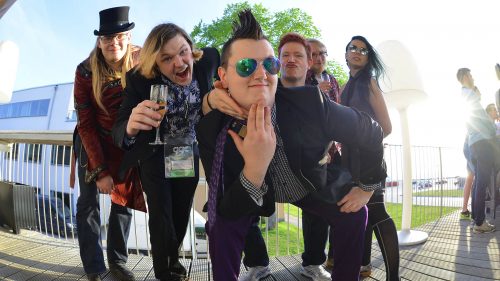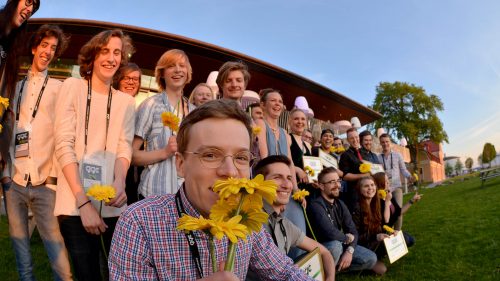 An open-world, roguelike with exploration, crazy weapon upgrades and a whole lot of love.
Baby, I'm Robot! shows the consequences of a robot falling in love with a human. Spoiler: that robot gets banished to an island filled with dangerous, defective robots. That robot then has to fight those scary robots in order to find its way back civilization, to be reunited with its love.
Baby, I'm Robot! Is a pixel art, roguelike action game where you explore procedurally generated islands, upgrade your weapons and (hopefully) defeat a lot of strange robots.
Baby, I'm Robot! Is made for the PC with Unity and Aseprite.
Anders Jonsson – Producer, programmer,
Marwan Al Salman – Programmer,
Marcus Altin Prytz – Artist
OMNI is a dice-less games that emphasizes skills rather than chance.
OMNI places you in Arbor, a twin planet in the solar system Jua, an arboreal planet,teeming with life. The lay of the land is fertile with Omni crystals decorating the crust. With riches like these, the humans of Arbor are in continual contest over the planet. The three biggest factions, the forest archers of Viralis, the Hildegarns steppe berserkers, and the Birok guardians of Tivla have been fighting over the rule for Arbor for 200 years. OMNI lets you re-enact past battles or build your own in easy to learn scenario-based combat. Fight for you faction in simultaneous combat with potentially any number of opponents and allies. Build as large map as you like and play any setup of teams in the all-out battle for Arbor.
Will you win for the glory of your faction-or be forgotten in the scrolls of time?
Try the print & play version at the OMNI development blog!
Designers:
Ludwig Lindståhl
Ladbon Monjezi
OMNI was the first board game to ever be nominated – and win – the Best Social Game award at GameConnection in Paris (2016)!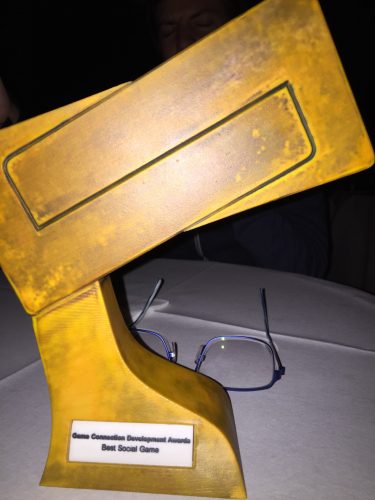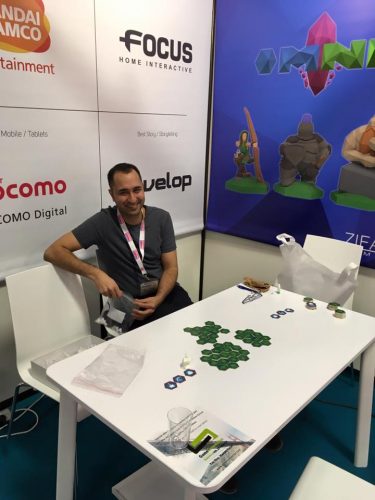 Single player, two avatars, 2.5D platformer.
Explore the world and solve puzzles using the different characters, Terra and Lumi.
The two avatars have unique abilities based on the four elements. Combine their abilities to make clouds to walk on!
This game is built with in Unity. Other programs used are 3ds Max, Photoshop CS, Zbrush and MotionBuilder.
Matilda Nagy – Producer
Tom von Sydow – Level designer
Lisa Wackenhuth Svanström – Lead art
Ellen Mellåker – Artist
Niklas Larsson – Animator
Axel Palmqvist Gillman – Lead code
Oskar Hernberg – Code