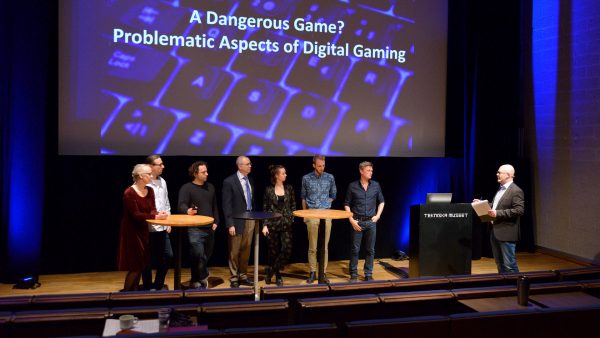 This is the fifth symposium on digital games hosted by the Swedish Museum of Science and Technology. This time we were discussing game addiction / problematic gaming. Patrick Prax – now officially representing our favorite Department of Game Design – shared his research, taking a holistic approach to treatment.
"Rather than taking games away, we need to add life back."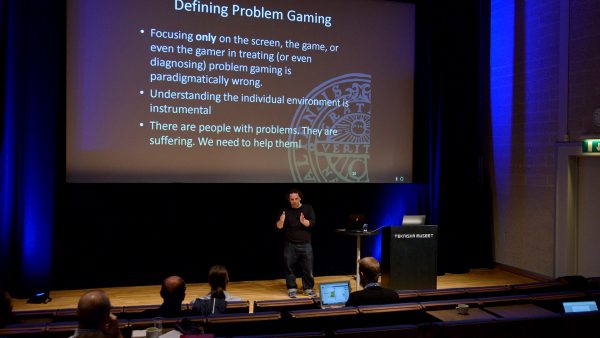 From the program
More people than ever before are playing digital games. For many it is just an enjoyable leisure activity but games and gaming are also associated with concerns about gaming addiction, violent content and problematic representation as well as hate speech and harassment among players.

The Swedish Media Council report on youth media use (2012) showed that digital games was the media category young people felt most concerned about and was most favorable about age limits for. It was also the media category they felt adults were least interested in.

Is there such a thing as digital gaming addiction and if so, how common is it? Are the gamers affected by violent content and values expressed in games? What are the judicial aspects of harassment in online games? Is the talk of "problematic gaming" just a part of a moral panic? These are some of the questions that will be discussed by our invited speakers at this symposium.
The schedule (for future reference):
9:30-10:00 Registration and fika (coffee).
10:00-10:10 Introduction and Welcome - Peter Du Rietz, Curator at the National Museum of Science and Technology, Tekniska museet.
10:10-11:00 The multiple dimensions of video game effects: Getting beyond dichotomous thinking - Douglas Gentile. Professor of Psychology, Media Research Lab, Iowa State University
11:00-11:30 Behavioral addictions as a Trojan horse - Karin Helmersson Bergmark, Professor of Sociology, Department of Sociology, Stockholm University
11:30-12:30 LUNCH
12:30-13:00 Un-pausing your life: Problem Gaming from the Perspective of Treatment - Patrick Prax, Department of Informatics and Media, Uppsala university.
13:00-13:30 My life as a gaming addict - Fredrik Reis-Nilsson, Gaming addict.
13:30-14:20 Dark game design patterns: Engaging or exploiting the player? - Faltin Karlsen, Professor of Media Studies at Westerdals Oslo School of Arts, Communication and Technology.
14:20-14:50 FIKA (coffee)
14:50-15:20 Cyber hate – Cyber crime? - Amanda Redin, the Swedish Institute of Law and Internet.
15:20-15:50 Gaming culture and the struggle against hate speech - Alexander Hallberg, SVEROK (The Swedish Gaming Federation)
15:50-16:30 Panel discussion