Brjann Sigurgeirsson driver spelstudion Image & Form och berättar om sin mångåriga erfarenhet som indieutvecklare. Föreläsningen ges på göteborgska.

Jens Berglind and Peter Stråhle talks about the development of Shelter 2:

Nicodemus Mattisson berättar om sina erfarenheter av att jobba som frilans och erfarenheter att ta hjälp av en agent för att söka jobb.

Alumnipanelen: en panel full med prominenta alumner som diskuterar sina erfarenheter och svarar på frågor från studenter. I år höll vi till i Studentbaren Rindi.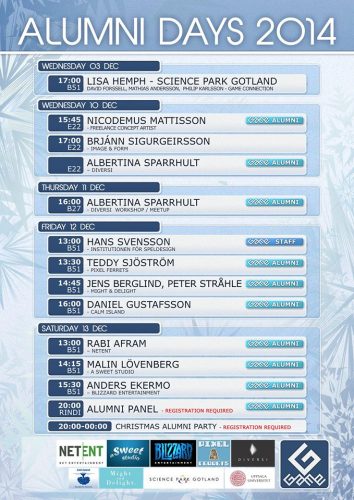 Schedule:
10 December, Wednesday, E22
15.45 Nicodemus Mattisson – Freelance Concept Artist
17.00 Brjánn Sigurgeirsson – Image & Form
Albertina Sparrhult – Diversi
11 December, B27
16.00 Albertina Sparrhult – Diversi workshop / meetup
12 December, Friday, B51
13.00 Hans Svensson – Institutionen för Speldesign
13.30 Teddy Sjöström – Pixel Ferrets
14.45 Jens Berglind, Peter Stråhle – Might & Delight
16.00 Daniel Gustafsson – Calm Island
13 December, Saturday, B51
13.00 Rabi Afram – NetEnt
14.15 Malin Lövenberg – A Sweet Studio
15.30 Anders Ekermo – Blizzard Entertainment
20.00 Alumni panel & Party (at Rindi)