These are the Alumni Days for the Department of Game Design. Our amazing former students returns for three days at the end of every year, to share their experiences and insights.
You are welcome to drop in to any talk – we are in the Almedalen Library. Full program available here: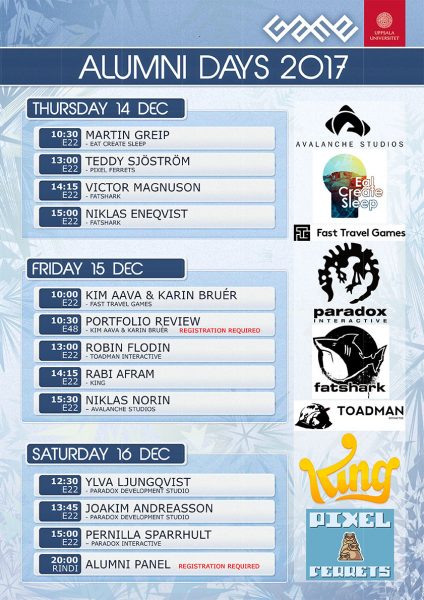 EDIT: (most) presentations are now available on our YouTube-channel!
Have you studied here? Join the Uppsala University Alumn Network. Also consider joining the Facebook group for GAME students past and present.
Here's the program for your copy-pasting pleasures. It is tentative, though, as talks might be brought forward or delayed.
14 December, Thursday
10.30 "Martin Greip" – CEO, Eat Create Sleep
13.00 "Teddy Sjöström" – CEO, Pixel Ferrets
14.15 "Victor Magnuson" – Game Designer, Fatshark
15.00 "Niklas Eneqvist" – Prop Art, Ass. Art Team Manager, Fatshark
15 December, Friday
10.00 "Kim Aava & Karin Bruér" – 3D Artist & Art Director, Fast Travel Games
10.30 "Portfolio Review" – Kim & Karin, Fast Travel Games
13.00 "Robin Flodin" – CEO, Toadman Interactive
14.15 "Rabi Afram" – QA Dev Manager, King
15.30 "Niklas Norin" – Lead AI & Combat designer, Avalanche Studios
16 December, Saturday
12.30 "Ylva Ljungqvist" – 2D Artist, Paradox Development Studio
13.45 "Joakim Andreasson" – Game Designer, Paradox Development Studio
15.00 "Pernilla Sparrhult" – Producer, Paradox Interactive
19.30 Doors open at Ringi
20.00 Alumnipanel & Party