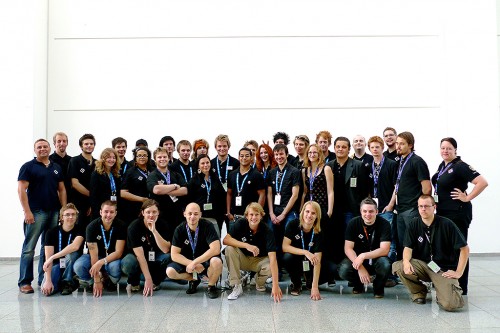 Gotland Game Awards is GAMEs great finale of the academic year. During a couple of days – just before the summer holidays – our students get to exhibit their work publicly and to a jury from the entertainment industry. Students are given great feedback, opportunities to network with brilliant people and are awarded some 400 000 SEK worth of sponsored prices.
Whats more; the best projects are invited to come with us to the annual Games Developer Conference and GamesCom in Germany. With 245 000 visitors, 4 100 journalists and 458 exhibitors from 31 countries, it is the largest games trade fair in the world!
Matching the enormous momentum of GGA 2009, GAME flew almost 40 people (students and staff) the 3500km to Cologne to show off our games and education this year. Our troop was so big in fact that GAME occupied two booths at the convention: one in the Business Area where (only) industry people hang out and mingle. And another in hall 6 (the big one!) where we shared the floor with (among many others) Blizzard, Rockstar, Square Enix, Bethesda and Microsoft!
Four schools from other parts of Europe attended the convention, but none could compete with our massive presence: eight games in total, three arcades and two booths entirely built and manned by the students themselves. Check these pictures out!