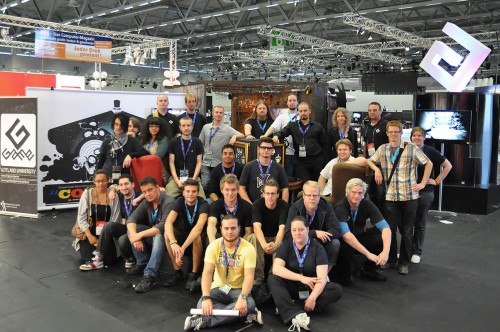 We're back again from the largest games trade fair in the world! One of the many ways in which we try to highlight our students and their projects from the Gotland Game Awards is to offer them floor space in our booths at various events. Largest of these by far is the annual Game Developers Conference and GamesCom. Let me throw some figures at you from this years event: 5 days and a total of 505 companies from 33 countries. More than 200 premieres. Over 4400 media representatives from 49 countries. A gross floor space of 120 000m2 and a total of 254 000 visitors. By comparison, the Tokyo Game Show draws around 185,000 visitors and the Electronic Entertainment Expo about 43,000.
Among the 18 900 trade visitors were 28 women and men from Gotland University, GAME. Our troop may have been somewhat smaller than for GamesCom 2009 but our presence was definitely not diminished. Our students got to build and man the 56m2 booth right next to Blizzard, Square Enix, Crytek, EA, Bethesda, BioWare and LucasArts, where we showed off some of our most ambitious projects to date; Abzolium, Colorless, Fumbies, Gods of Steel, Midnight, Pawns and the game of the year-winner Dwarfs, alongside several monitors looping computer generated animations.
Jonathan Lester over at dealspwn.com concluded:
it doesn't get any more independent than Gotland University […] they've crafted some immensely promising experiences. Pay close attention, because these unsung games are quite unlike anything else you'll see in the show.
Many thanks to Jonathan and all the thousands of visitors who spent time in our booth. We hope to see you all again in 2011!
For more photos, check out GamesCom 2010 official photostream.