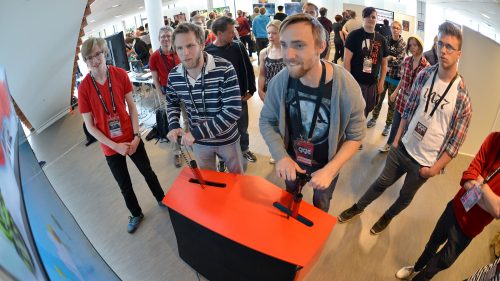 Every year, the best and brightest of the game industry gather in San Francisco for the Game Developers Conference (GDC). As part of the 5 day event the organizers also host alt.ctrl.GDC – an on-site showcase of unique games built around alternative control schemes and interactions. Or in their own words: "a chance to play some of the most inventive and innovative games around using unique, one-of-a-kind controllers."
This year, two of our student teams will be present! Among the only 20 finalists chosen, our first-year teams Cryptogram and Zombie Crawler both made the cut and thus will be travelling to the US this spring and exhibit their games alongside a long time friend of the department; developer, all round creative, and now teacher – Jerry Belich.
This is a fantastic opportunity for our students to present their games on an international stage, and we're incredibly proud and happy that they can represent the education in San Francisco.
You might have played these games at the Gotland Game Conference 2016 (What? You weren't there? Why not? You should be here for 2017.), or at Comicon in Stockholm, earlier this autumn.
If you missed those events, you can look at the gallery here and see what you missed out on. 🙂