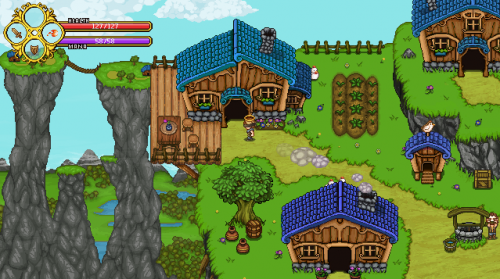 Three of our students – Fred Ström, Teddy Sjöström and Vilya Svensson – earned some publicity (and a lot of praise) from their spare time project Secrets of Grindea. It got picked up last week from their devlog over at tigsource. Both IndieGames.com and TwoFedoras.com wrote about them. Here's a quote from IndieGames:
Oh, hello there! What's this? Old-school RPG aesthetics? Zelda-esque gameplay? A deeply complex character customization system with no level caps? Support for four player co-operative play? Say no more. Where do I sign up? Secrets of Grindea is an upcoming action-RPG with big promises, lush pixel art, an eye for detail and, all things taken into consideration, a surprisingly simple premise: became a famed Collector and acquire the most precious 'rares' in the kingdom.

It looks like Secrets of Grindea is being helmed by a three-man team consisting of Fred Strom, Teddy Sjostrom and Vilya Svensson, all of whom were once previously involved in Trashtalk, a Swedish development studio located in Gotland.
So Fred, Teddy and Vilya – keep up the good work!
IndieGames.com: Early Gameplay Footage of Secrets of Grindea
TwoFedoras.com: Secrets of Grindea, more like secrets of unlocking my heart
Devlog
YouTube: Secrets of Grindea – Sight Seeing in Startington