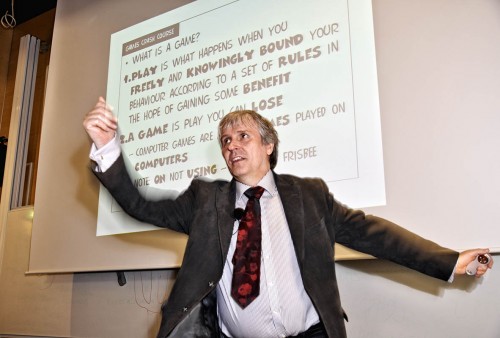 Professor Richard Bartle is coming back for a new lecture, September 14th!
This marks the first of a series of public lectures hosted by GAME this autumn in our course Human Rights and Diversity in Serious Games 2010. Like last year we'll invite speakers from the industry, arts, academia, press, government and more, to discuss human rights and diversity in the context of modern interactive technology. All lectures are free and open to the public!
Bartle is a professor and game researcher at the University of Essex. He's most famous for having created MUD (multi-user dungeon) – the first of what would later evolve to become massively multiplayer online role-playing games. He's one of the regular writers over at the popular science blog Terra Nova, with a focus on the study of virtual worlds and he was the examiner for our own doctor Mirjam Eladhari's dissertation. 🙂
He will be talking about human rights in virtual worlds and his work with the European Council to create an HR-manifest for games.
Time: Wednesday, September 14th, 10:00-12:00
Location: E22
Keep questions and discussions in the student forums please.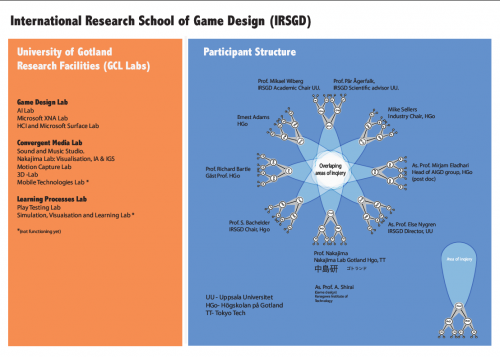 Senior game designers give their take on the subject of game design and how it can be developed in the future.
Monday at 13:00 there will be three short lectures by legendary game designers; Ernest Adams, Richard Bartle, and Mike Sellers.
This is a part of The International Research School of Game Design (IRSGD); a collaboration between Uppsala University and Gotland University. The aim of the IRSGD is to create a greater understanding in and development of game design and its applications in other fields. The research school is made up of an international gathering of leading game designers and academics working towards this goal.
Time: Monday, September 12th, 13:00 –
Location: E22
Keep questions and discussions in the student forums please.
Gotland University is hosting the seventh DAMA (Dance and Media Art) workshop. Through the DAMA network, this workshop is open to the participating institutions. The workshop takes place in Visby in June 06-15, and students will work together in groups, leading to a final performance/presentation.
Time: 06.6.2011 – 15.6.2011
Place: Visby. Gotland. Sweden. Gotland University. Institution of Game Design, Technology and Learning. GAME Department.
Duration: 10 days
Level: Intermediate/advanced
Working language: English
Recognition: 5 ECTS. Students should confirm that the course can be accepted into their studies at their home university.
Course description
Course goal:
The 10 days intensive Course provides students with knowledge about the common ground between dance, games and media, and encourages to learn more about other students' disciplines. The students work together in groups, creating an game based performance or interactive experience as the final work.
Content and methods:
The course will focus on the space between dance/theatre and games: where games become art and dance/theatre becomes interactive. Techniques from the dance/theatre will be used to design new games and interactive (game) techniques will be used to make dance/theatre. The student will research and develop a cross-over between games and performance. S/he will learn to deal with different soft- and hardware and theatrical techniques. S/he will learn to work in a team or as a collective on artistic and innovative concepts and how to adjust them to an artistic context. The development of and experimenting with innovative concepts of virtual theatre and games is a central issue here. Dance students will benefit both by using theatre techniques as well as game development theories for choreography exercises. It will extend the issue of connectivity between movement and content in the choreographic dance work.
All information, application procedure and contacts are available in this PDF.
Preliminary course plan for the workshop.
Adams is back for lectures, workshops and feedback on your Gotland Game Conference projects. First up is a wednesday lecture titled Ghost in the Machine:
Just as poetry is the art of language, interactive entertainment is the art of artificial intelligence. One of our core goals is to create the impression that the player is competing with an intelligent opponent. AI is incredibly hard to do, so we cheat in a number of ways, taking advantage of the player's suspension of disbelief. I looked at some of the ways we can cheat, and suggested a number of models for behavior from the animal kingdom.
Time: Wednesday, April 6th, 13:00
Location: B51
On thursday he's doing a workshop called Accessibility in Games. There are two opportunities:
Time: Thursday, 7th April:
Pass 1 | 10:00 – 14:00 (30 students)
Pass 2 | 14:20 – 17:20 (30 students)
Location: B25+B27
Sign up in the student forums.
And on friday Ernest has a workshop in Character Design. It's limited to 40 heads and primarily for 2nd and 3rd year students. Sign up in the forums!
Time: Friday, April 8th, 13:00
Location: B25+B27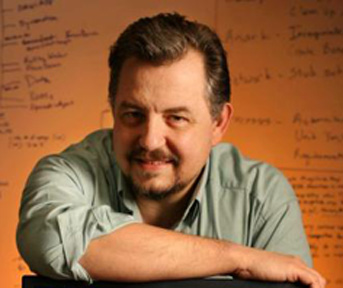 Michael Sellers is the Chief Executive Officer at Online Alchemy, a developer of computer games, artificial intelligence, and social networking software. He has been designing and developing online multiplayer games since 1994.
One of two co-founders of Archetype Interactive, Mike was Lead Designer on Meridian 59, the first 3D massively multiplayer online game, published in 1996. In 1997 he co-founded The Big Network and led the design for online family oriented social networking software (MyPlace).
After TBN was acquired by eUniverse in 1999, he led designs on SimCity Online, The Sims 2, and Ultima Online Trilogy in his role as Senior Game Designer at Electronic Arts. Mike has been a speaker and panelist at many industry conferences and written several articles on MMOG design and production. In 2002 he founded Online Alchemy in Austin, Texas, and is working on a next-generation MMOG based on proprietary advanced artificial intelligence.
Mike is coming here tuesday next week for an intense lecture on Game Design and AI, followed by Q&A. Due to limited space we have to prioritize programmers. Graphics and animation students are welcome if seatings allow. Sorry for the inconvenience. :/
Time: Tuesday, Mars 29th, 13:30 – 14:30
Location: E31
All details after the jump.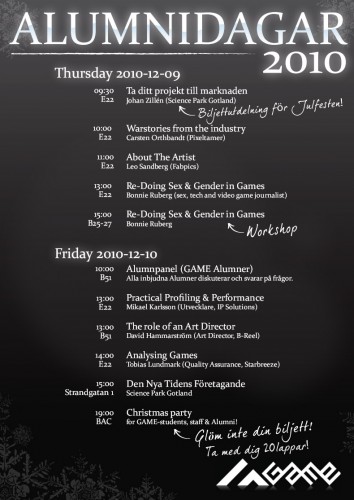 ---
Thursday 2010-12-09
09:30 E22:
Commercialize your projects! – Johan Zillén (Science Park Gotland)
Use your time in school to develop as an entrepreneur! Johan explains what the SPG Incubator can do for you and presents some of the current GAME-projects being housed and developed there.
We will be handing out tickets for the Christmas Party here. Don't forget to sign up your significant other!
10:00 E22:
Warstories from the industry – Carsten Orthbandt (Pixeltamer)
Carsten Orthbandt talks about founding and running Pixeltamer. Expect lots of war stories from our German supreme-developer, from his fifteen years in the international game industry.
11:00 E22:
About The Artist – Leo Sandberg (Fabpics)
Leo has made a living as a freelance illustrator for more than 20 years. This is an opportunity for the curious to see Leo Sandberg present himself and his freelance business Fabpics.
13:00 E22:
Re-Doing Sex and Gender in Games (Lecture) – Bonnie Ruberg (sex- & game journalist)
Bonnie has written for Gamsutra, Wired, Joystiq, Terra Nova, The Village Voice, The Economis, Forbes and many, many more. Her lecture is an introduction to our medium's poor understanding of gender, sex and sexuality. Expect lots of juicy examples. 🙂
15:00 B25-27
Re-Doing Sex and Gender in Games (Workshop) – Bonnie Ruberg
Following the lecture identifying problematics, Bonnie will have student work in teams to come up with their own content: character design, storylines that include sexuality, sex mechanics.
Note: This workshop follows her lecture, so the start is +-45 minutes! Be there early if you're not attending the lecture.
---
---
Friday 2010-12-10:
10:00 B51
Alumni Panel (GAME Alumni)
All invited alumni sit down to answer and discuss questions from the students. What did you do after graduation? How do I get your job? What's a work day like for you? Open discussion, questions and answers.
Moderator: Johannes Wadin
Attending alumni:
Micke Karlsson (Developer, IP Solutions)
Staffan Persson (Level Designer; Avalanche, Lionhead)
Niklas Norin (Game Designer; Avalanche),
Mats Andersson (Game Designer; Avalanche),
Tobias Lundmark (Quality Assurance; Starbreeze),
Johannes Wadin (Level Designer; Avalanche, Lionhead, Tapeduck)
David Hammarström (Art Director, B-Reel)
13:00 E22
Practical Profiling & Performance – Micke Karlsson (Developer, IP Solutions)
Micke Karlsson is a programmer and project lead at the Swedish Defence Materiel Administration. He'll walk you through practical profiling and performance through cache optimizations and introduce the concepts of datadriven programming. You'll need to install CodeAnalyst to participate in this lecture.
Note: Due to scheduling conflicts Micke had to cancel his lecture. You can still meet him at the Christmas party this evening though.
13:00 B51
The role of an Art Director – David Hammarström (Art Director, B-Reel)
David has been an Art Director at B-Reel for more than five years and is responsible for a lot of their interactive productions. He'll explain what an Art Director really does.
14:00 E22
Analysing Games – Tobias Lundmark (Quality Assurance, Starbreeze)
Tobias shares his immense experience on how seemingly insignificant parameters can have very concrete effects on the gaming experience: camera controls, input latency, jump durations and lot more. Thoroughly researched and brimming with facts for designers and developers alike.
15:00 Strandgatan 1
The Networked Business – Science Park Gotland
Two lectures and three speakers over at Science Park Gotland. This is about modern company values and how to run a business in a flexible way, where you band together for specific projects and short term needs. We recommend that you register on ("Web & IT bar Gotland") and participate. You'll get a chance to visit the Science Park's locales and will make it back to the Christmas Party with time to spare.
19:00 GAME Motion Capture Studio
Christmas Party for GAME students, staff and alumni!
Bring currency and don't forget your ticket!
---