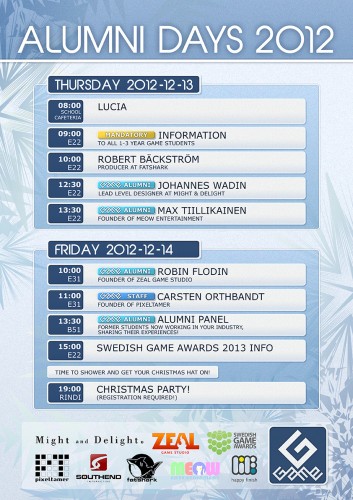 After a hiatus in 2011, the Alumni Days are back in full glory.
At the end of the autumn semester, just before christmas break, we invite former students currently working in the industry and try to learn from them. We're doing two full days of guest lectures and a discussion panel – hanging or with our people from FatShark, Might & Delight, Happy Finish, PixelTamer, Meow Entertainment, Zeal Game Studio and more.
As always, we will end with a nice Christmas Party to wind down and celebrate the end of our semester. There's currently 145 people registered for the party – that's all game developers on the island; our students, staff, all the local game studios and our invited industry guests.
Here's some links to previous Alumni Days:
Alumni Day 2008
Alumni Days 2009
Alumni Days 2010
See you out there!