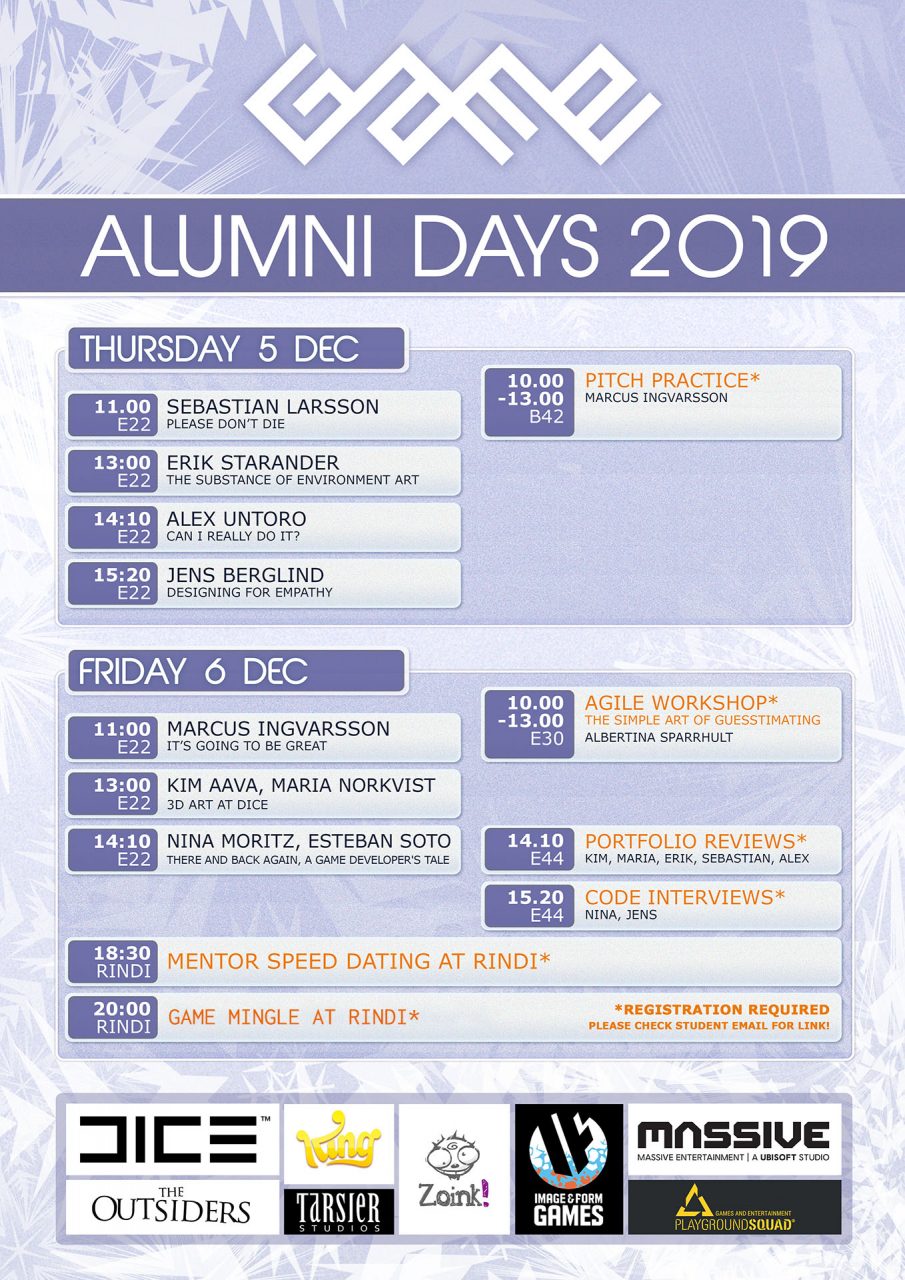 Sign-up forms:
Speakers:
Sessions:
Pitch Practice (Marcus Ingvarsson)
New location: B43
You bring a pitch deck for your commercial project, I help you improve it. The aim should be to effectively communicating your game within 2 minutes. Of course we'll have more time than 2 minutes, but the importance is to get the publishers to feel invested and wanting to know more.
Read these instructions and sign-up before Friday 29th Nov.
Agile workshop – The simple art of Guesstimating (Albertina Sparrhult)
New location: E30
Why estimations matter, how it can shield your team, improve communication and why estimating in time is the work of the devil.
Sign up here before Tue 3rd Nov.
Portfolio Review
Bring between 5-15 artworks (2D art assets, 3D art assets, models, animations, games, etc). Bring your strongest artworks, showing all your different strengths and skills. Make sure to bring finished pieces. The more your portfolio represents the best you can do, the more useful the feedback will be.
Sign up here before Tue 3rd Nov.
Code Interview Practice
Job interviews can be daunting, more so if you have to demonstrate coding ability at the same time. Come and improve your skills by taking part in an realistic job interview. You bring one or two code samples that demonstrates your current skill level as a programmer. You should be ready to explain, motivate, and discuss your design choices and the problems you solved in your code sample. Be prepared to talk about both your personal and your collaborative projects.
Sign up here before Tue 3rd Nov.
Mentor Speed Dating (Rindi, 2nd floor, 18:30 Fri)
Speed-date our alumni mentors! It's a breezy ice breaker and quick way to strike up conversation about the stuff you care about – how to get into the industry? How to get their job? What should be your priorities through school? What do they think about your business model or even ask if they'd be available to mentor you?
More info and sign up here.
GAME Mingle (Rindi, 2nd floor, 20:00 Fri)
Come hang out with game faculty, alumni, local industry and your student peers. It's the end of the week, nearly the end of the semester. Have a something to drink shoot the breeze with fellow developers. Snack food will be provided. Feel like dancing? The dance floor open downstairs after ~21:30.
Sign up here.

Talks:
Please don't die: Developing commercial games as a side project
Creating the games you care about while staying afloat financially is really hard. A way around this is to make your weird game into a side project, and let work pay your bills. We will examine the strengths and weaknesses of this approach, and strategies on how to cope should you choose to do it.
---
The Substance of Environment Art
From Architecture to Mathematics, the obvious and not so obvious subjects related to Environment Art.
---
Can I Really Do It?
Being the new employee at a company can be taxing. There are a bunch of expectations, deadlines and talented people all around that can easily make you feel overwhelmed. These feelings can make some people think that they do not belong at all, that they don't have the skillset required, that they are an impostor. If you've ever felt like this, you are one among many. So let us talk a bit about it, and go through some tips and tricks for managing this feeling.
---
Designing for Empathy
From the design process to the finished game, how does Might & Delight work with emotions and social connections? How do we get the player to care about an AI agent, or about other players? The talk focuses on the mechanics and systems, with a side of presentation. It's probably the most dry talk on feelings you'll ever hear.
---
It's Going To Be Great
Marcus is a man with many bows with one string or two. Right now he is working as Lead Designer on Zoink's upcoming game "Lost in Random". Previously he's been an IGF judge, Assistant Producer, lecturer, freelancer and entrepreneur.
---
3D art at Dice
Our talk will include our journeys to where we are today, what it is like to work with 3D at Dice, what your day can look like and what career options you have. We also want to share what some of us has worked on and what you can get to do if you work at Dice as well as a few tips and trick of what is good to think about when it comes to getting a job in the industry.
---
There and back again, a game developer's tale
We will talk about our journey from Gotland, taking us through having our own company, then re-schooling and going our separate ways to making indie games and AAA games. But more importantly, we will do our best to give you the lessons we learned along the way and how to avoid the pitfalls we encountered.
---