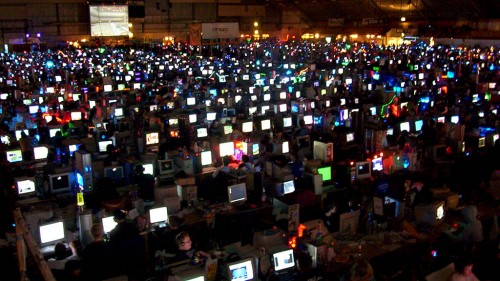 DreamHack – with it's more than 12 000 participants – is the worlds largest computer festival, held right here in Sweden twice a year. DH Summer 2010 is underway as we speak, and as always we have a bunch of students displaying their work and representing our education at the DreamHack Expo. Make sure to drop by, try our games and hang out if you're at the event.
And if you're not (for whatever reason…) in Jönköping right now – don't fret! Swedish Television is broadcasting live from DreamHack and the stream is available online! Daniel Hagström – one of our first year programmers was interviewed yesterday and did a great job! Check it out for a glimpse of what we do and were this education can take you.
Starts at 00:52:20. The interview is interrupted for a segment about game music, and continues at 01:24:00.
Unfortunately no subtitles for our international visitors. 🙁
Want more DreamHack goodness? Check out their Flickr stream and YouTube channel!