We're continuing the expansion of our research wing at the Department of Game Design, and we are happy to announce that Prof. Richard Bartle is joining our team on Gotland as a guest professor!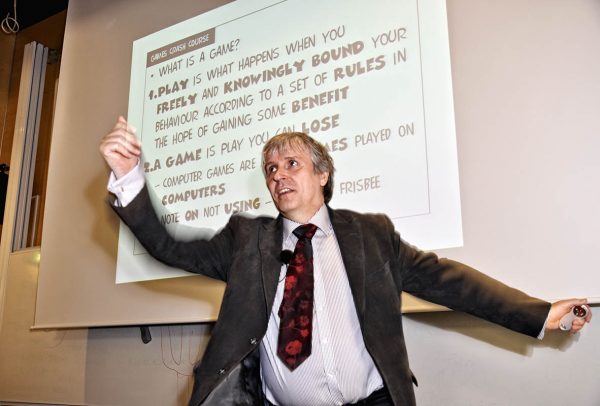 Professor Bartle co-wrote the first virtual world (MUD, in 1978), making him a pioneer within the massively multiplayer online game industry, wrote the seminal 'Designing Virtual Worlds' and authored the 'Bartle Test' which has inspired countless attempts to distinguish player types. He is also a respected and appreciated member of the game research community.
The man is no stranger to the department – he's been an inspiration and a friend to many of us at the department since at least 2010 when he was the examiner for our colleague Mirjam Eladhari as she was finishing her PhD studies at Teesside. He's regularly taken the time to come and share his expertise with us and our students; guest lectures on human rights in virtual worlds, strategic overviews of our education and research agenda, as well as providing our students with tons of insight at the Gotland Game Conference.
As part of his first tour of duty this autumn, Professor Bartle will share his perspectives in a guest lecture called 'You – 40 years from now', where shares his views on what it means to be a games student, game industry or games researcher today – in 40 years. The lecture is open to all students and the general public, but primarily geared toward first years GAME students.
Where: the Almedalen Library (room: E22),
When: Wed 26th of September, 13:15
Update: the lecture is now available on our YouTube-channel!