Update: the full Jury for GGC 2018 is listed here.
The jury represents the most hard-working participants at the Gotland Game Conference (save for our students, natch). Jurors travel from around the globe to hear our students' presentations a day before the conference even starts, and to spend the better part of a week playing all of the student productions on the show floor.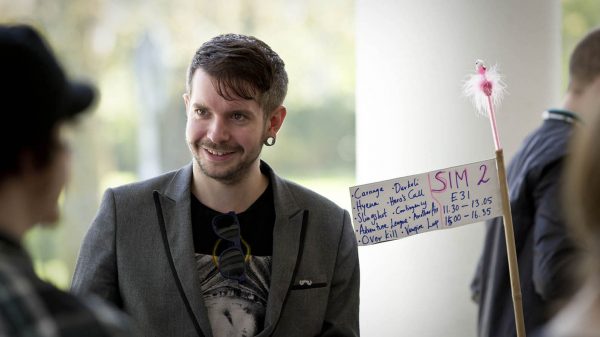 Each member brings their own set of experience and expertise, and share that insight directly with the students at the GGC. We have academia and graphics solidly represented now, so the next bunch of seats are reserved primarily for programmers, HR and the nebulous "production"-people. There's is of course always room, too, for people with investment or recruitment needs!
Feel like that's you? Fill in the application and maybe we'll see you in Visby in June!
So without further ado, here is the 2018 Jury list, so far:
Doris Rusch, Game designer and Researcher, DePaul University
Elizabeth Sampat, Game Designer, Author and Activist
Malena Klaus, Game Programmer and Inventor
Henrik Jonsson, Executive Producer, Goodbye Kansas Game Invest
Josefin Westborg, Founder and Game designer, Lekreativ/Lajvbyrån
Anton Albiin, Association of Swedish Game Developers
James Newnorth, CEO, Spelkollektivet Sweden
Joshua Juvrud, Developmental Psychologist, Uppsala University
Mårten Jonsson, Freelance developer, JMJ Interactive
Martine Pedersen, LudicIndspark
James Newnorth, CEO, Spelkollektivet Sweden
Nicodemus Mattison, Art Director, Virtuos
Martin Greip, CEO, Eat Create Sleep
Niklas Eneqvist, Art Team Manager, Fatshark
Rabi Afram, Dev Manager, King
Teddy Sjöström, Programmer, Pixel Ferrets
Emelie Rodin, Developer, BetterBuilt Studio
Fred Ström, Animator, Pixel Ferrets
Jens Berglind, Lead Programmer, Might and Delight
Kalle Henningsson, QA & Submission Manager, Playdead
Kim Aava, 3D Artist, Fast Travel Games
Vilya Svensson, 2D Artist, Pixel Ferrets
Names in bold are alumni from this education – welcome back! 😀
Thanks in advance to everyone for taking the time – and putting up the effort – to help improve our students, our education, and our medium!