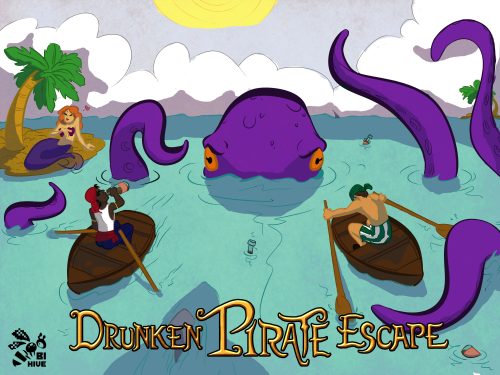 Row faster. Get drunker. Avoid shark…er. Gather rum. Beat your opponent. Be a pirate.
Drunken Pirate Escape is a two-player racing game designed for an arcade setting. Players engage in a race for their lives, rowing with the game's joystick-oar novel input device, avoiding enemies such as sharks, navigating obstacles such as sandbars and coral reefs, and drinking rum to fuel their efforts.
Key Features:
Row using the game's novel input device: the joystick-oars
Race against your friends, and try to hold the highscore record!
Experience the game's Drunk effects
Drunken Pirate Escape was made using MSVS 2014, Adobe Photoshop, SourceTree, Github, PaintTool SAI, and rum.
Pontus Hassis: Producer
Dee Majek: Lead Designer
Simon Lundgren: Lead Programmer
Adrienne Gunnarsson: Lead Art
Danielle Unéus: Artist
Anders Schultheiss: Lead Tech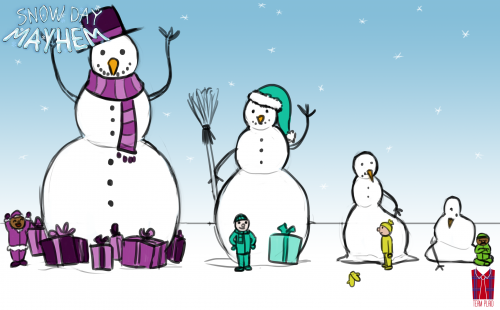 Use a trackball to gather snow and powerups which you can use against your friends in the quest to make the biggest snowball ever!
Snow Day Mayhem is a 2D top-down game in which you are on a quest to make the biggest snowball ever. Use a trackball to control a snowball across a field to gather snow. You can also gather powerups to use against the other players, and the player with the biggest snowball at the end wins!
Tova Svensson – Producer
Tara Sundström – Game Designer
Emma Mörk – Lead Art
Rasmus Lindgren – Lead Tech
Oskar Hernberg – Lead Code
Lucas Gullback – QA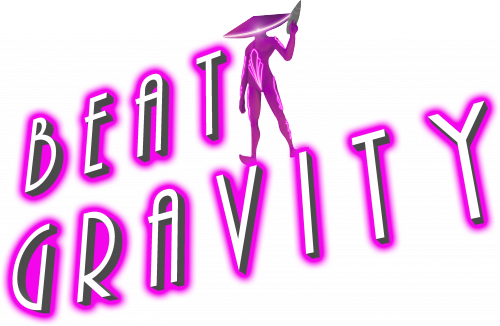 Beat Gravity is a game where the player plays drums to run, jump and shoot. Keeping the beat will make the Beat Gravity run fast and athletically traverse obstacles, lagging behind or playing erratically makes him stumble like a drunkard. Beat Gravity makes the player feel like she's not only playing the game. She's performing it. The game is made in Unity and uses Rock Band drum pads as controller.
Thom Hujanen – Producer,
Anders Hagström – Lead Game & Sound Designer,
Filip Frandsen – Lead Art,
Anton Classon – Lead Programmer,
Sebastian Ringvold – Lead Tech,
Erik Ögren – Lead Animator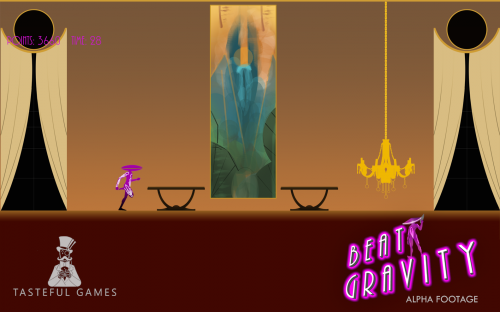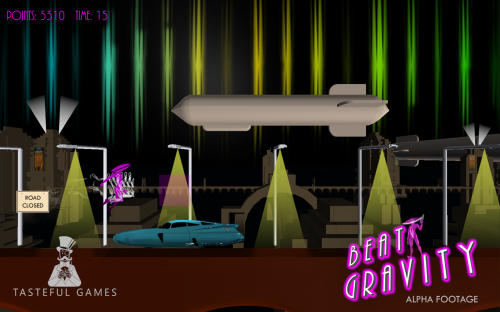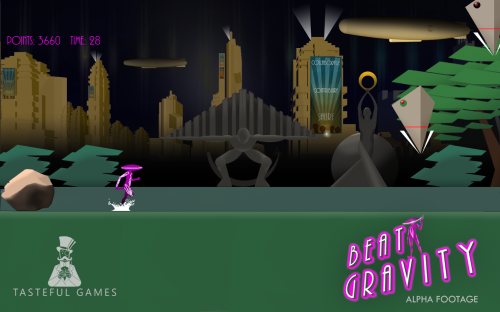 In Prosopon, the player takes control of an actor in ancient greece that has forgotten their lines. The player must determine the mood of the scene by watching the other actors, the decorations on the stage and the audience and then act out the right mood to satisfy the audience. At their disposal, the player has a Kinect camera and three physical masks which acts as input.
Determine the mood, pick a mask representing that mood and strike a pose for the audience!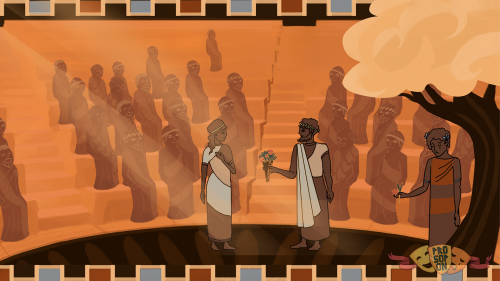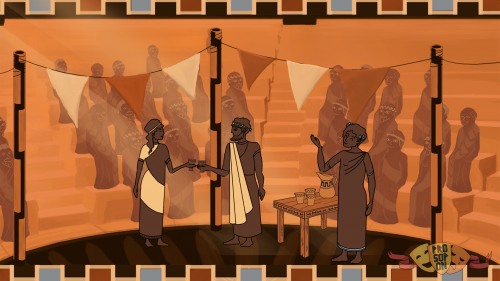 Prosopon was built in Unity with graphical assets made mainly in Photoshop. Although the game is made for the PC, the unique input prevents it from being distributed on that platform commercially.
Tom von Sydow – Producer
Sigrid Svederoth – Lead Design
Axel Palmqvist Gillman – Lead Tech
Stefan Ekdahl – Lead Programmer
Erik Starander – Lead Art
Lisa Ramel – Artist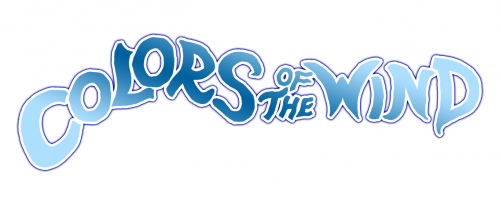 Navigate a seed with the wind through a distopian city covered in pollution to spread new life throughout the city.
You are a hope of life in a city filled with pollution. Steer the wind to keep the seed in the air, avoid hazards such as exhaust fumes to get further into the city. Leave a trail of planted trees which contributes to a greener world.
Colors of the Wind is a 2D sidescroller with 3D background elements. Navigate through a polluted city with a seed by controlling the wind.
The player takes control of the wind to guide a seed through a dark city. Master the wind and avoid hazards that emerges from the ground, such as exhaust fumes from cars and sewers. Plant as many trees as possible, to bring life back to the city.
The game has been developed using Photoshop, Unity, Maya, Blender & Microsoft Visual Studios.
Adam Salonen – 2D Artist & Producer
Morgan Nilsson – 2D/3D Artist & Lead Art
Joakim W Andersson – 2D Artist/Animator & Lead Tech
Andreas Lundmark – Programmer & Lead Sound
Ara Mohammad – Programmer & Game Designer
David Eliasson – Programmer & Lead Code
Warpers is a 2D casual real-time top-down shooter – created for players who have always dreamed about commanding their own spaceship.
You play as the crew of a small ship of your own creation. With the entire galaxy before you, what to do and how to do it are questions only you can answer. Will you go down in the history books as a paragon of heroism, or will your legacy be that of a notorious pirate? Only time will tell.
The gameplay in Warpers is that of a fast-paced top-down shooter. You control characters on a ship and battle aliens, pirates and mercenaries. By using the captain's console aboard your ship, you can switch from controlling a character to controlling the ship itself.
Henrik Forsman – Producer,
Per Johansson – Lead Designer, Programmer
Oliver Bolt – Lead Programmer, AI Responsible
Viktor Myhrberg – Programmer, HUD Responsible
Evelina Venngren – Programmer, Sound Responsible
Anita Stenholm – Lead Artist
Simon Fredell – Lead Animator, Artist