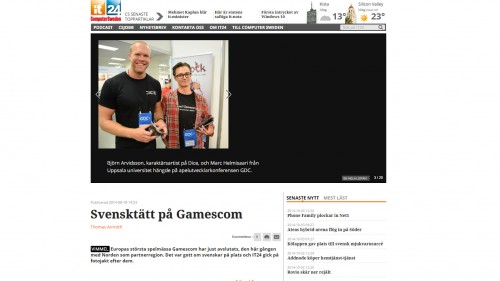 Europas största spelmässa Gamescom har just avslutats, den här gången med Norden som partnerregion. Det var gott om svenskar på plats och IT24 gick på fotojakt efter dem
The winners of the Swedish Game Awards 2014 has been announced; Defunct and Flash & Crash joins the proud lineup of awarded student projects from Campus Gotland GAME!

1st year project Flash & Crash won the audience hearts and received the Gamer's Choice award, with the motivation:
The counting of the votes yesterday revealed a close race between two of the contestants. The winning game was instantly pleasing, fun to watch and inspired people to battle it out. The game pleased visitors of all ages and the station was never quiet.
2nd year project Defunct – best second year project at the Gotland Game Conference – earned its creators 25 000kr, a legal start package and counseling from Fondia, together with the coveted Game of The Year award. The jury's motivation read:
From the onset, this game presents itself as a complete package and it executes expertly across the board to deliver a richly satisfying and ready for retail experience. It's ambitious, colourful and a heck of a lot of fun to play.
Game of the Year: Defunct
Två utmärkelser i Swedish Game Awards, som avgjordes på Nalen i Stockholm sent på onsdagskvällen, gick till studenter på Campus Gotland.

Spelet Defunct vann den förnämsta klassen Game of the year och Flash & Crash förärades utmärkelsen Gamers choice.
– Det kunde inte ha gått bättre, konstaterar Marcus Ingvarsson, lärare på Campus Gotlands speldesign- och grafikprogram.
Our own write-up (and photos) is available in the blog.
Under torsdagen och fredagen arrangerades Gotland Game Conference på Wisby Strand.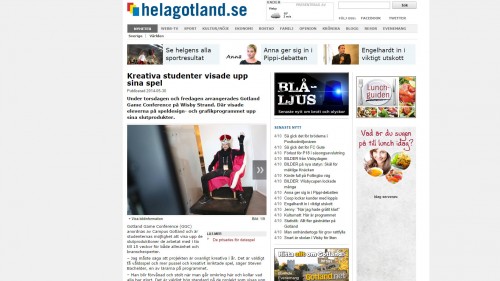 [Kreativa studenter visade upp sina spel]
För att bli en bra speldesigner gäller det att greppa den senaste tekniken – men också att utvecklas som konstnär.

PÅ utbildningen i speldesign i Visby råder en kreativ miljö, där skissblocket och gitarren har sin givna plats bland datorerna.
Nya Horisonter visited the department and published a three page spread, interviewing our students and staff.