Dagens Nyheter is on a roll, with two articles about Gotland University GAME in two days! 🙂 This time it was Professor Bachelder and Fia Andersson at GAME (or more properly; the School of Game Design, Technology and Learning Processes) who took the stage.
DN:se; Spelen är revolutionerande för vår utveckling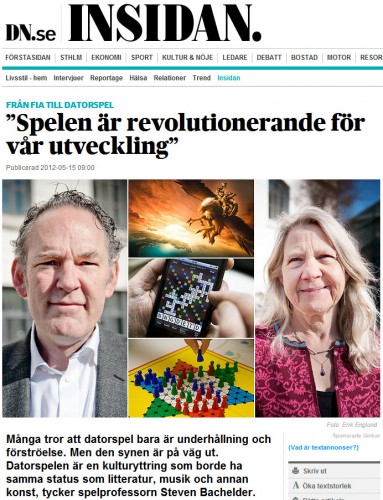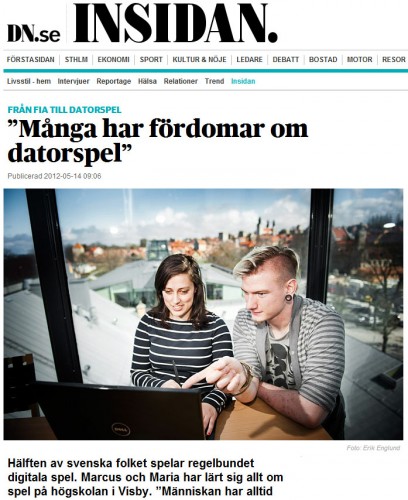 Two students – Maria and Marcus – were interviewed by Dagens Nyheter today. DN is the largest morning newspaper in the country – it's in Swedish of course, but might work through google translate too. 🙂
Swedish gaming site Level 7 interviews Zeal Game Studio – talking about the company's origin at the Gotland University, their development history and their current title Team Assault: Baptism of Fire.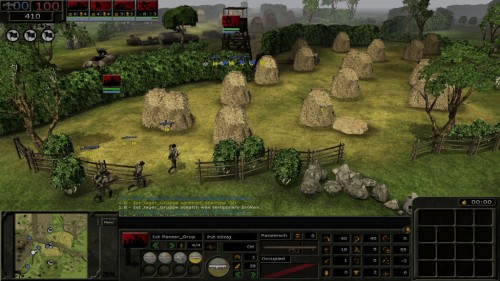 […] Startades under skoltiden
Fredrik Nilsson är ansvarig för Zeal Game Studios ekonomi och administration och likt majoriteten av de ungefär 20 anställda läste han spelutveckling på Gotlands högskola. Under Fredriks första år på skolan formades grunden till vad som sedan blev Zeal Game Studio. […]
De vill bli nästa svenska spelunder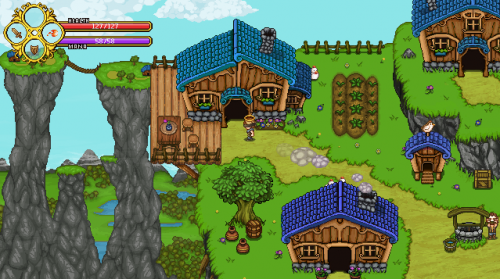 Three of our students – Fred Ström, Teddy Sjöström and Vilya Svensson – earned some publicity (and a lot of praise) from their spare time project Secrets of Grindea. It got picked up last week from their devlog over at tigsource. Both IndieGames.com and TwoFedoras.com wrote about them. Here's a quote from IndieGames:
Oh, hello there! What's this? Old-school RPG aesthetics? Zelda-esque gameplay? A deeply complex character customization system with no level caps? Support for four player co-operative play? Say no more. Where do I sign up? Secrets of Grindea is an upcoming action-RPG with big promises, lush pixel art, an eye for detail and, all things taken into consideration, a surprisingly simple premise: became a famed Collector and acquire the most precious 'rares' in the kingdom.

It looks like Secrets of Grindea is being helmed by a three-man team consisting of Fred Strom, Teddy Sjostrom and Vilya Svensson, all of whom were once previously involved in Trashtalk, a Swedish development studio located in Gotland.
So Fred, Teddy and Vilya – keep up the good work!
IndieGames.com: Early Gameplay Footage of Secrets of Grindea
TwoFedoras.com: Secrets of Grindea, more like secrets of unlocking my heart
Devlog
YouTube: Secrets of Grindea – Sight Seeing in Startington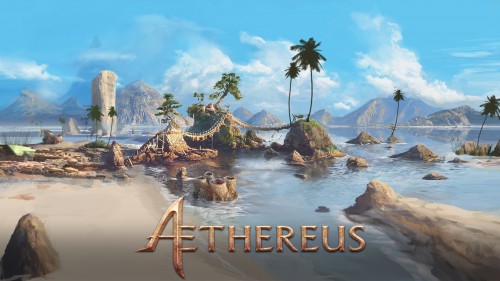 Den sidste spiludvikler, vi besøger på Gotland, er Three Gates, der allerede i navnet afslører deres Gotlandske oprindelse. Det hentyder til de tre byporte, der leder ind til selve Visby gennem den middelalderlige borgmur.

Og middelalder-temaet slutter ikke her, for en del af ThreeGates kontorer er lokaliseret for enden af smalle stentrapper i en ægte middelalderkælder med rundbuet loft kun forbundet til den del af kontoret, der ligger i stueetagen, med et 2-vejs webcam og en storskærm.
Gaming Gotland – Three Gates Studio – Artikel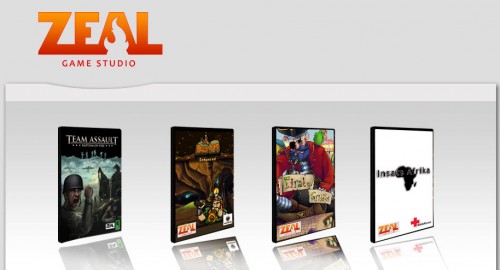 Velkommen til anden del af Eurogamer.dk's sensommer-serie, hvor vi kigger nærmere på nogen af de mange spil-startups på den svenske ø Gotland.

Denne gang er turen nået til Zeal Game studio. En af de lidt større spiludviklere på øen. Her mødte vi firmaets direktør og medstifter Robert Flodin, i Zeals nyindrettede kontorer.

Robin Flodin er CEO for Zeal Game Studio, lokaliseret i udkanten af Visby. Som han selv fortæller det, indebærer hans job generelt at sørge for, at det hele går rigtigt til. At der er penge i kassen, at investorerne investerer og at der er projekter i gang i firmaet.