During the university orientation week – or nollningen in Swedish – all students gather for fun and play. GAME in our own special way of course. 🙂 Here's a mix of photos from the week.
All photos are Ulf Benjaminsson, Creative Commons Attribution 3.0
GAME-only evening during the HGO initiation week. Pizza, pizzazz and GAMEr-people. 🙂
All photos are Ulf Benjaminsson, Creative Commons Attribution 3.0

Sumo was originally created as an school assignment in the theme "modernistic game". Sumo is a modernistic fighting game based on finger wrestling. The first version of Sumo was made with the program Gamemaker and simple graphic. The game received good reviews at school and Yokaj Studio decided to compete in Swedish Game Awards with Sumo. Two weeks before the competitions deadline, they started rebuilding the game in Java. Even though all the members of the studio are artists they succeded making a functional game. The reward came when Sumo won the "Best game concept" cathegory in Swedish Game Awards 2006.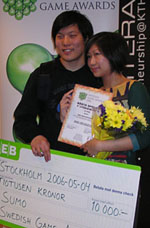 Read more about Sumo at Yokaj Studios official site.
Sumo på SGA 2006 SuperPLAY
Sumo på Spelfest 2006
Gotland Game Convention / Theme Park was an early incarnation of what we now call Gotland Game Awards.
[Disable Flash Gallery]
All photos are Ulf Benjaminsson, Creative Commons Attribution 3.0
Head Banger is an arcade game produced by first year students for the Gotland Game Convention 2006. It was awarded first prize and the team (and their game) got to tour Sweden; participating in Spelfest 06 and the Swedish Game Awards 2007.
The challenge is to head-bang to the beat and playing air-guitar to the sounds of a rock video. The game can be played alone or in a showdown with a friend and features bands like Refused, Morgana Lefay and The Haunted.
The cabinet had smoke machines, wireless controllers and even (in version 2) a camera recording the players and offering to print a poster of the raging rock gods after the game!
… and beer holders. These guys sure thought of everything. 🙂
Some of the people from Team Ninja went on to create Databox Games in 2008.
Azida Keep is a game of exploration in which you play the role of one of ten adventurers burdened by fate to enter the Keep, defying the certain death and madness waiting inside the heavy doors.
The many legends of visitors lost forever or returning in madness is testament to the abominations and horrors lurking inside the dark chambers of the Keep. But legend also has it that in the very center of the Keep rests the great Serpent on a hoard of treasures and ancient artifacts.
Azida Keep is a turn-based, digital boardgame where you and up to three friends play adventurers entering the Keep at dusk, seeking to possess the treasures of the great Serpent.
Creators:
Jakob Berglund Rogert, Project Management and Design
Nicklas Mattisson, 2D Graphics and Communications Manager
Martin Lanner, 3D Artist
Johan Ericsson, Lead Artist, Visual Design, Management
Jonas "Endasil" Stohr, Programming
Carl Craaford, Programming
Jimmy Dahlin, Art (external)
Mikael Hedberg, Design, Sound
Carl Stålnäbb, Artist, Animation
Website: http://azidakeep.penguinstyle.com/