EDIT 2013-10: CoBots was released on Desura. See the launch trailer at the end of this post!
CoBots is a 2.5D (3D side-scroller) two player co-op game developed as part of a course on Gotland University, Sweden.  It's a game about two robots linked together by a forcefield aboard a huge spaceship, tasked with restoring power to inactive sections. Advance through the game by solving puzzles together, all while avoiding accidently killing each other. It is created and maintained by a first year group named Digital Tuna (below). The game is developed using Unity3D. Prior to project start, no team member had any experience developing in 3D.
CoBots was awarded the Best First Year Project and Pwnage Award at Gotland Game Conference 2013.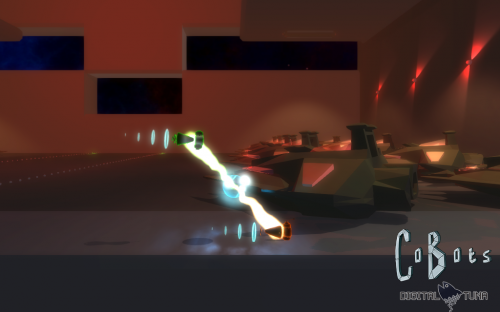 Mathias Andersson – Producer/Programmer
Mikael Karlsson – Artist/Designer
Viva Ivarsson – Artist/Sound Technician
Petra Medin – Artist
Björn Lindell – Designer/Programmer
Kenth Ljung – Programmer