Join us on Gather.town for the Alumni Days 2021!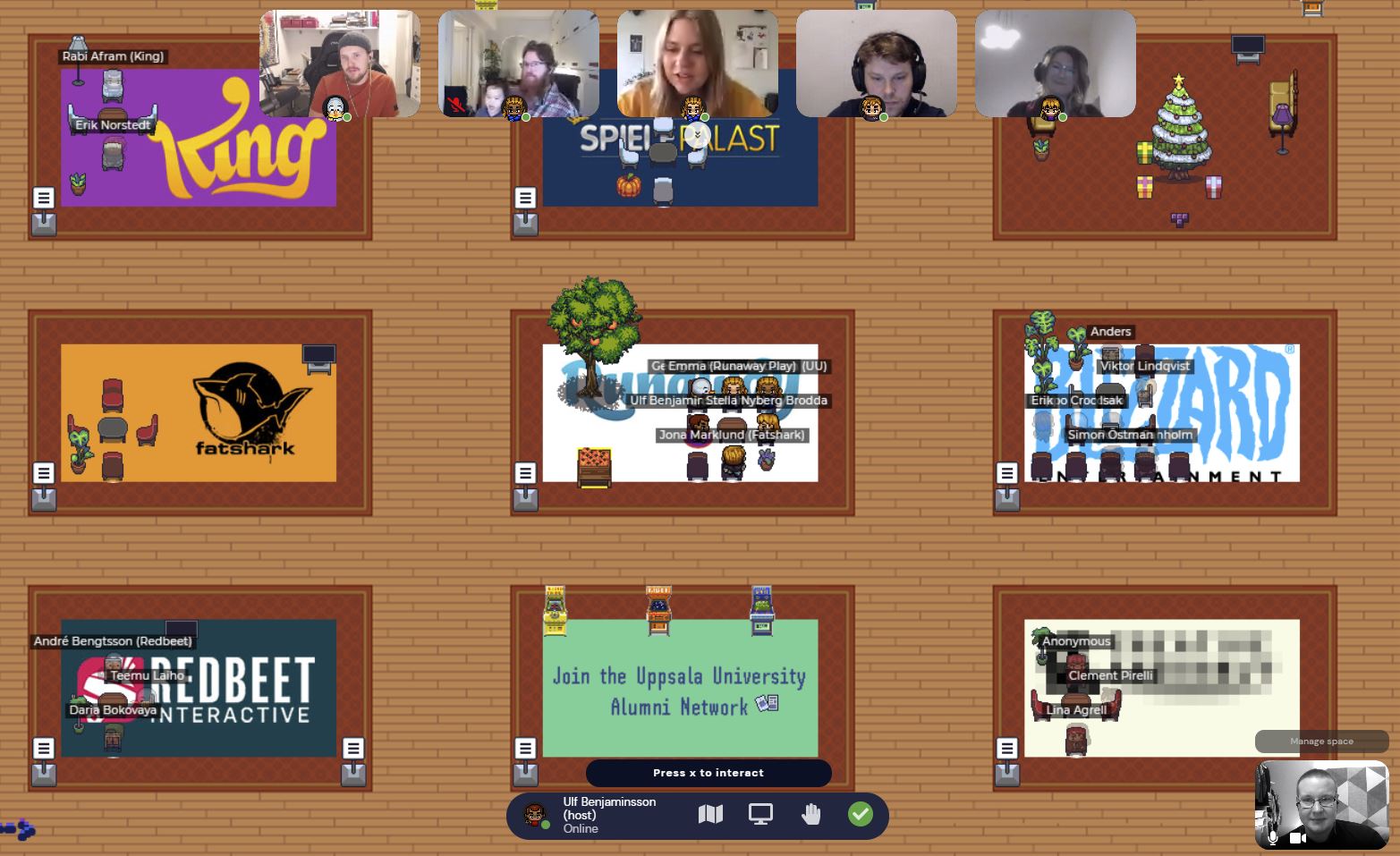 Due to the worsening Covid conditions on the island and across Europe, we have made a last-minute decision to move all Alumni Day events online. This means two things; that the schedule is still somewhat in flux, and that everyone can join us from from the comfort of their own browser!
When: 9-10 December (thu-fri)
Where: In Gather.town (the same space as Gotland Game Conference)
Schedule:
Thursday 9th:
Friday 10th:
13:30
[connect, pour your glögg and test your tech]
14:00
The Slappening: a report from the Swedish Game Awards
14:30
Linda Kiby – MindDetonator
Joining the Game Village and taking on the Startup Quest
Lee Kåberg, producer @ Envar Entertainment [cancelled due to sickness]
18:00
Jan Plähn, Programmer @ Aesir Interactive
Technical Art: Tips and Tricks for Open-World Games
Kayode Shonibare-Lewis, Lecturer in Game Design at Uppsala University
K's secret origin story!
18:30
Ana Laura Martinez, 3D Animator @ Aesir Interactive
Animating using Control Rig in Unreal Engine
Eva Sokolova, Senior Game Artist @ The Gang Sweden
[cancelled due to sickness]
19:00
Timothee Engel, Software Engineer @ PhotonEngine
Job Hunting in the Creative Industry – The Obvious, The Hidden, The Unicorns
Eric Osana, co-founder @ Nexile
Be the support player!
20:00
Meet & Greet with all the alumni!
[N/A]
Alumni Guest List:
In addition to all the speakers above, we are also joined by these lovely faces;
Presentations:

Technical Art: Tips and Tricks for Open-World Games
Jan Plähn – Aesir Interactive
In this talk, I am going to summarize tips and tricks that are applied by technical artists developing Stable Girl (Working Title), an open-world horse-riding game currently in production. The talk covers workflows and tools for faster content creation, as well as optimization techniques that were applied to display the rich landscapes in the game world of Stable Girl.
About Jan: After graduating from the game design programme in Visby in 2020, Jan began studying game design and technology at Gothenburg University. Half a year later, he moved to Munich to fill a position as a Programmer at Aesir Interactive. He soon discovered his interest for technical art and migrated into the position of Technical Artist. Meanwhile, he is finishing his master's degree (online) at Gothenburg University.
---
Animating using Control Rig in Unreal Engine
Ana Laura Martinez Cuerda – Aesir Interactive
In this talk, I will give an overview of my animation workflow using Unreal Engine for Police Simulator: Patrol Officers, a simulation game that lets you explore the basic duties of a beat cop. I will cover the basics of Control Rig, the level sequencer and how I use them to iterate and create all the animations.
About Ana:
Ana graduated from Game Design and Graphics at Uppsala University just a year and a half ago. For the past year, she has been working as the 3D animator at Aesir Interactive in Munich on two very different projects; a secret open world horse riding game and 'Police Simulator: Patrol Officers'.
---

Job Hunting in the Creative Industry – The Obvious, The Hidden, The Unicorns
Timothee Engels – PhotonEngine
A decade of job hunting experience on 3 across continents and multiple (business & local) cultures distilled to the most important lessons and concepts. Learn how to find opportunities, evaluate them and find the right way for your career path.
About Timothee:
Timothée Engel is a Software Engineer and Producer at PhotonEngine. As a software engineer he specializes in the design and programming of multiplayer gameplay interactions. As a producer he manages the incubator and accelerator partnerships across Asia and Europe to help independent teams understand, grasp and execute on the opportunities presented by multiplayer games. Prior to entering the game industry, he worked in the entertainment and event industry as a freelance photographer, creative lead and brand consultant.
---
Be the support player!
Eric Osana – Nexile
With this talk I intend to light a fire in every person attending. I am going to talk about the most important characteristics and skills that you need, in order to be successful in any job! These are the characteristics that will make people want to work with you, which in turn will multiply the amount of opportunities you can take!
About Eric:
My name is Eric Osana, I left the Department of Game Design in 2019 with multiple international game awards to my name. I am now 26 years old and have co-founded the game studio Nexile, currently working on Jump King and Jump King Quest.