Oh, you didn't attend the Swedish Game Awards Ceremony 2013?
Let us fill you in: there were 95 entries from almost every game education in the country this year. Three teams from Gotland University.
Guess how many of ours were awarded?
All of them!
Read that again with me. All. One hundred percent success rate. One, zero, zero percent.
Our slightly disturbed game design maestro, Marcus Ingvarsson, were so kind as to record the proceedings. Here's his compilation of the important bits – when our student projects King of the Thrill, Little Warlock and Fly or Die received their awards in Stockholm last night.

And as if that's not enough, we had GAME Alumni and two time Game of The Year-winner Teddy Sjöström on stage to hand out the GotY-award.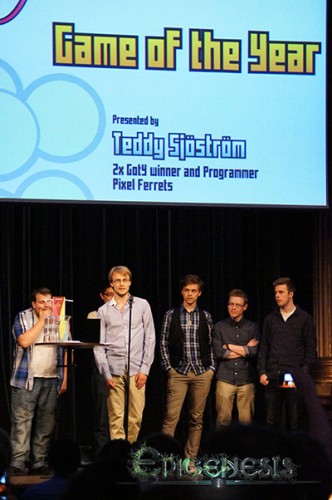 All in all, this year saw a great competition and a great event. Hot on the heels of the Gotland Game Conference I couldn't imagine a better start of the summer. 🙂
In the quiet words of Virgin Mary: FUCKYEAH!