This year we went another route with our advert. After we participated in co-founding the Higher Education Video Game Alliance in New York last autumn, and have continued to work on our new (international!) bachelor and future master degree, we felt it was time to start specifically positioning ourselves as the international choice. Here's the ad, what do you think? Does it get the idea across?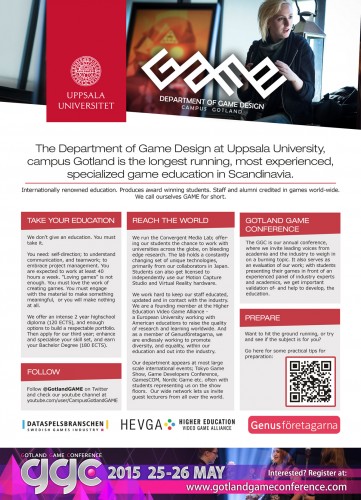 The PC Gamer education special is out later this month. We're trying to make potential students aware of the demands of our education, so the slackers can self-select themselves out of applying here. Hopefully the tone and message of these ads will resonate more with the people who are trying to achieve something with their education, rather than the ones only looking to spend a few more years in the familiar comfort of the public education system.
Slackers? Stay home.
Motivated and hard working? Show us by speaking up, attending our conference and then apply and help us explore the potential of this medium!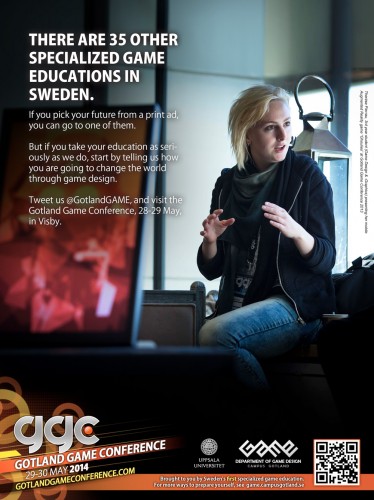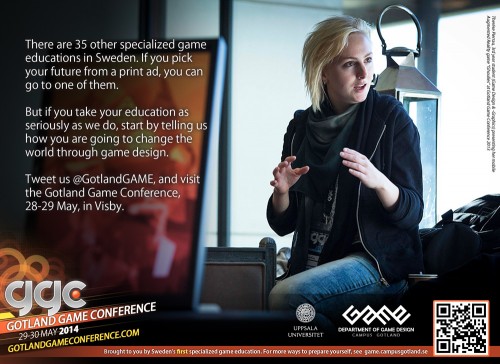 We've just created a new recruitment brochure for the department. We'll bring these with us to Tekniska Museet at the end of this week, and Gamex next week. But you can have a web-friendly PDF too, of course. 🙂
This years version skips the bit on entrepreneurship, incubators and startups. These are still very much a part of what we do, of course, but we feel it's more important to talk about our expectations on incoming students, and give concrete tips on how to prepare for our educations.
And we're of course very happy to put Genusföretagarna ("the Gender Businesses") front-and-center. We know that our gaming communities are filled with diverse participants and as a mature education we are committed to the presence and contributions of all people. By proudly displaying we're an ally and actively engage with the issues of inclusion, we can improve the experiences of all community members, and thereby improve the culture.
In short; the 2013 version is more serious, and more responsible. We hope it carries our message clearly, leaves a good impression and attracts the right kind of students. 🙂
What exactly is game design? What do you teach in your programs? What is it that you do?
Questions we get more often than we want. And now we have an answer in physical form.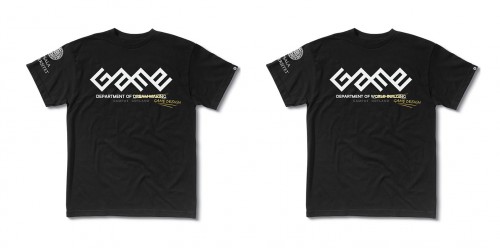 What is it that we do? We…
… build worlds
… tell stories
… engage audiences
… empower players
… provide escapism
… make dreams
These things and many many more, are all part of our programs and in the subject of Game Design.
Hope you like these. Add your own "game design is x" in the comments!
And check out our previous t-shirt design here. And as always; Game Design students can sign up to let us restock on t-shirts.