Speldesign på Uppsala universitet Campus Gotland skördar nya framgångar.
– Det är mycket engagemang och kärlek i det här, säger David Forssell, en av spelutvecklarna.

På torsdag tävlar spelet Defunct på en stor spelmässa i USA. Bakom spelet står sju studenter på spelprogrammet på Uppsala universitet Campus Gotland.
– Så här långt har vi aldrig kommit tidigare, säger prefekten Hans Svensson och berömmer sina studenter.

Spelprogrammet har funnits på Gotland sedan 2001 men har aldrig hållit en så hög kvalitativ nivå bland studenterna, enligt den jury som bedömde deras arbeten på Gotland game conference i våras. Och under sommaren har flera av studentprojekten visats på mässor runt om i världen, bland annat i Japan och i Köln i Tyskland.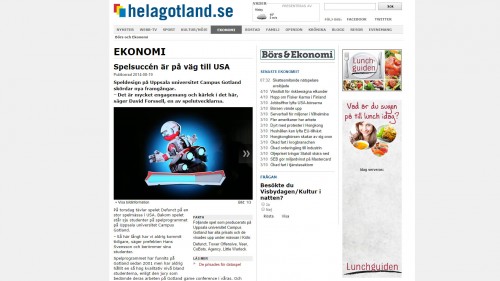 [Spelsuccén är på väg till USA]
Speldesignelever från Campus Gotland har just återvänt från en stor spelmässa i Köln. Eleverna har också uppmärksammats vid stora spelmässan i Stockholm nyligen. Ett av spelen är också nominerat till utmärkelse i USA.

Jerry Jonsson som gått färdigt spelprogrammet och numera bor med familj på gotland berömmer utbildningen som en av de bredast i landet. Han är just hemkommen från Köln där han träffat 20 olika speltillverkare vid möten under två dagar för att sälja sitt och sambons spel. Och kursledningen på Campus Gotland är nöjda. Totalt finns 300 platser på spel och grafikutbildningarna. Förutom de cirka 100 som nu tagits in till förstaårsstart står ytterligare 200 i kö till utbildningarna, konstaterar utbildningsprefekten hans Svensson.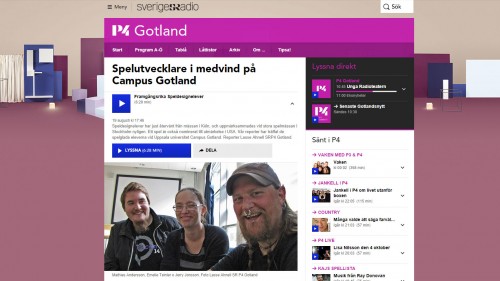 [Sveriges Radio: Spelutvecklare i medvind på Campus Gotland]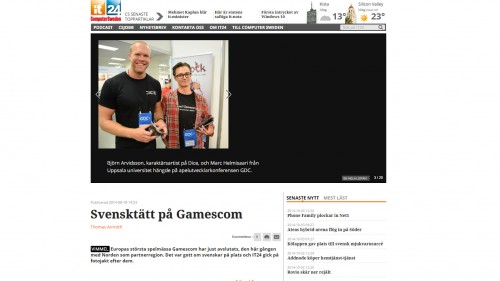 Europas största spelmässa Gamescom har just avslutats, den här gången med Norden som partnerregion. Det var gott om svenskar på plats och IT24 gick på fotojakt efter dem
The winners of the Swedish Game Awards 2014 has been announced; Defunct and Flash & Crash joins the proud lineup of awarded student projects from Campus Gotland GAME!

1st year project Flash & Crash won the audience hearts and received the Gamer's Choice award, with the motivation:
The counting of the votes yesterday revealed a close race between two of the contestants. The winning game was instantly pleasing, fun to watch and inspired people to battle it out. The game pleased visitors of all ages and the station was never quiet.
2nd year project Defunct – best second year project at the Gotland Game Conference – earned its creators 25 000kr, a legal start package and counseling from Fondia, together with the coveted Game of The Year award. The jury's motivation read:
From the onset, this game presents itself as a complete package and it executes expertly across the board to deliver a richly satisfying and ready for retail experience. It's ambitious, colourful and a heck of a lot of fun to play.
Game of the Year: Defunct
Två utmärkelser i Swedish Game Awards, som avgjordes på Nalen i Stockholm sent på onsdagskvällen, gick till studenter på Campus Gotland.

Spelet Defunct vann den förnämsta klassen Game of the year och Flash & Crash förärades utmärkelsen Gamers choice.
– Det kunde inte ha gått bättre, konstaterar Marcus Ingvarsson, lärare på Campus Gotlands speldesign- och grafikprogram.