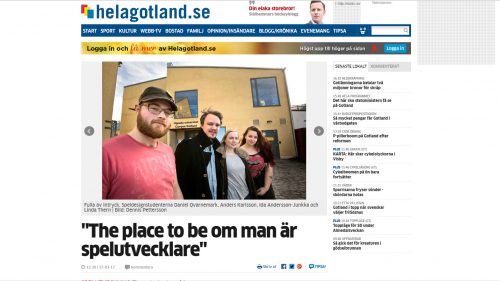 Local press caught up with our students as they returned from exhibiting at Alt.Ctrl:GDC: "The place to be om man är spelutvecklare"
I've never in my life had the experience of tilting a book off an old dusty bookshelf and unlocking a secret passageway, but I hope I do before I die. Movies have never sold us a more believable-but-still-magical fantasy than the passage behind the bookshelf, or the revolving bookshelf that turns under your feet and rotates you, speechless, into a hidden laboratory. But I have now gotten to play a game inspired by that fantasy, and it's one of the most creative things I've seen at this year's Game Developer's Conference.

GDC hosts a small selection of games with weird input methods every year under the banner of Alt.Ctrl.GDC, and the standout for me this year was bookshelf game Cryptogram.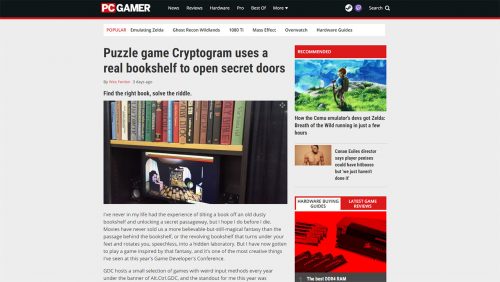 [PCGamer: Puzzle game Cryptogram uses a real bookshelf to open secret doors]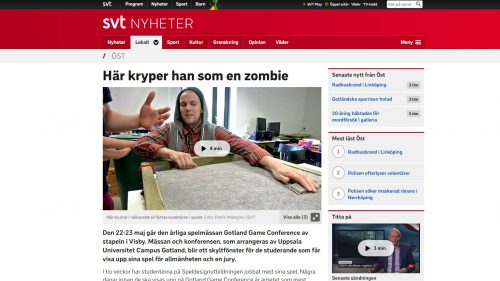 SVT Östnytt: Här kryper han som en zombie
Vilya, of Pixel Ferrets / Secrets of Grindea fame, wrote about her jury duty in this 2 part series:
Vilyaroo's Gotland Game Conference 2016, Part 1
Vilyaroo's Gotland Game Conference 2016, Part 2
Speldesign på Uppsala universitet Campus Gotland skördar nya framgångar.
– Det är mycket engagemang och kärlek i det här, säger David Forssell, en av spelutvecklarna.

På torsdag tävlar spelet Defunct på en stor spelmässa i USA. Bakom spelet står sju studenter på spelprogrammet på Uppsala universitet Campus Gotland.
– Så här långt har vi aldrig kommit tidigare, säger prefekten Hans Svensson och berömmer sina studenter.

Spelprogrammet har funnits på Gotland sedan 2001 men har aldrig hållit en så hög kvalitativ nivå bland studenterna, enligt den jury som bedömde deras arbeten på Gotland game conference i våras. Och under sommaren har flera av studentprojekten visats på mässor runt om i världen, bland annat i Japan och i Köln i Tyskland.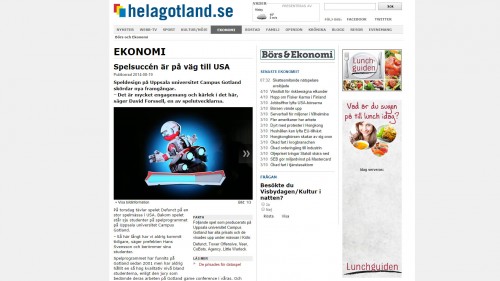 [Spelsuccén är på väg till USA]
Speldesignelever från Campus Gotland har just återvänt från en stor spelmässa i Köln. Eleverna har också uppmärksammats vid stora spelmässan i Stockholm nyligen. Ett av spelen är också nominerat till utmärkelse i USA.

Jerry Jonsson som gått färdigt spelprogrammet och numera bor med familj på gotland berömmer utbildningen som en av de bredast i landet. Han är just hemkommen från Köln där han träffat 20 olika speltillverkare vid möten under två dagar för att sälja sitt och sambons spel. Och kursledningen på Campus Gotland är nöjda. Totalt finns 300 platser på spel och grafikutbildningarna. Förutom de cirka 100 som nu tagits in till förstaårsstart står ytterligare 200 i kö till utbildningarna, konstaterar utbildningsprefekten hans Svensson.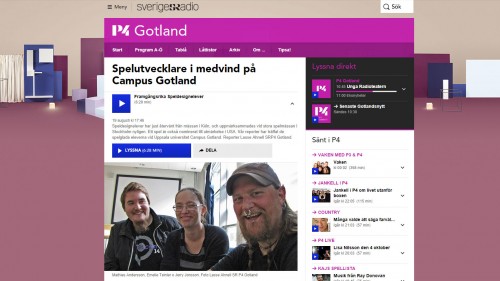 [Sveriges Radio: Spelutvecklare i medvind på Campus Gotland]