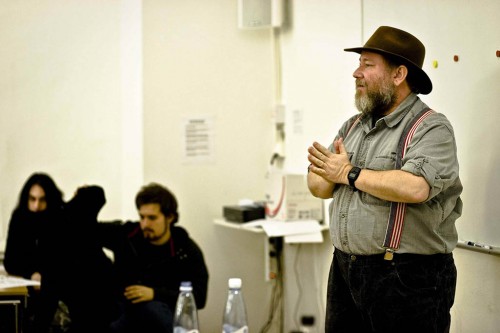 For those of you who are new to the show: Ernest Adams is one of our many live-from-the-industry lecturers. He's been in the game industry since 1989 and currently works as a free lance game designer, writer and teacher. You all ought to know the name; his Fundamentals of Game Design has been a staple in our game design courses for years. He's written four books in total and he has developed online, computer, and console games for everything from the IBM 360 mainframe to the Nintendo Wii. Ernest is also the founder and first chairman of the International Game Developers' Association and a popular speaker at conferences and arts festivals around the world.
And now; our man Ernest is back again for more lectures! 😀
On Monday he's doing an exercise with the first-years, which will include a week worth of homework (due Friday that week). On Wednesday he's giving a lecture based on the massively popular "Bad Game Designer, No Twinkie!"-columns. This is a lighthearted look at some common design errors in both current and older games, divided into bad conceptual design, bad game mechanics, bad user interface design, bad programming, bad level design, and bad content. This lecture will have a particular emphasis on physics and action games.
First year students
Time: Monday, October 5 09:00-12:00
Location: HGO, lecture hall B25/B27
Second year students
Time: Wednesday, October 7 09:00-12:00
Location: HGO, lecture hall E22
First year students
Time: Friday, October 9 09:00-12:00
Location: HGO, lecture hall B25/B27